RELEASE DATE:

2022-12-30 16:33
Abstract: Different from the general CCC certification in China, fire products are under the direct jurisdiction of the Fire Products Qualification Assessment Center of the Ministry of Public Security of China. All fire products in the compulsory certification category need to be submitted to the four famous fire Labs in China for inspection after applying for type certification. The inspection report is subject to the unified supervision and management of the fire conformity Assessment Center, and the manufacturers that pass the inspection can further apply for the factory audit of the fire Conformity Assessment Center. In recent years, due to the impact of the epidemic, remote video audit was used in the past. With the gradual relaxation of the domestic epidemic prevention policy, offline audit is expected to resume in 2023. ATIC has opened the domestic CCCF fire certification business, providing one-stop fire product certification services including product forecast test, data guidance and homologation.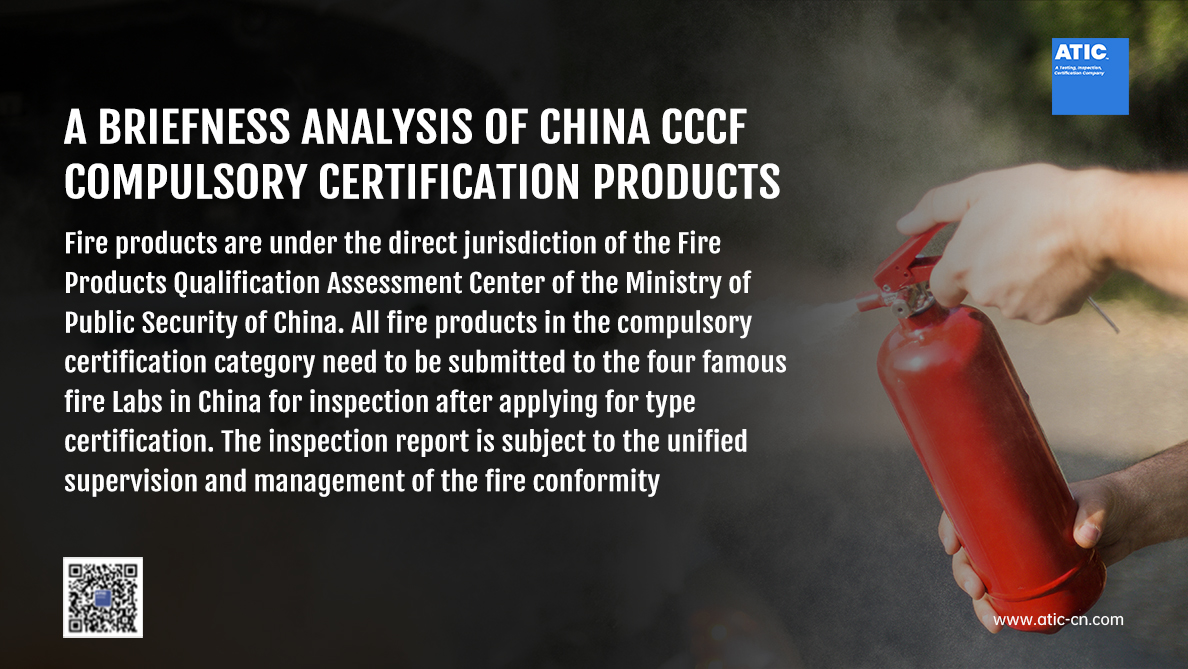 INFORMATION REQUIRED FOR INITIAL APPLICATION
1. Certification client/producer/producer to provide effective qualification documents: business license (overseas enterprises need to provide effective legal documents)
2. Agreements or contracts signed when certifying different consignors, producers and manufacturers (if applicable)
3. Product documents: inspection report, product feature document table (with official seal), product design document (with official seal), product differentiation description (with official seal), etc
4. Geographical location map of production enterprises
5. Basic information on the catalogue, organization and function allocation of quality management documents of producers/producers
6. Product consistency control documents (including at least key design, key parts/raw materials, key process control documents)
7. Routine inspection and confirmation of inspection control procedures
8. Production process flow chart of certified products (with official seal)
9. Letter of commitment that the enterprise does not infringe the intellectual property rights of other units or individuals (with official seal)
10. Additional Information (where applicable)
THE CERTIFICATION PROCESS
1. Project application
2. Factory audit
3. Preparation of documents and samples
4. Sample delivery and testing
5. Preparation of reports
6. Submit for review
7. Certificate issuance
SERVICES PROVIDED BY ATIC
1. Pre-test of products
2. Full set of application materials guidance
3. Factory audit guidance
4. Type certification
ATIC PROVIDES SERVICE
ATIC's vehicle homologation experts have an average of more than 10 years of experience in motor vehicle certification, and are familiar with multinational certification processes, local regulations, and testing requirements. ATIC cooperates with multinational official organizations and integrates high-quality testing and certification resources, to provide a global one-stop certification service for manufacturers to complete the certification process, including certification application, documentation preparation, regulatory guidance and training, and pre-testing and test coordination, etc.
ABOUT ATIC
ATIC is a technical service company from China, established in 2015. ATIC is committed to integrate domestic and international regulations, testing and certification resources with a global perspective in the context of globalization, and establish a new, specialized regulation research, testing and certification platform. With innovative Digital Reporting System (DRS), Customer Service Platform (CSP) and self-developed Global Vehicle Regulation Database (GVRD),ATIC's compliance service covers more than 54 countires/regions globally, testing and certification service covers more than 30 countries/regions worldwide. ATIC serve more than 4,500 manufactures each year.
CHINA CCCF COMPULSORY CERTIFICATION PLEASE CONTACT