RELEASE DATE:

2021-12-21 11:26
Brief

:
According to the requirements of the EU " European Agreement Concerning the International Carriage of Dangerous Goods by Road " (ECE/TRANS/275-ADR), vehicles and it's parts used to transport dangerous goods must meet the transportation and manufacturing conditions specified in the ADR before they can enter the EU market for sale and used, increased-safety lamps for dangerous goods transport vehicles belong to the scope of ADR.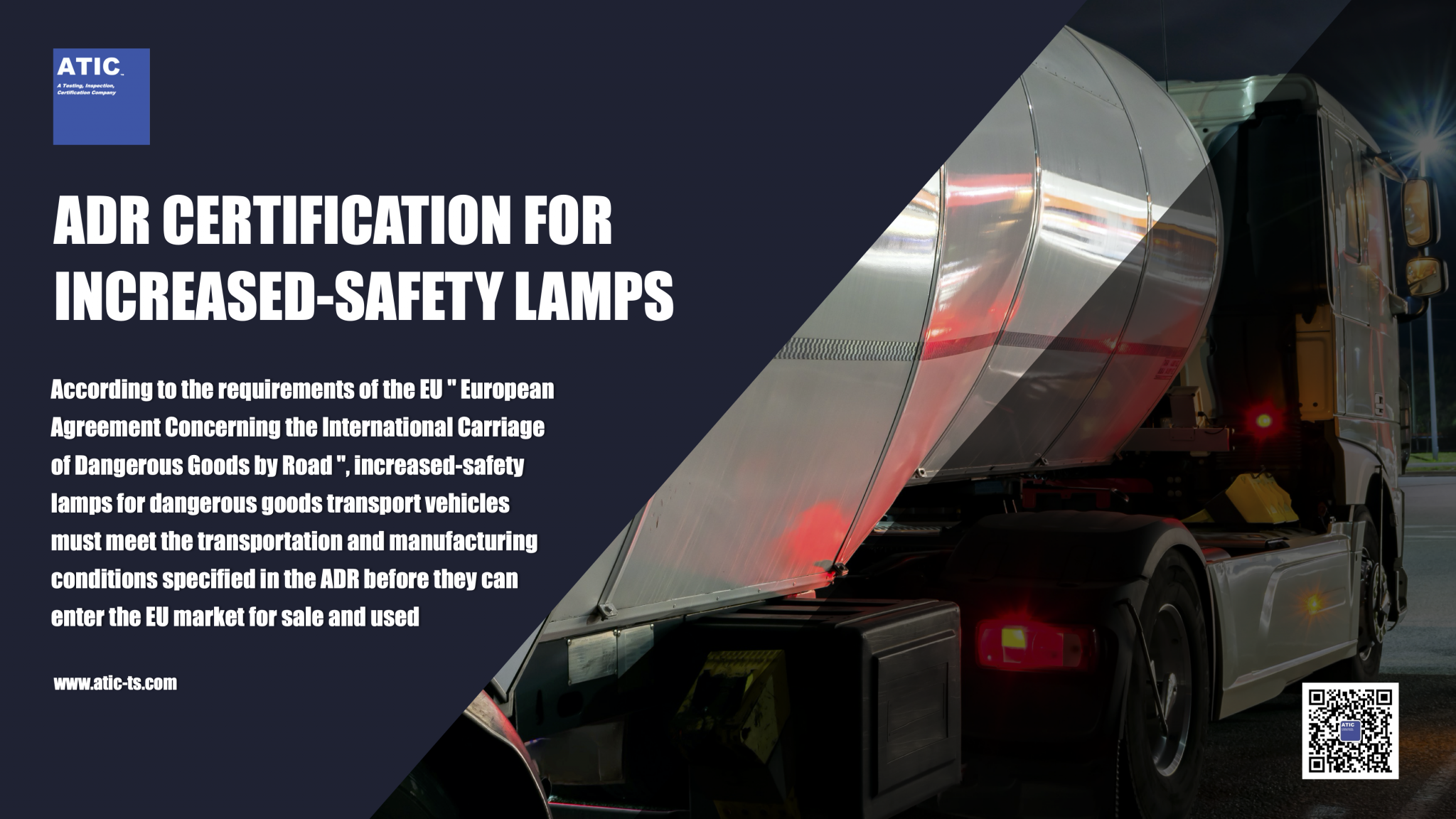 NCREASED-SAFETY LAMPS FOR DANGEROUS GOODS TRANSPORT VEHICLES
The increased-safety lamps used in dangerous goods transport vehicles must meet the requirements of Chapter 9.2, Chapter 9.2.2.5 and 9.2.2.9 of the ADR, and the following tests should be carried out to prove the compliance of the lamps.
Clearance

IEC 60079-7:2015+AMD1:2017

Creepage distance

IEC 60079-7:2015+AMD1:2017

Limiting temperature

IEC 60079-7:2015+AMD1:2017

Temperature test

IEC 60079-0:2017

Degree of protection of enclosure

IEC 60079-0:2017

IEC 60079-7:2015+AMD1:2017

Dielectric strength

IEC 60079-7:2015+AMD1:2017

Terminal insulating material tests

IEC 60079-7:2015+AMD1:2017

Resistance to impact

IEC 60079-0:2017

Thermal endurance to heat

IEC 60079-0:2017

Thermal endurance to cold

IEC 60079-0:2017

Surface resistance test of parts of enclosures of non-metallic materials

IEC 60079-0:2017

Resistance to light

IEC 60079-0:2017
ADR CERTIFICATION PROCESS
1.Documentation
2.Design Verification
3.Prototype Inspection and Homologation
4.Approval
ATIC PROVIDES ADR CERTIFICATION SERVICES
ATIC is qualified ATS Point who is designated by Sammarinese Approval Authority, through which type approval certificates of vehicles, components, technical units and vehicle systems according to UN Regulations and ADR are issued.
ABOUT ATIC
ATIC is a young technical service company from China, established in 2015. By creating a better entrepreneurial environment, we build a professional and passionate team with the best experts, returnees and extraordinary graduates. We are committed to integrate international and domestic regulations, testing and certification resources from a globalization perspective, to establish a neo-specialized regulation research, testing and certification platform. ATIC serves more than 4,500 manufactures per year.
ADR

CERTIFICATION

PLEASE CONTACT
Kenneth Feng
Component Homologation Department
ATIC Senior Project Engineer, He served in one of global top 500 company as testing and certification engineer. He is now focusing on the one-stop compliance, testing and certification solutions for EV key components and two-wheel vehicle
Phone: +86 020-82510156
Mail: cs@atic-cn.com