RELEASE DATE:

2021-06-16 16:02
Brief
:
According to the EU vehicle framework regulation (EU) 2018/858 and its invocate Regulation (EC) No 661/2009 (the equivalent regulation is UN ECE R67 & R110), the LPG/ CNG/ GNG components used in the propulsion system of the vehicles of category M and N need to be type-approved as components firstly and then, they can be put on the EU market.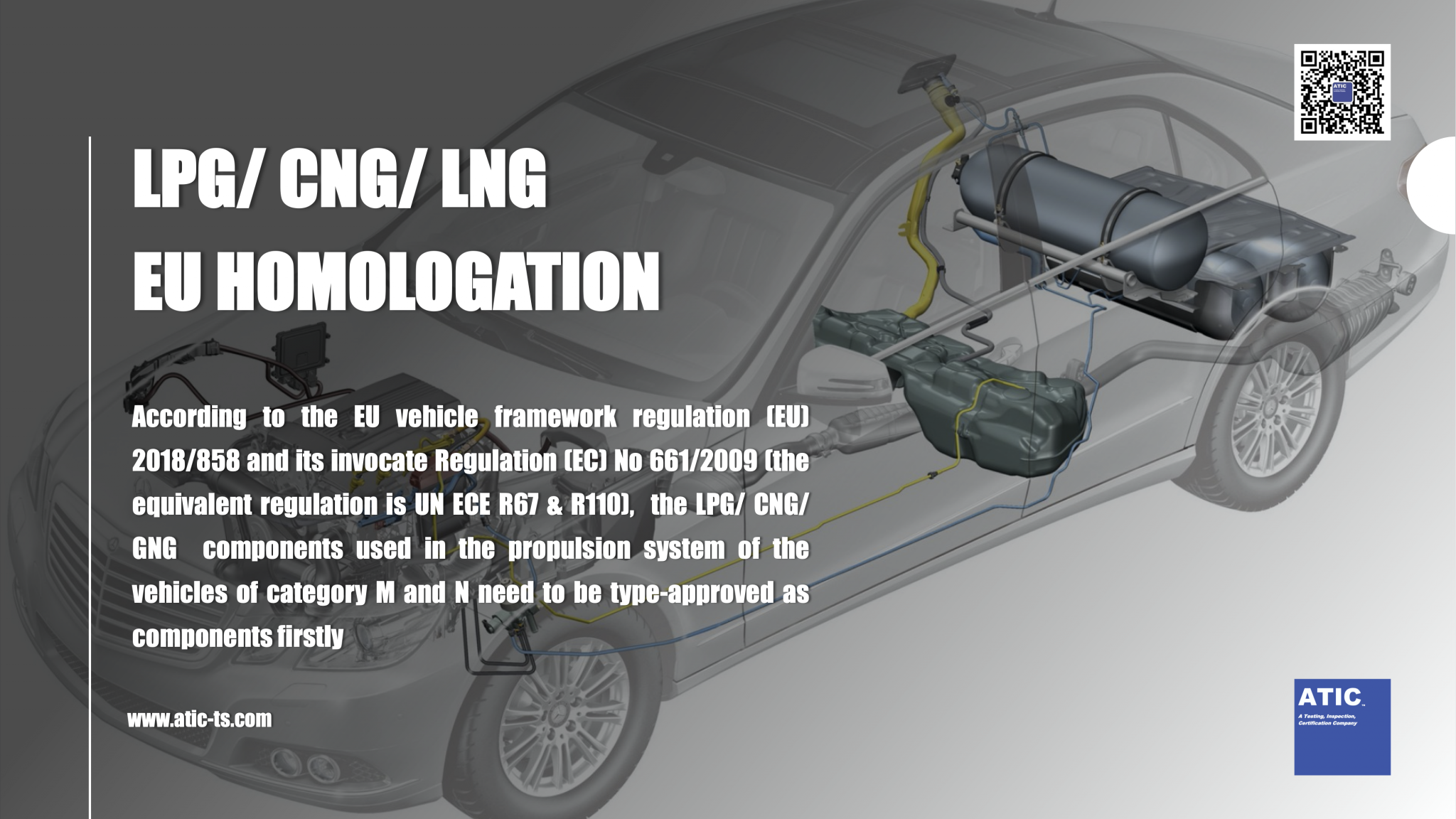 THE PROCEDURE OF TYPE APPROVAL
1. Documents Preparation
2. Factory Audit (This step can be exempted if the manufacturer hold a valid ISO 9001:2015/IATF1694:2009 certificate)
3. Samples Preparation and Testing
4. Assessment of Information
5. Issuance of Certificate
APPLICABLE COMPONENTS
TESTING REQUIREMENTS
CNG/LNG components are classified as Class0~5 according to the working pressure, and the testing items of the different categories are as follows. For specific items, please contact ATIC.
We ATIC provide UN type approval service for the manufacturers of vehicle components by direct co-operation with approvals authorities without communication barriers.
ABOUT ATIC
We are a young technical service company from China, established in 2015. We have a professional and passionate team, we strive to create the best environment to attract the best experts, returnees and outstanding graduates to join us. We are committed to integrate domestic and international regulations, testing and certification resources with a global perspective in the context of globalization, and establish a new, specialized regulation research, testing and certification platform. We have established authorized or cooperative partnership with governmental departments, authorities, certification bodies and laboratories in more than 30 countries including Germany, Czech Republic, Lithuania, Turkey, United Arab Emirates, South Korea, United States, Brazil, India, Indonesia, Thailand, and Vietnam etc. With our innovative Digital Reporting System (DRS), Customer Service Platform (CSP) and self-developed Global Vehicle Regulation Database (GVRD), our compliance service covers more than 54 countires/regions globally, our testing and certification service covers more than 30 countries/regions worldwide. We serve more than 3,300 manufactures each year.
EU HOMOLOGATION PLEASE CONTACT