RELEASE DATE:

2021-11-02 18:00
Brief
:
The replacement pollution control devices, including catalytic converters and particulate filters, which are intended for the power-driven of vehicles of categories M1, M2, N1 and N2 with a reference mass not exceeding 2,610 kg, shall be approved and obtain the E-mark certificate before being put in the EU market.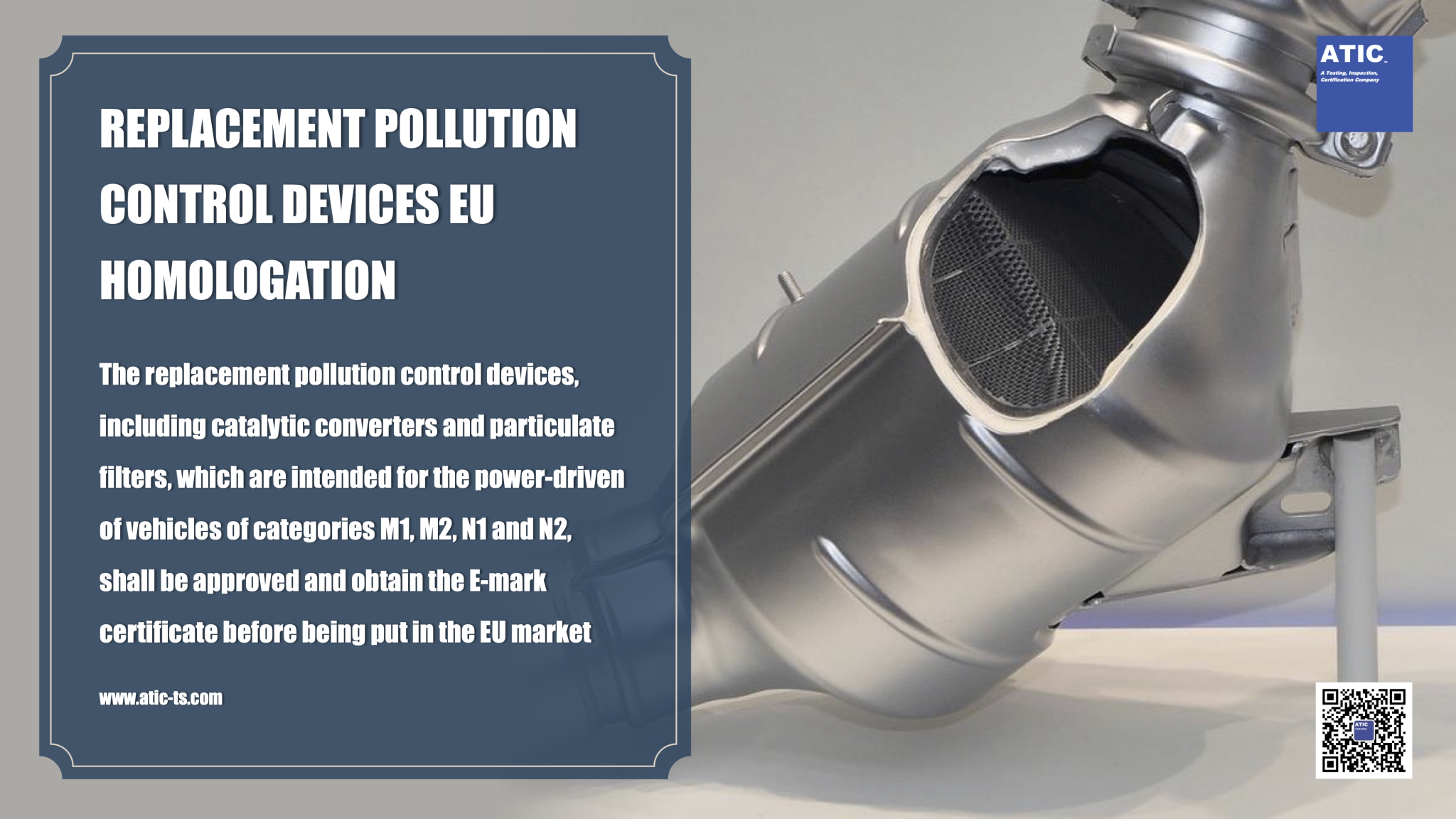 Classifcation

Gasline Vehicle

Diesel Vehicle


Catalytic Converters




TWC-Three Way Catalyst




SCR-Selective Catalytic Reduction

DOC-Diesel Oxidation Catalyst

Particulate Filter

GPF-Diesel Particulate Filter

DPF-Diesel Paingrticulate Filter

THE PROCEDURE OF TYPE APPROVAL
Documents Preparation
Factory Audit (This step can be exempted if the manufacturers hold a valid ISO 9001:2015/IATF1694:2009 certificate)
Samples Preparation and Testing
Assessment of Information
Issuance of Certificate
TESTING REQUIREMENTS
The testing items applied according to ECE R103 are as follows. For specific type devided, testing items, whole cost, and cycle, please contact us.
Installation Inspection
Emission (Type I)
Noise and Vehicle Performance
Durability (Type V)
OBD Compatibility (If any)
We ATIC provide E-Mark type approval service for the manufacturers of vehicle components by direct co-operation with approvals authorities without communication barriers.
ABOUT ATIC
We are a young technical service company from China, established in 2015. We have a professional and passionate team, we strive to create the best environment to attract the best experts, returnees and outstanding graduates to join us. We are committed to integrate domestic and international regulations, testing and certification resources with a global perspective in the context of globalization, and establish a new, specialized regulation research, testing and certification platform. We serve more than 4,500 manufactures each year.
EU HOMOLOGATION PLEASE CONTACT