RELEASE DATE:

2021-07-13 17:00
Brief
:
According to the EU vehicle framework regulation (EU) 2018/858 and its invocate Regulation (EC) No 661/2009 (the equivalent regulation is UN ECE R116), the vehicle alarm systems (VAS) which are intended to be permanently fitted to vehicles of category M1 and those of category N1 with a maximum mass of not more than 2 tonnes need to be type-approved as components firstly and then, they can be put on the EU market.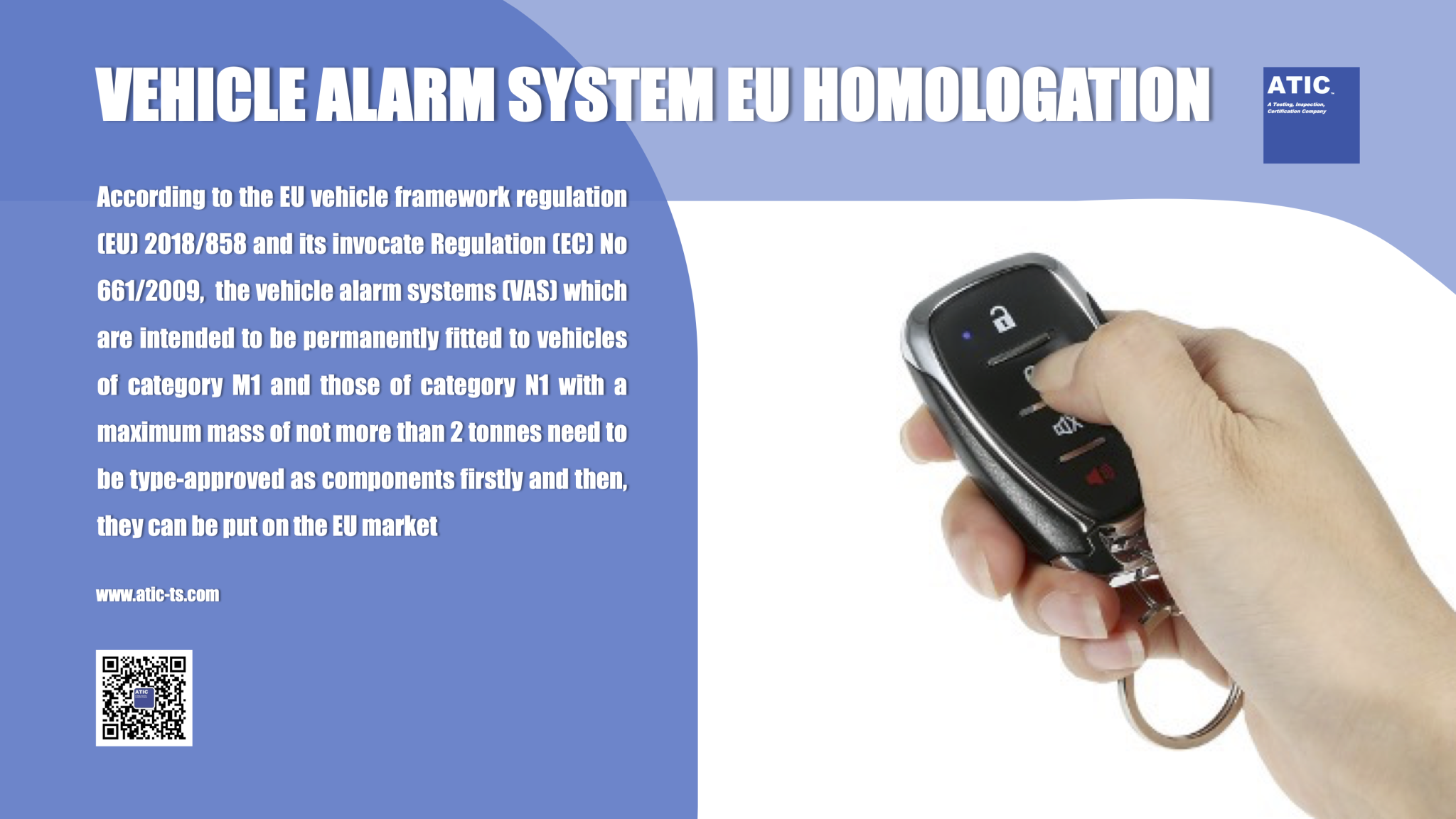 THE PROCEDURE OF TYPE APPROVAL
1. Documents Preparation
2. Factory Audit (This step can be exempted if the manufacturer hold a valid ISO
3. 9001:2015/IATF1694:2009 certificate)
4. Samples Preparation and Testing
5. Assessment of Information
6. Issuance of Certificate
TESTING REQUIREMENTS
The testing items applied on VAS according to ECE R116 PART II are as follows. For specific items, costs and cycle, please contact ATIC.
Operation tests

Alarm duration

Frequency of optical signals

On/ Off ratio

Number of alarm cycles

Alarm system setting lock check

Saftey tests+Operation tests

Safe operation after resistance to temperature and voltage changes + Operation tests

Safe operation after foreign body and water-tightness testing + Operation tests

Safe operation after condensed water test + Operation tests

Test for safety against reversed polarity + Operation tests

Test for safety against short-circuits + Operation tests

Safe operation after vibration test + Operation tests

Energy consumption

Energy consumption in the set condition

Durability

Durability test

Tests for external key switch

Tests for external key switch+exposure to salt spray+corrosion resistance test

Passenger compartment protection

Test of systems for the protection of the passenger compartment


Electromagnetic compatibility

Immunity against disturbances conducted along supply lines

Immunity against radiated high frequency disturbances

Electrical disturbance from electrostatic discharges

Radiated emissions

Immunity against disturbance coupled on signal lines

Safety against false alarm

Impact on the vehicle test

Voltage reduction test

Passenger compartment control test
OUR SERVICE ABOUT EU/UN HOMOLOGATION
ATIC experts are working under designated technical services in Europe to conduct Initial Assessment, Witness Testing and CoP assessment as authorized inspectors with authorities including e/E4 Netherland, e/E5 Sweden, e/E24 Ireland, e/E49 Cyprus, e/E32 Latvia and e/E36 Lithuania.
Also, ATIC is qualified ATS-Point who is designated by Sammarinese Approval Authority, through which type approval certificates of vehicles, components, technical units and vehicle systems according to UN Regulations are issued with the code E57.
In China, our witness laboratories cover North China, Central China and South China. No matter where your products are produced, we can provide the nearest witness test site. If your factory laboratory meets the requirements of ISO17025, We can also perform witness tests in your factory and apply type approval certificate.
ATIC leading digital customer platform and digital reporting system make it easy for you to submit information files online, and technical reports can be generated online, minimizing file and report preparation time and improving quality, leaving valuable time to you and yours client.
ABOUT ATIC
We are a young technical service company from China, established in 2015. We have a professional and passionate team, we strive to create the best environment to attract the best experts, returnees and outstanding graduates to join us. We are committed to integrate domestic and international regulations, testing and certification resources with a global perspective in the context of globalization, and establish a new, specialized regulation research, testing and certification platform. We serve more than 4,500 manufactures each year.
EU HOMOLOGATION PLEASE CONTACT