RELEASE DATE:

2023-02-03 17:37
Brief:
According to DIRECTIVE 2014/34/EU, the manufacturer of equipment and protective systems intended for use in potentially explosive atmospheres (ATEX) shall complete the CE conformity assessment procedure before putting their products on the EEA market to ensure that their products meet the essential health and safety requirements.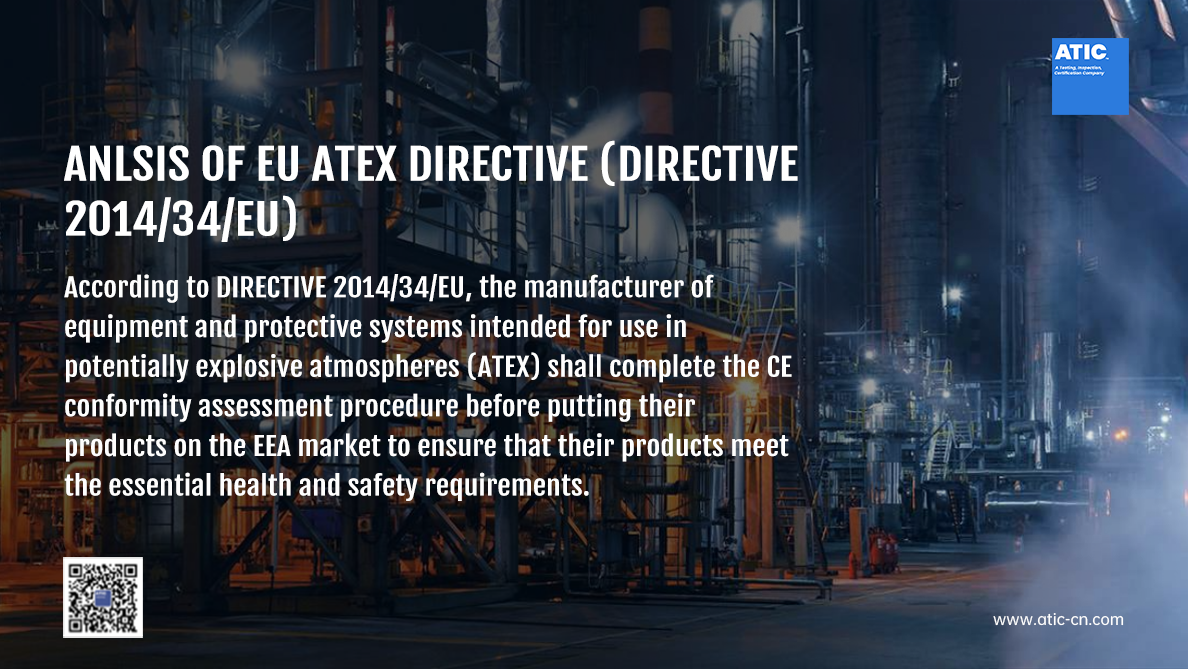 SCOPE
Depending on the environment of use and the intended level of protection, ATEX are classified as follows: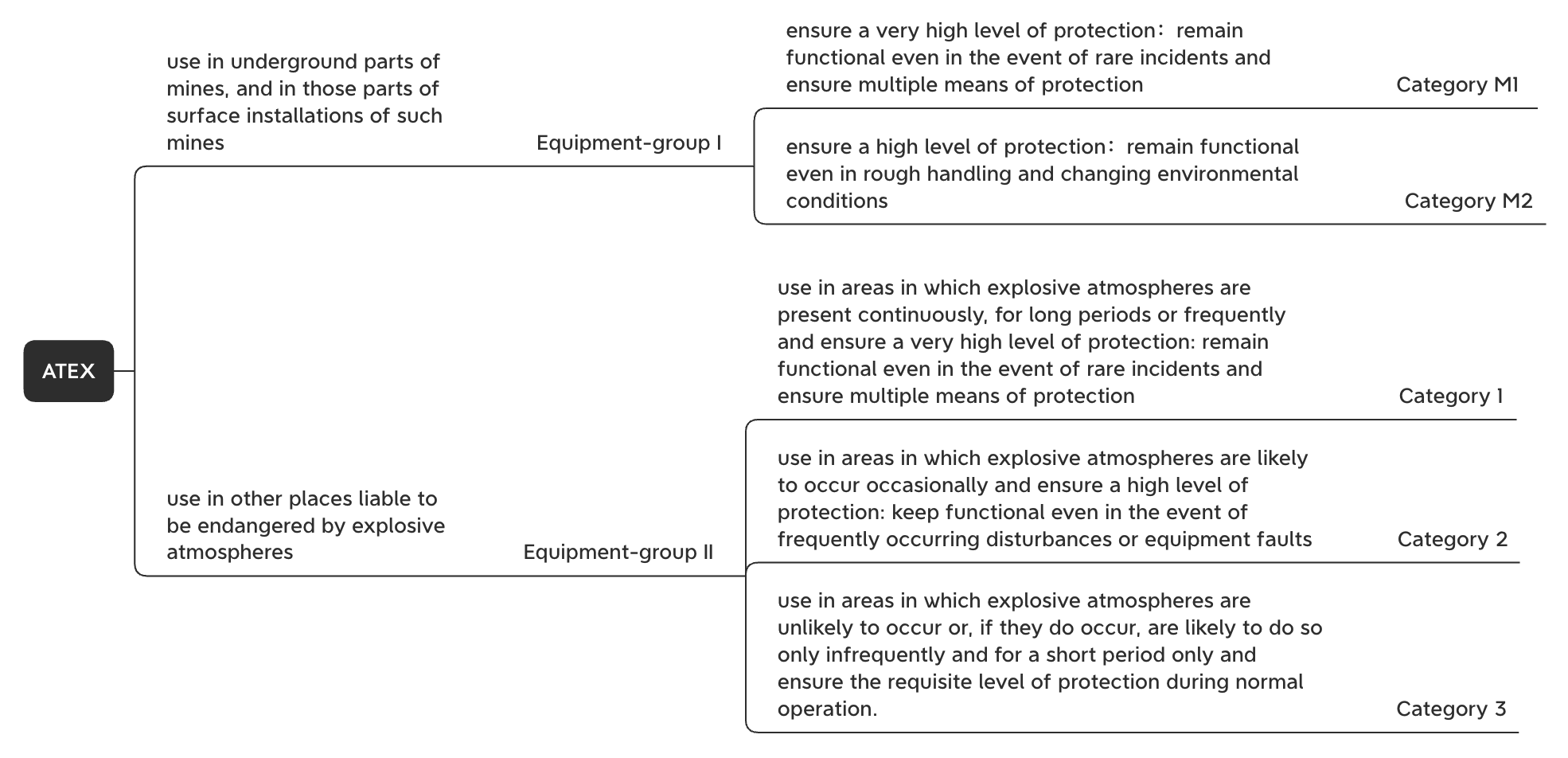 CONFORMITY ASSESSMENT PROCEDURE
The CE conformity assessment for ATEX generally includes the preparation of technical documentation, production conformity control, marking and may include steps such as EU-type examination and factory audit, with specific processes related to their categories.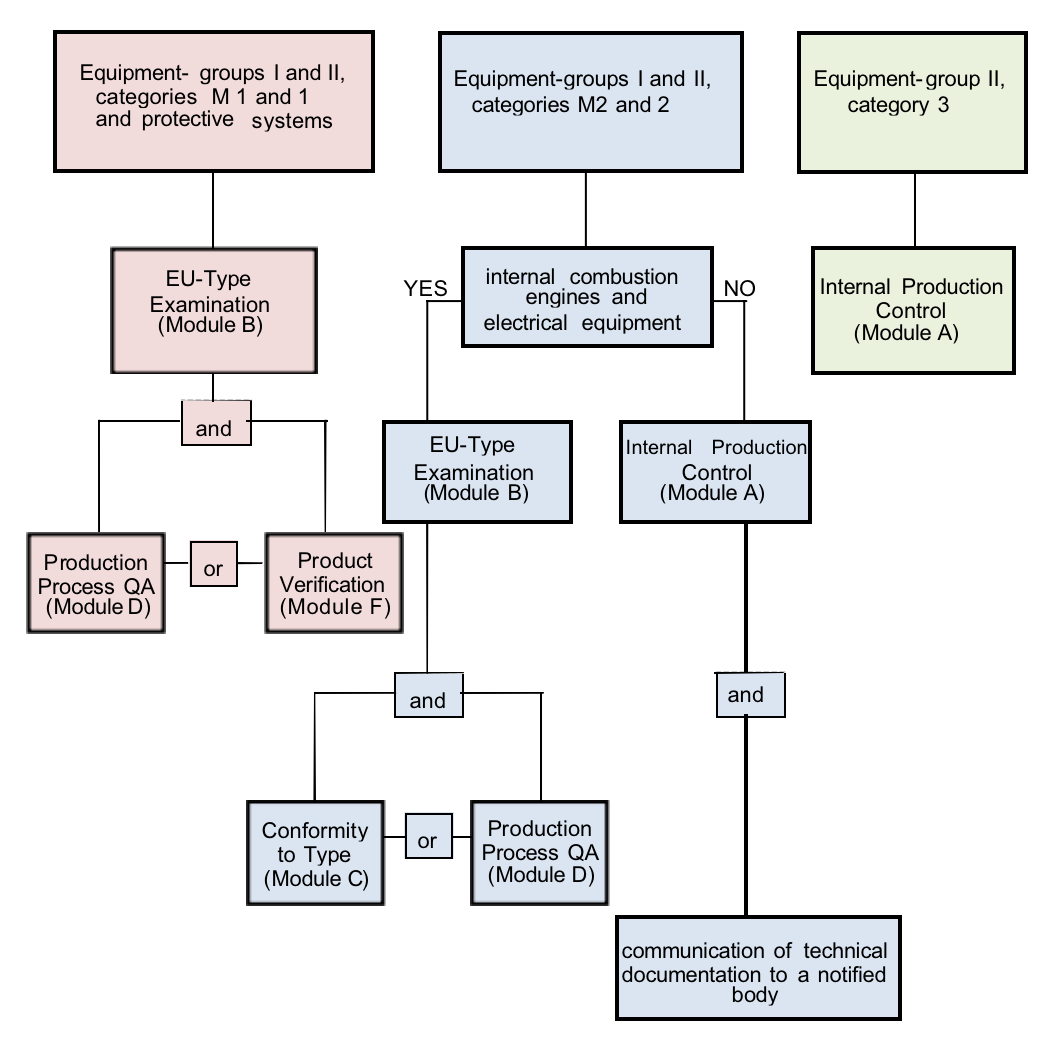 MAKINGR EQUIREMENTS
Information of manufacturer
Designation of series or type
Batch or serial number, if any
The specific marking of explosion protection Image followed by the symbol of the equipment-group and category
* ATIC provide CE conformity assessment procedure service for the manufacturers by direct cooperation with Notified Bodies without communication barriers.
ATIC EU/UN HOMOLOGATION SERVICE
ATIC experts are working under designated technical services in Europe to conduct Initial Assessment, Witness Testing and CoP assessment as authorized inspectors with authorities including e/E4 Netherland, e/E5 Sweden, e/E24 Ireland, e/E49 Cyprus.
In China, our witness laboratories cover North China, Central China and South China. No matter where your products are produced, we can provide the nearest witness test site. If your factory laboratory meets the requirements of ISO17025, we may also perform witness tests in your factory and apply type approval certificate.
ATIC leading Digital Customer Platform and Digital Reporting System make it easy for you to submit information document online, and technical reports can be generated online, minimizing document and report preparation time and improving quality, leaving valuable time to you and your customers.
ATIC COMPONENT HOMOLOGATION DEPARTMENT
ATIC Component Homologation Product Line focuses on regulation research and homologation service for components and consumer products especially for European and American markets. We are committed to provide one-stop global homologation solution for automotive components and consumer products, at present ATIC is long-term TIC service partner with CATL, SVOLT, DICASTAL, XYG, FinDreams, VAST, TEXAS INSTRUMENTS etc., top tier 1 suppliers.
EUROPE HOMOLOGATION PLEASE CONTACT