RELEASE DATE:

2023-09-25 18:29
Brief: According to EU MID DIRECTIVE and EU NAWI DIRECTIVE, the manufacturer of MIs and NAWIs shall complete the CE conformity assessment procedure before putting their products on the EEA market to ensure the accuracy of measurements and help the transparency and fairness of commercial transactions.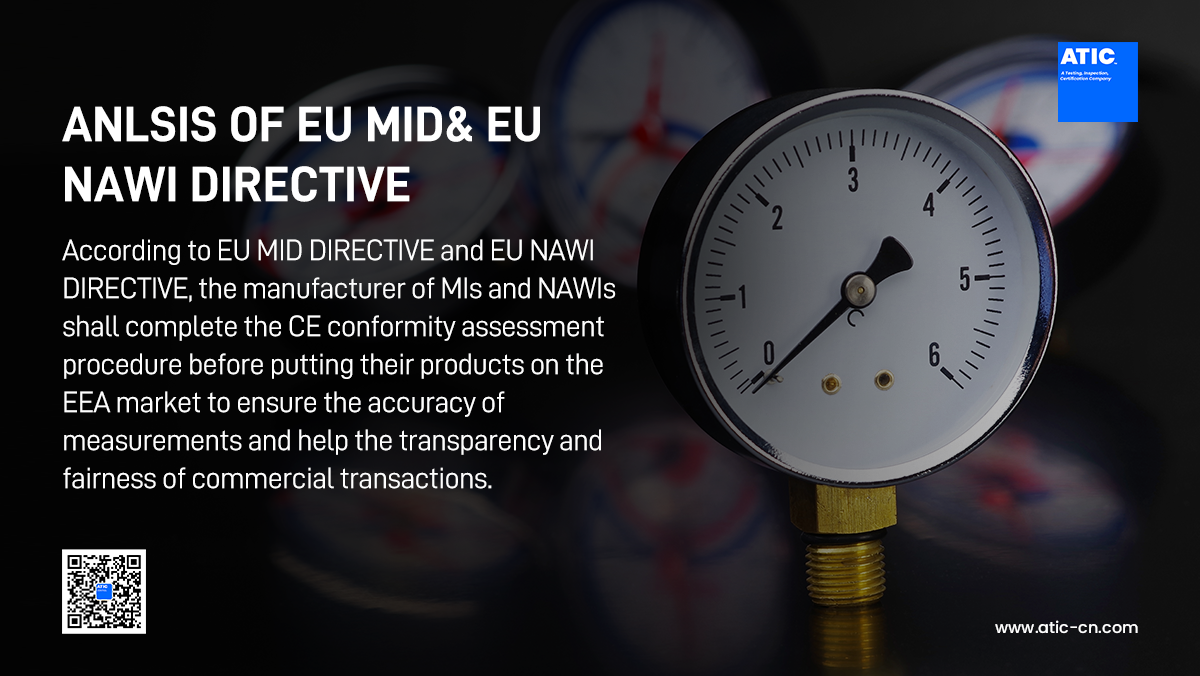 LEGISLATIVE BACKGROUND
European Commission has taken a series of actions to promote innovation, public safety, protection of the environment and fair trade, which including:
1. Units of measurements
The European system of units of measurement stems from the International System of Units (SI). The use of units of measurement in the EU is set down in Directive 80/181/EEC.
2. Promoting legislations of measuring instruments
EU committee takes place in close cooperation with WELMEC to put on the implement of these two directives:
Directive 2014/32/EU Measuring instruments (MID)
Directive 2014/31/EU Non-automatic weighing instruments (NAWI)
3. Promoting legislations of pre-packaged products and pack sizes
Directive 76/211/EEC and 75/107/EE define the quantities contained in pre-packaged products
Directive 2007/45/EC defines the rules for nominal quantities of prepackaged products
4. Simplification of 8 legal metrology directives
Directive 2011/17/EU repeals 8 'old approach' directives and provides for a transition period, clarifying that a range of products such as non-potable cold-water meter will be ensured in practice either by the voluntary application of the international and European standards which have been developed or by the application of national provisions laying down technical specifications based on such standards or, in line with the principles of better law-making.
Abbrev

MID

The Directive applies to all MIs that are new to the EU market when they are placed on that market or put into use, that is that they are:

new MIs made by a manufacturer established in the EU; or

MIs imported from a non-EU country, whether they are new or second hand.

The Directive applies to all NAWIs that are new to the EU market when they are placed on that market or put into use

MIs can be divided into the following categories according to the field of trade and the purpose for which they are used:

water meters (MI-001)

gas meters and volume conversion devices (MI-002)

active electrical energy meters (MI-003)

thermal energy meters (MI-004)

measuring systems for continuous and dynamic measurement of quantities of liquids other than water (MI-005)

automatic weighing instruments (MI-006)

taximeters (MI-007)

material measures (MI-008)

dimensional measuring instruments (MI-009)

exhaust gas analysers (MI-010)

For the purposes of this Directive, the following categories of use of non-automatic weighing instruments shall be distinguished

determination of mass for commercial transactions;

determination of mass for the calculation of a toll, tariff, tax, bonus, penalty, remuneration, indemnity or similar type of payment;

determination of mass for the application of laws or regulations or for an expert opinion given in court proceedings;

determination of mass in the practice of medicine for weighing patients for the purposes of monitoring, diagnosis and medical treatment;

determination of mass for making up medicines on prescription in a pharmacy and determination of mass in analyses carried out in medical and pharmaceutical laboratories;

determination of price on the basis of mass for the purposes of direct sales to the public and the making-up of prepackages;

all applications other than those listed in points (a) to (f).




And NAWIs can be classified according to the level of accuracy:

Class I: special

Class II: high

Class III:medium

Class IIII:ordinary
CONFORMITY ASSESSMENT PROCEDURE:
Technical file preparation

EU-type examination

Production Quality Assurance

Affix the CE marking &supplementary metrology marking

COP maintenance
ATIC provide CE conformity assessment procedure service for the manufacturers by direct cooperation with Notified Bodies without communication barriers.
ATIC COMPONENT HOMOLOGATION DEPARTMENT
ATIC Component Homologation Product Line focuses on regulation research and homologation service for components and consumer products especially for European and American markets. We are committed to provide one-stop global homologation solution for automotive components and consumer products, at present ATIC is long-term TIC service partner with CATL, SVOLT, DICASTAL, XYG, FinDreams, VAST, TEXAS INSTRUMENTS etc., top tier 1 suppliers.

ABOUT ATIC
ATIC is a young technical service company from China, established in 2015. By creating a better entrepreneurial environment, we build a professional and passionate team with the best experts, returnees and extraordinary graduates. We are committed to integrate international and domestic regulations, testing and certification resources from a globalization perspective, to establish a neo-specialized regulation research, testing and certification platform. ATIC serves more than 4,500 manufactures per year.



MID & NAWI

CERTIFICATION PLEASE CONTACT