RELEASE DATE:

2021-10-27 17:00
Brief
:
Recently, ATIC issued the Indian AIS038 certification report of traction battery products for SVOLT. SVOLT has become one of the few traction battery companies in China that have obtained the Indian AIS038 certification. Mr. Amit M. Pawar of ARAI, India (remote video participation), ATIC Key Account Manager Kevin Zhu, Components Department Manager Charlie Li, India Certification Project Engineer Jimmy Liang, SVOLT Regulatory Certification Section Manager Liu Yueyuan, Liu Jianghao and section of SVOLT attended the event Certification ceremony. On the same day, ATIC and SVOLT jointly held a seminar on market access for traction battery in the European Union, South Korea, and India and exchange training sessions.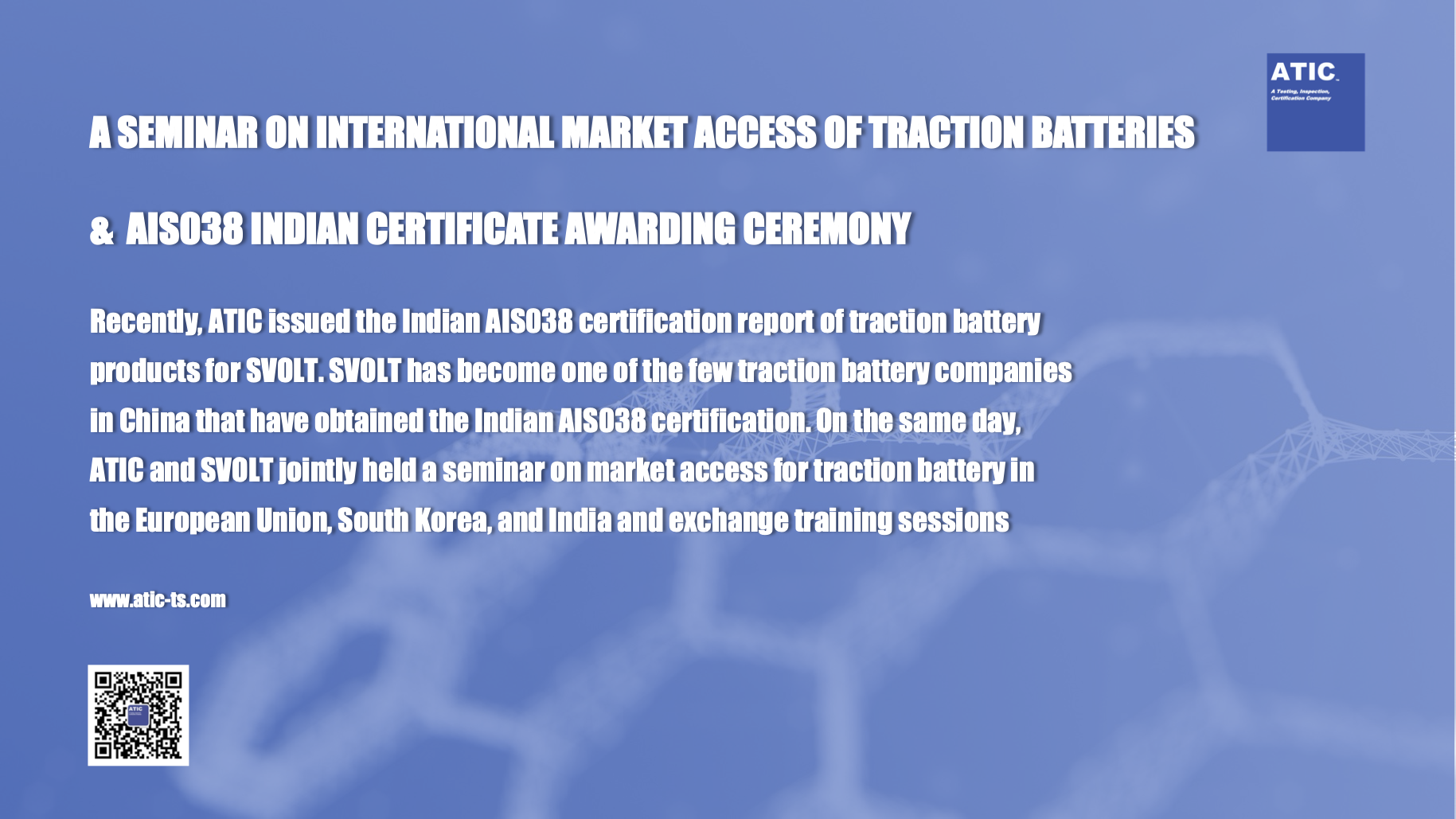 TRACTION BATTERY SEMINAR
The conference focused on the field of traction battery and conducted in-depth analysis and training on the EU, South Korea, and Indian market certification processes, the differences and difficulties of testing and certification projects, and market supervision. Colleagues from SVOLT pack, batteries, systems, tests, projects, processes and other fields enthusiastically signed up and participated actively. ATIC experts focused on the E-mark certification process, the updated content of ECE R100.03, and the relationship between AIS038 and AIS048 regulations. Current status and future trends, AIS038 certification process and testing certification difficulties, the latest requirements of South Korea KMVSS Article 18-3, etc. At the on-site training meeting, many SVOLT colleagues asked professional questions, and ATIC experts provided in-depth answers. The training will be a complete success.
AIS038 CERTIFICATE AWARDING CEREMONY
The Indian traction battery regulation AIS-048 was issued in 2009 and has been revised many times. However, due to the rapid development of electric vehicles and traction battery technology, some of the test and evaluation items of this regulation can no longer fully adapt to the development of new technologies. Therefore, approved by the Ministry of Surface Transport (MoST), the Automotive Industry Standards Committee (AISC) initiated the regulatory revision process, and published the draft regulations of AIS-038. The new regulation AIS-038 is aimed at the power of passenger cars and commercial vehicles (M and N vehicles) traction battery.
With its excellent quality, SVOLT's traction battery products have successfully passed the test and certification of the Indian AIS038 standard, and obtained the Indian AIS038 certification report issued by ATIC and ARAI of India, which means that this type of traction battery can enter the Indian market smoothly. During the AIS038 certification assessment process, in the face of the difficulties of the new AIS038 regulations and the impact of the worldwide epidemic, ATIC provides technical guidance and localization services to help SVOLT become one of the few traction battery companies in China that have obtained the Indian AIS038 certification.
ATIC REESS GLOBAL HOMOLOGATION SOLUTION
ATIC provides more than 28 categories' system, separate technical unit, component multinational compliance and homologation solutions. Via systematic research on each country or region's legislation, authority, regulation, homologation procedure, testing, analysis their difference and similarity, based on ATIC global authorization and partnership network we provide one-stop global homologation service, proactively and systematically lower compliance risk, save time and cost for our customers. In REESS homologation area, ATIC is long-term partner with CATL, SVOLT, BYD etc. more than 40 global top traction battery manufactures.
TRACTION BATTERIES

CERTIFICATION PLEASE CONTACT
Kevin Zhu
Kevin served as senior engineer in China Electrical Apparatus Research Institute.
In ATIC, he is now committed to improve customer experience and relationship with systematic,
professional and digitalized methods and practices
Phone: +86 15521092383
Mail: kevin.zhu@atic-cn.com