RELEASE DATE:

2020-12-15 17:43
Brief
:
Overcoming the difficulties of pandemic and several safety test items including thermal propagation, recently ATIC had completed the Indian mandatory certification testing of electric vehicle traction battery (standard: AIS-038) for a Tier One traction battery manufacturer in China. After document review, the first traction battery certification report of AIS-038 in China region was successfully issued.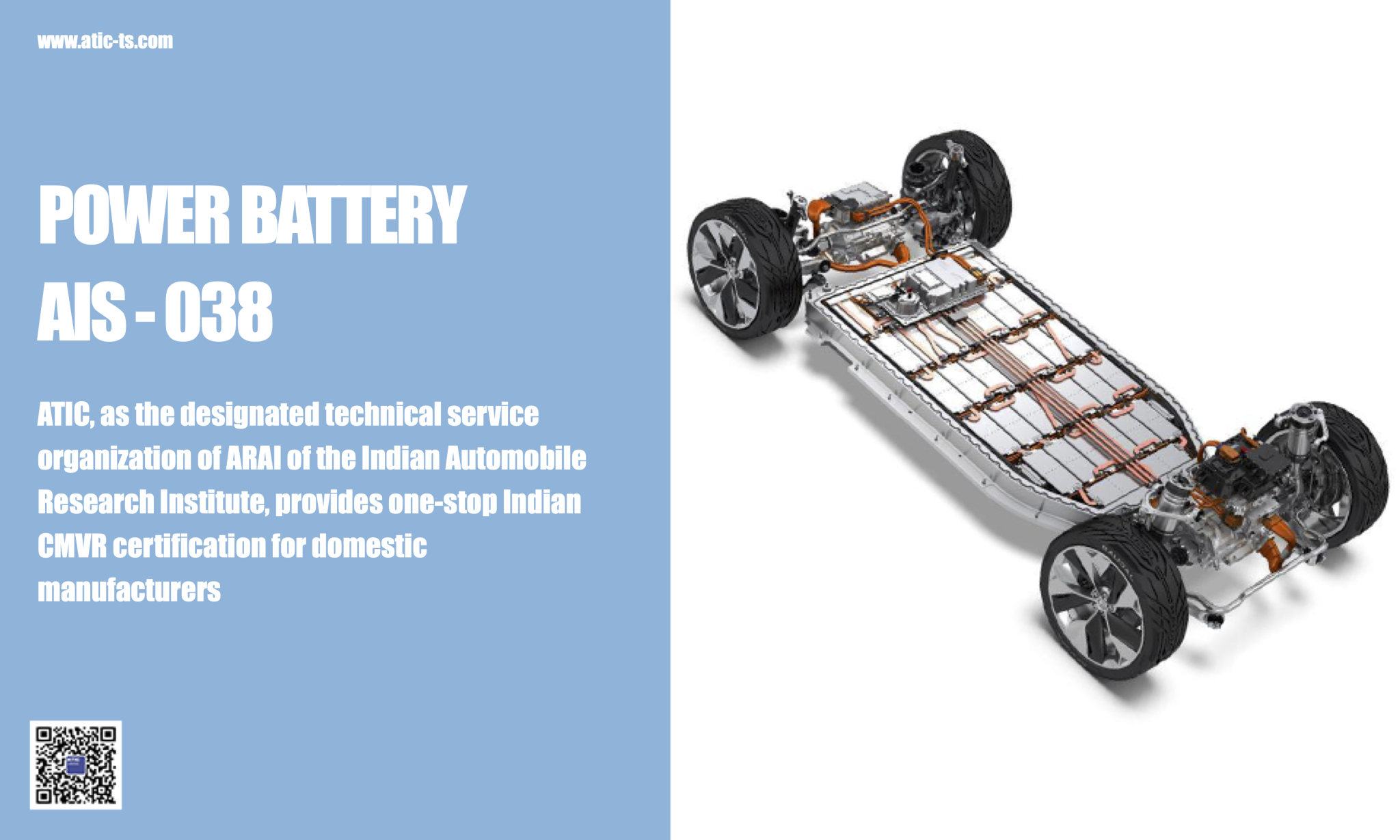 The previous regulation AIS-048 included test methods for power batteries used in M, N, and L category vehicles. I had been revised several times since firstly issued in 2009. However, due to the rapid development of electric vehicles and traction battery technology, some of the test items of the predecessor regulations could not fully adapt to the development of new technologies. Thus approved by the Ministry of Surface Transport (MoST), the Automotive Industry Standards Committee (AISC) initiated the regulatory revision process, and published the draft regulations of AIS-038 and AIS-156. The new regulation AIS-038 subjected to traction batteries used in passenger cars and commercial vehicles (M and N vehicles) and AIS156 subjected to traction battery used in two-wheeled vehicles (type L vehicles).
ATIC ONE-STOP CMVR CERTIFICATION SERVICE
ATIC, as the designated technical service organization of ARAI of the Indian Automobile Research Institute, provides one-stop Indian CMVR certification for domestic manufacturers. The mandatory vehicle certification scope of the CMVR regulations includes: electric vehicle BOV, two-wheel and three-wheel vehicles, four-wheel passenger vehicles and trucks (M1, N1), light and heavy commercial vehicles (M2, M3, N2, N3), diesel/gasoline generator sets, etc. And safety-related components are also required to be certified in the CMVR regulations, including: power batteries, on-board positioning system with emergency call button, safety glass, brake hose, horn, tire, seat belts, hubs, lighting and signaling devices, retroreflectors, triangular warning signs, reflective strips, replaceable LED light sources, child seats Brake pads, helmets, seats and headrests, automotive electronics, and wiper blades, etc.
SERVICES PROVIDED BY ATIC
• Testing and trial-testing of IS and AIS standards
• India CMVR (whole vehicles and components), BIS (consumer products, automotive components and electronic information products), WPC/TEC (wireless communication products) certification services
• Preparation and translation of a complete set of application materials
• Factory audit guidance, accompanied by translation throughout
• Direct co-operation with authorities and certification bodies without communication barriers
• Local representative available
ATIC is a young technical service company from China, established in 2015. ATIC is committed to integrate domestic and international regulations, testing and certification resources with a global perspective in the context of globalization, and establish a new, specialized regulation research, testing and certification platform. With innovative Digital Reporting System (DRS), Customer Service Platform (CSP) and self-developed Global Vehicle Regulation Database (GVRD), ATIC's compliance service covers more than 54 countries/regions globally, testing and certification service covers more than 30 countries/regions worldwide. ATIC serve more than 3,300 manufactures each year.
CMVR
CERTIFICATION PLEASE CONTACT