RELEASE DATE:

2021-02-02 18:30
Brief
:
The safety of automotive power battery has received more and more attention from the supervision and market. International organizations or countries have put forward different technical requirements and conformity assessment methods for automotive power battery. Among them, South Korea has significantly different requirements for the safety of power battery from other regions. Recently, ATIC assisted a top power battery manufacturer to obtain South Korean KMVSS Article 18-3 certification report.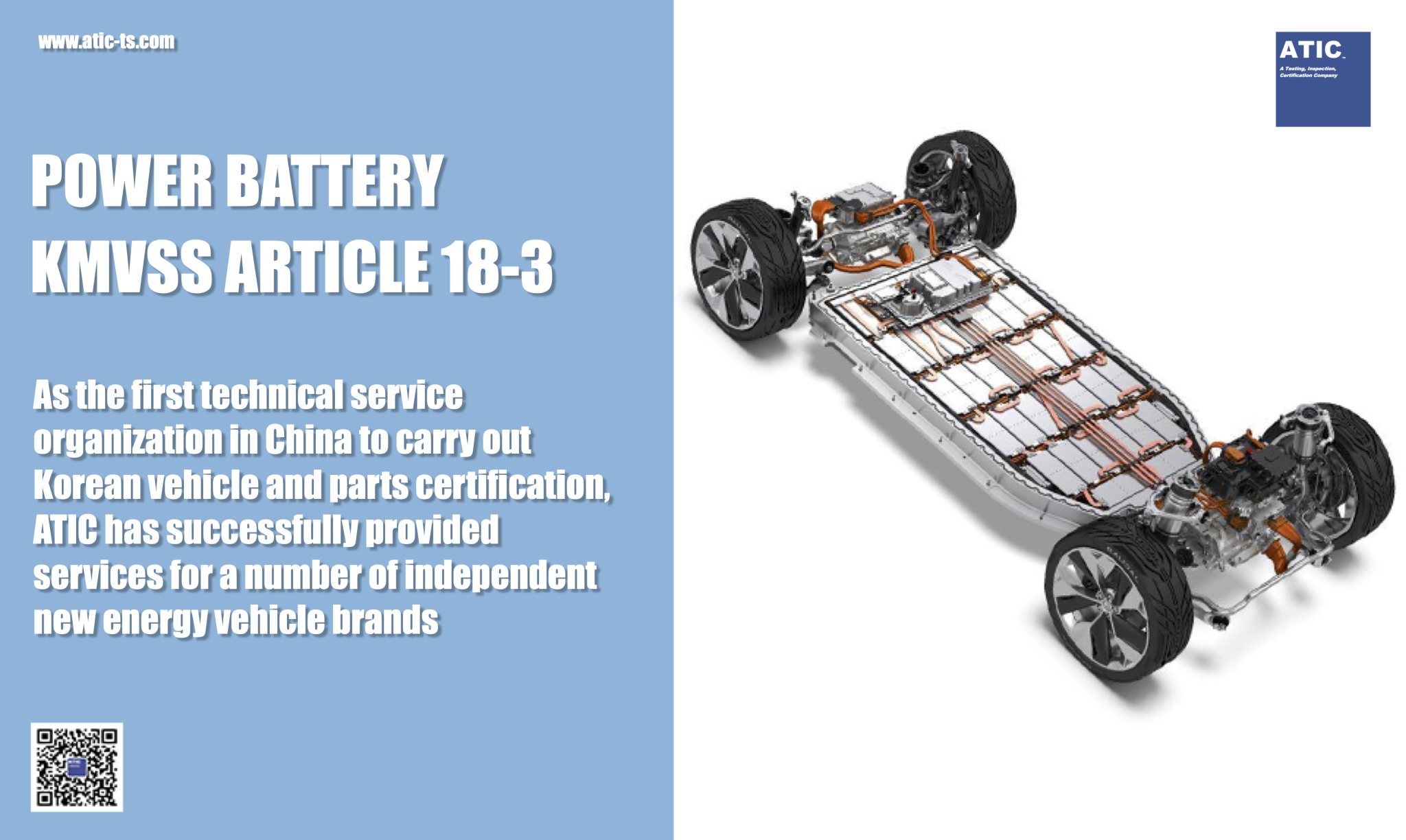 KOREA SAFETY CERTIFICATION FOR TRACTION BATTERY
Korean automotive product certification includes mandatory certification and voluntary certification. The compulsory certification regulations stipulate that all vehicles entering the Korean market must pass the certification of safety, environmental protection and fuel consumption labels, which are respectively managed by the Ministry of Land, Infrastructure and Transport (MOT), Ministry of Environmental Protection (MOE) and Ministry of Industry (MOI). For electric vehicles, it needs to pass the subsidy evaluation test of the Ministry of Environmental Protection. South Korean safety certification adopts self-certification, and manufacturers need to provide registration information to the Ministry of Transport and prove that the product complies with the Korean automobile safety regulations KMVSS. There is no single-product compulsory certification requirement for traction battery of electric vehicles entering the Korean market, but they need to be certified according to KMVSS Article 18-3 and test procedures KMVSS TP 48 during vehicle type approval.
Applicable standards:
KMVSS 18.3, KMVSS TP 48.
The list of test items is as follows:
1. Drop test
2. Water immersion test
3. Fire resistance test
4. Short circuit test
5. Overcharge protection
6. Over-discharge protection
7. High-temperature protection
SOUTH KOREAN SUBCIDIES TO ELECTRIC VEHICLES
Since 2016, the ATIC Global Homologation Research Department has continued to track and study the policies and regulations of South Korea's KMVSS, MOE, MOI, and EV Subsidy. By August 2020, 33 electric passenger vehicles, 17 electric trucks, 45 electric buses, and 47 electric motorcycles received subsidies for a total of 142 models, with a total subsidy amount of approximately 4.15 bllion won.
ATIC SOUTH KOREAN HOMOLOGATION SERVICES
As the first technical service organization in China to carry out Korean vehicle and parts certification, ATIC has successfully provided services for a number of independent new energy vehicle brands. ATIC conducts in-depth technical cooperation with the Korea Automotive Testing and Research Center (KATRI), the Korea Transportation Pollutant Research Center (TPRC), and the Korea Automotive Parts Association (KAPA). ATIC is capable of providing technical service in safety certification, environmental certification, fuel consumption label testing, subsidy evaluation testing, KC certification throughout the whole homologation process.
ABOUT ATIC
ATIC is a young technical service company from China, established in 2015. ATIC is comitted to integrate domestic and international regulations, testing and certification resources with a global perspective in the context of globalization, and establish a new, specialized regulation research, testing and certification platform.
With innovative Digital Reporting System (DRS), Customer Service Platform (CSP) and self-developed Global Vehicle Regulation Database (GVRD), ATIC's compliance service covers more than 54 countries/regions globally, testing and certification service covers more than 30 countries/regions worldwide. ATIC serve more than 3,300 manufactures each year.
KMVSS
CERTIFICATION PLEASE CONTACT