RELEASE DATE:

2021-03-19 14:52
Brief:
In order to improve the atmospheric environment and reduce greenhouse gas emissions, the MOE of South Korea introduced the Electric Vehicle Subsidy Regulations in 2012, which stipulates the performance requirements for vehicles that apply for subsidies for electric vehicle purchases. The regulations are updated once every 1 to 2 years on average. The most recent revision was at September 2019. Recently, the MOE revised the regulations again in September 2020. The revised content covers subsidy test items, test methods, implementation details, etc.. Recently, ATIC assisted a top power battery manufacturer to obtain South Korean KSR1204 certification report.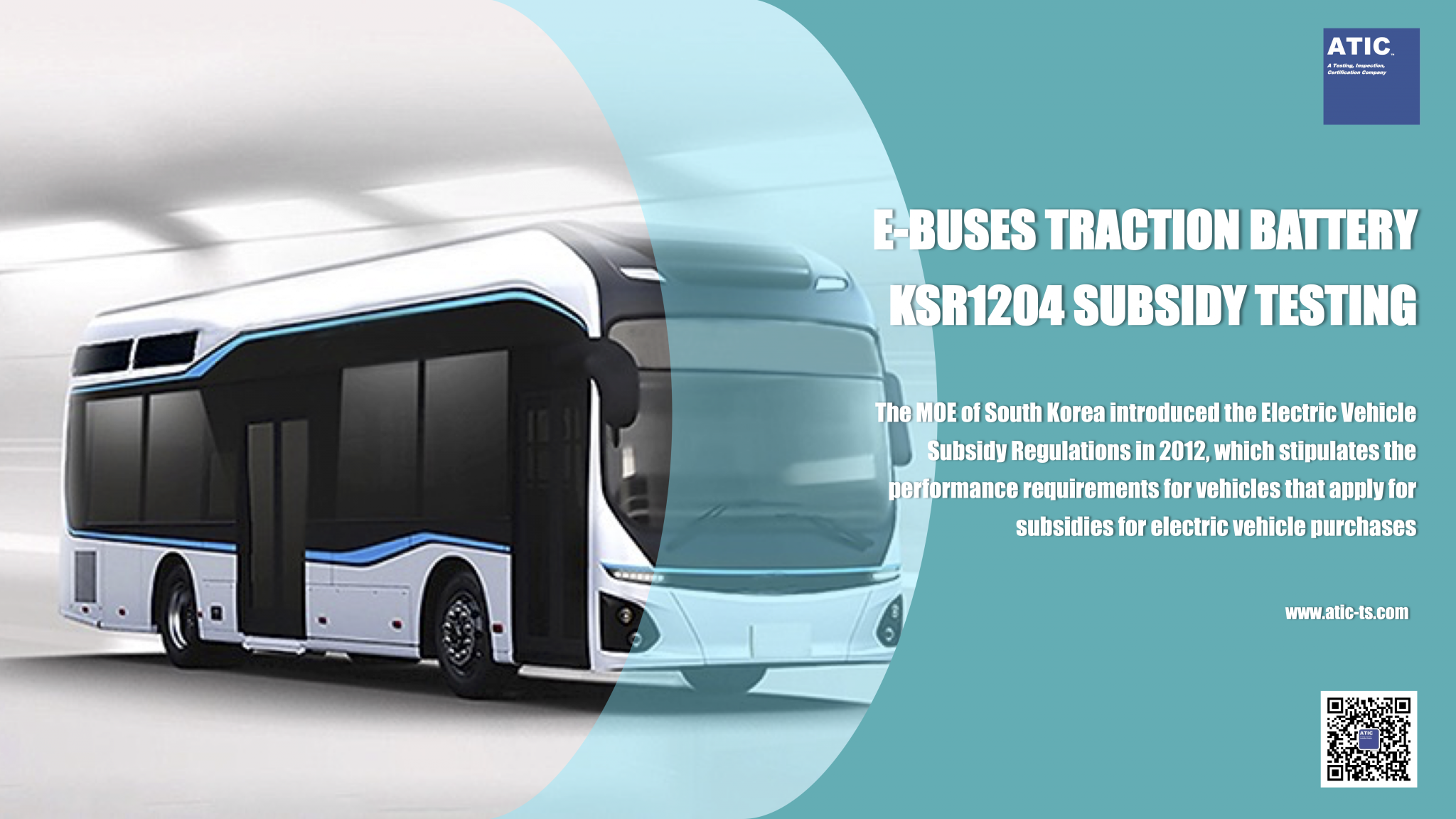 SUBSIDY TESTING OF TRACTION BATTERY PACKS AND SYSTEMS FOR ELECTRIC BUSES
KS R 1204:2019 Secondary lithium-ion traction battery packs and systems for electric buses is the latest requirement for subsidy test to traction batteries in electric buses in South Korea and has come into force since September 2020, replacing <KS R 1204:2018>. Comparing to the old version, the 2019 standard requests traction battery packs and systems on electric buses shall be used cells with energy density above 350 Wh/L. Main test items are:
1. Energy Density Test
2. Discharge Capacity at RT
3. Output And Internal Resistance
4. Discharge Capacity at Temperature Changes
5. No-Load SOC Loss
6. Storage SOC Loss
7. Cycle Life
SOUTH KOREAN SUBCIDIES TO ELECTRIC VEHICLES
Since 2016, the ATIC Global Homologation Research Department has continued to track and study the policies and regulations of South Korea's KMVSS, MOE, MOI, and EV Subsidy. By August 2020, 33 electric passenger vehicles, 17 electric trucks, 45 electric buses, and 47 electric motorcycles received subsidies for a total of 142 models, with a total subsidy amount of approximately 4.15 bllion won.
ATIC SOUTH KOREAN HOMOLOGATION SERVICES
As the first technical service organization in China to carry out Korean vehicle and parts certification, ATIC has successfully provided services for a number of independent new energy vehicle brands. ATIC conducts in-depth technical cooperation with the Korea Automotive Testing and Research Center (KATRI), the Korea Transportation Pollutant Research Center (TPRC), and the Korea Automotive Parts Association (KAPA). ATIC is capable of providing technical service in safety certification, environmental certification, fuel consumption label testing, subsidy evaluation testing, KC certification throughout the whole homologation process.
ABOUT ATIC
ATIC is a young technical service company from China, established in 2015. ATIC is comitted to integrate domestic and international regulations, testing and certification resources with a global perspective in the context of globalization, and establish a new, specialized regulation research, testing and certification platform.
With innovative Digital Reporting System (DRS), Customer Service Platform (CSP) and self-developed Global Vehicle Regulation Database (GVRD), ATIC's compliance service covers more than 54 countries/regions globally, testing and certification service covers more than 30 countries/regions worldwide. ATIC serve more than 3,300 manufactures each year.
KMVSS
CERTIFICATION PLEASE CONTACT