RELEASE DATE:

2021-07-01 16:01
Brief
:
Optical fiber, a fiber made of glass or plastic, can be used as a light transmission tool. The transmission principle is "total reflection of light". Now, optical fiber is widely used in the communications industry. According to Brazilian ANATEL, optical fiber products need to obtain ANANTEL certification before entering the Brazilian market. Recently, ATIC successfully assisted a well-known optical fiber manufacturer to obtain Brazil ANATEL certification, helping the company enter the Brazilian market.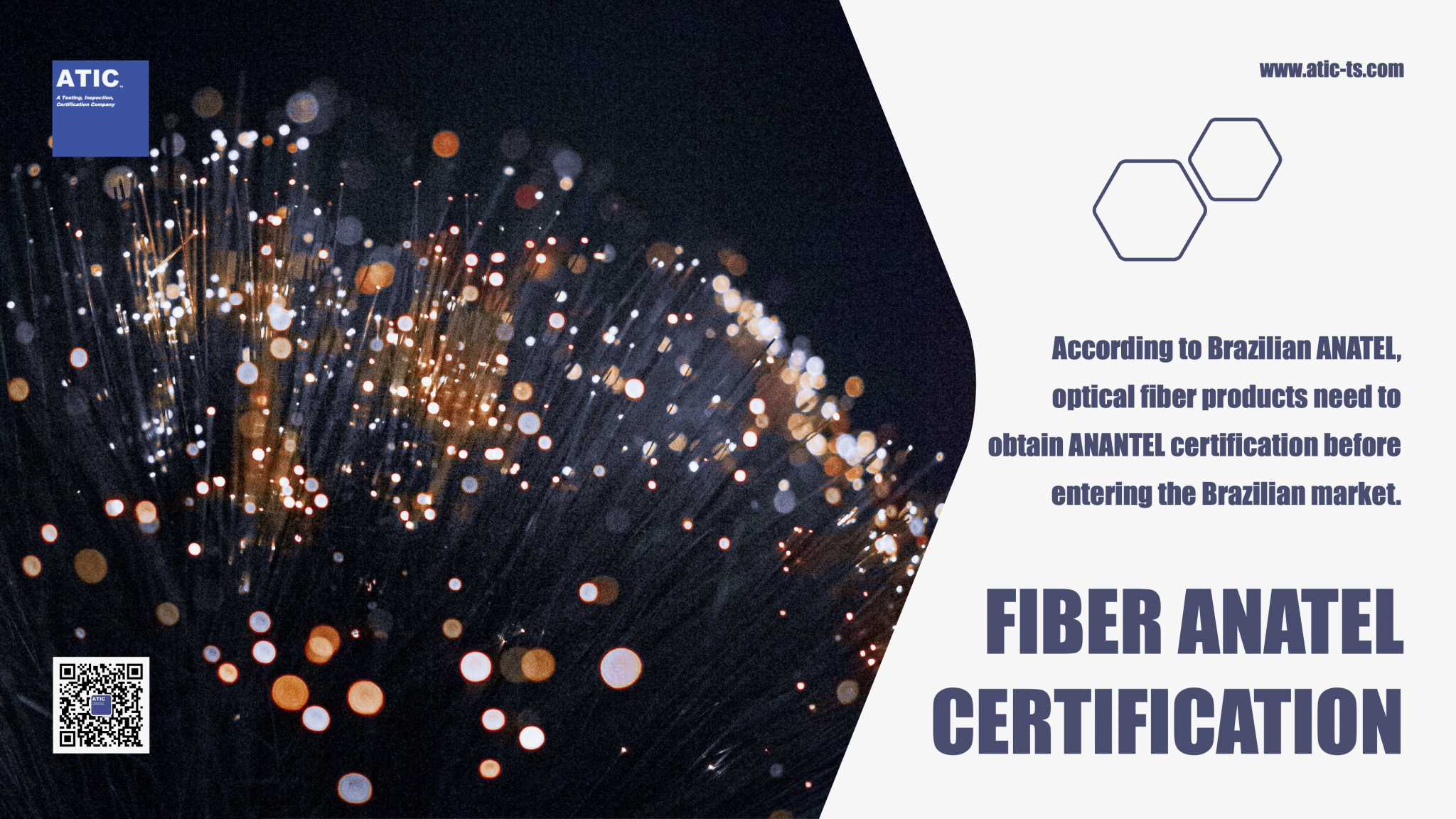 THE NEW REGULATION OF BRAZIL ANATEL
The Brazilian National Telecommunications Agency - ANATEL (Agência Nacional de Telecomunicações) is the regulatory body for telecommunications equipment in Brazil, and communication products manufactured or imported in Brazil. Communication products, including antennas, batteries, coaxial cables, optic fiber and optic cables, telephone cables, cell phone chargers, connectors, broadcasting equipment, RF equipment and data communication equipment, are required to be certified by ANATEL. According to the regulations Ato nº 7280, de 26 de novembro de 2020, from June 1, 2021, for different products, the ANATEL certification model is divided into certification based on type testing and factory management system evaluation with a maintenance period of 2 or 3 years. , Or registration based on the submission of a declaration of conformity, the registration is valid for a long time.
ANATEL CERTIFICATION INTRODUCTION
ANATEL: The Brazilian Agency of Telecommunications (Agência Nacional de Comunicações) is a special authority created by the general telecommunications law. Product manufactured in Brazil and other countries must be homologated by Anatel prior to sales into the Brazilian market.
Test needs to be carried out in designated laboratories. ATIC and Brazil OCD will designate laboratories for manufacturers and provide full-process services such as sample delivery and sample preparation requirements, testing regulations and standards, and technical support.
The product first obtains the conformity certificate CoC, which is issued by the Brazilian OCD; then applies for the type approval certificate CoH, which is issued by the Brazilian ANATEL. The certificate holder must be a Brazilian company (generally a buyer or a certificate held by ATIC Brazil); ATIC is a Brazilian OCD The designated technical service organization in China provides the full-process ANATEL certification technical support in China.
CERTIFICATION PROCESS
1. Delivering Application
2. Samples and documentation preparation
3. Test
4. Documentation reviewing
5. Issuing Certificate of Technical Conformity (CoC)
6. Anatel registration
7. ANATEL Documentation reviewing
8. Issuing Certificate of Homologation (CoH)
ABOUT ATIC
We are a young technical service company from China, established in 2015. We have a professional and passionate team, we strive to create the best environment to attract the best experts, returnees and outstanding graduates to join us. We are committed to integrate domestic and international regulations, testing and certification resources with a global perspective in the context of globalization, and establish a new, specialized regulation research, testing and certification platform. We serve more than 4,500 manufactures each year.
ANATEL CERTIFICATION PLEASE CONTACT