RELEASE DATE:

2023-09-29 14:34
Brief: In recent years, there have been a series of major updates to the EU vehicle regulations, and more than ten mandatory new regulations have been implemented, making the homologation of new vehicle to the EU market full of challenges. Following the issuance of an unlimited series WVTA approval for the P7i model of Xiaopeng Automobile in June this year, ATIC once again successfully obtained more than 50 system approvals and an unlimited series WVTA approval for its electric passenger car G9 (International version) in accordance with the new framework regulation. During the project, ATIC team worked with Xpeng to complete more than 50 safety and performance tests and audits in Chongqing, Guangzhou, and France, and continues to lead in the field of unlimited series new regulation passenger car European homologation in China.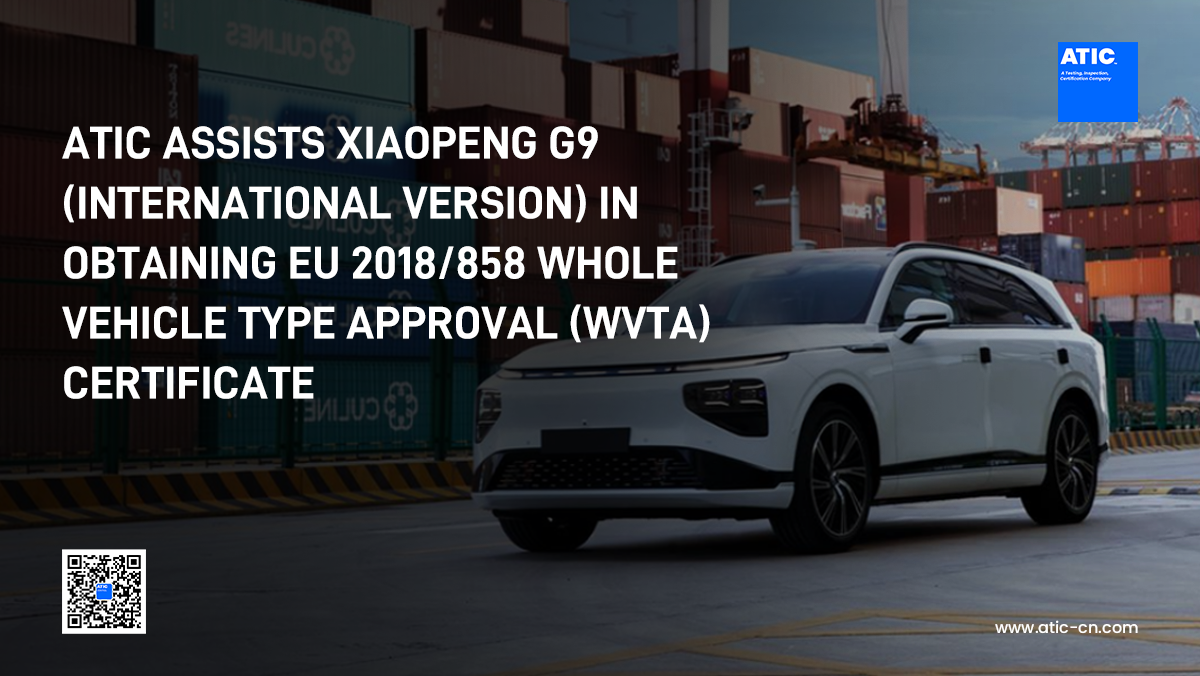 GUANGZHOU XIAOPENG AUTOMOTIVE TECHNOLOGY CO., LTD.
Established in 2015, Xiaopeng Motors is a technology company dedicated to the future of mobility. Xiaopeng has consistently invested in comprehensive research and development, building its core capabilities through self-research. Today, Xiaopeng Motors has become one of the leading intelligent electric vehicle companies in China. The mission of Xiaopeng Motors is to use technology to create a more convenient and enjoyable travel life for humanity. After three years of exploration in the European market, Xiaopeng Motors actively expands to international markets. They have introduced a new retail model combining direct sales and authorized channels to the European market, establishing sales and service networks in Denmark, the Netherlands, Norway, and Sweden.
The G9 (International version) model made its official debut at the IAA Mobility 2023 exhibition in Munich, Germany, and was officially launched in the European market recently. In the two-day summer electric vehicle test held by the Norwegian Automobile Federation (NAF) in June this year, the Xiaopeng G9 (International version) broke the charging record with a peak charging power of 319 kW and ranked first with a 113% WLTP range completion rate.
EU 2018/858 NEW FRAMEWORK WVTA CERTIFICATION
Since September 1, 2020, EU 2018/858 regulations have been in effect and have repealed Directive 2007/46/EC. It provides unified rules and principles for the approval and production consistency of EU motor vehicles and their trailers. Later, the EU officially announced the new General Safety Regulation (GSR) Regulation (EU) 2019/2144 at the end of December 2019, aimed at strengthening the protection of vehicle occupants and vulnerable road users (pedestrians, cyclists, etc.) and reducing traffic accident rates and casualties.
According to the latest revised regulation REGULATION (EU) 2022/2236 of EU 2018/858, all M1 new vehicle models need to comply with the following technical regulations in addition to meeting the requirements of conventional technical regulations after July 2022:
Regulations

Items


Remarks




Automatic lane change by direction indicator,

Corrective Steering Function

Emergency Steering Function

Optional,if fitted should be in compliance with UN R79

Emergency lane keeping system- ELKS

Intelligent speed assistance- ISA

Advanced emergency braking-AEBS




Driver drowsiness and attention warning-DDAW
ATIC EU/UN HOMOLOGATION SERVICE
ATIC experts are working under designated technical services in Europe to conduct Initial Assessment, Witness Testing and CoP assessment as authorized inspectors with authorities including e/E4 Netherland, e/E5 Sweden, e/E24 Ireland, e/E49 Cyprus.
ATIC GLOBAL HOMOLOGATION RESEARCH AND VEHICLE CERTIFICATION DEPARTMENT
ATIC Automotive Regulation Research Deparment and Vehicle Homologation Product Line is dedicated to global automotive regulation research, homologation procedure research and WVTA project.In the field of automotive compliance, we provide a automotive compliance services iof different markets and regulatory subscription services based on the digital platform . In the field of vehicle certification, we are the first to complete the first M1 WVTA project under the new GSR framework for domestic testing and certification. Our service clients include BYD, NIO Xpeng, GWM, Smart, Geely and other famous OEMs at home and abroad.
EU CERTIFICATION PLEASE CONTACT