RELEASE DATE:

2019-09-12 10:49
Brief:
On September 7, 2019, a high-level seminar on market access in Saudi Arabia and the Middle East was successfully held in Guangzhou in cooperation with the Saudi Arabian National Standards Bureau (SASO) and the China Council for the Promotion of International Trade (CCPIT-TDCC). ATIC received an invitation to attend this seminar.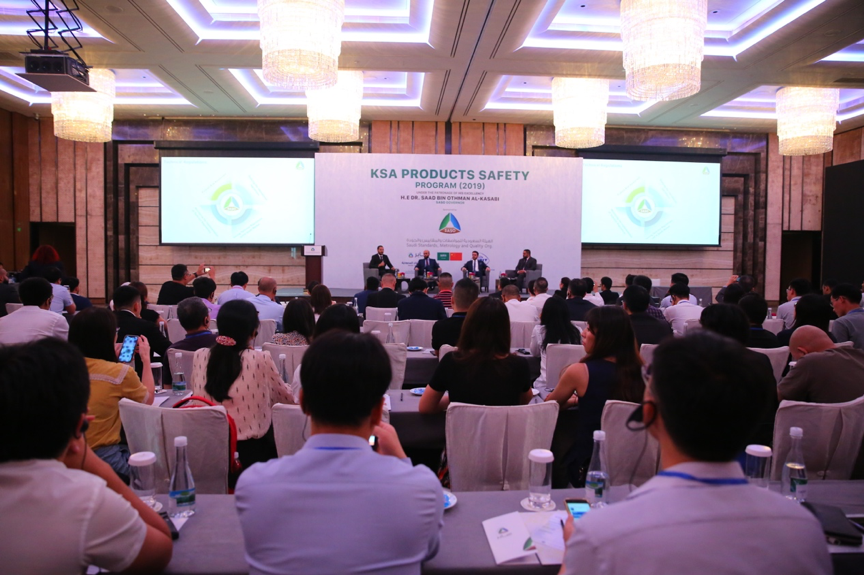 KSA PRODUCTS SAFETY PROGRAM 2019
On leading position of Arab and Islamic world, Saudi Arabia is committed to develop economic sustainability and diversity. The Saudi Standards, Metrology and Quality Organization (SASO) and RACS Gulf certification body have presented the quality requirements and management regulations for imported products in Saudi Arabia and the Gulf region. In order to facilitate Chinese SMEs to understand the needs and access rules of the Saudi Market, and promote the trade development between China and Saudi Arabia.

GCC CERTIFICATON
GSO, (the Standardization Organization of the Cooperation Council for the Arab States of the Gulf), is a subsidiary of GCC and is headquartered in Riyadh, the capital of Saudi Arabia. GSO is a member of international standardization organizations such as IEC, ISO, and OIML. The GSO made a decision at the Kuwait Ministerial Meeting on October 12, 2004. Since January 1, 2005, GSO has inspected and issued GCC certification for motor vehicles and tire products in accordance with relevant Gulf standards. The approved GCC certificate will be valid in all GCC member countries.

ABOUT ATIC
ATIC is a young technical service company from China, established in 2015. ATIC is committed to integrate domestic and international regulations, testing and certification resources with a global perspective in the context of globalization, and establish a new, specialized regulation research, testing and certification platform. With innovative Digital Reporting System (DRS), Customer Service Platform (CSP) and self-developed Global Vehicle Regulation Database (GVRD), ATIC's compliance service covers more than 54 countires/regions globally, testing and certification service covers more than 30 countries/regions worldwide. ATIC serve more than 2,300 manufactures each year.


GCC CERTIFICATION PLEASE CONTACT


Xinny Chan
Asia Homologation, Department Manager
Xinny graduated from the University of Brighton in UK and majored in Automotive Engineering.
He worked in OEM responsible for chassis R&D.

Xinny currently holds the role of Asia Homologation
Department Manager specializing in Asian automotive and components regulation and homologation.
Phone: +86 020-82510156
Mail: cs@atic-cn.com