RELEASE DATE:

2019-10-21 11:06
Brief:
The development of electrified and intelligentized automotives leads to increasing high-voltage driving and control system, electronic and electrical components equipped on vehicles, in the case electromagnetic disturbance and anti-interference performances of these parts have become an important focus of the auto industry. As a result, China Automotive Engineering Research Institute Co., Ltd (CAERI) and Chongqing Science and Technology Commission jointly hosted the 2nd Automotive EMC Seminar during 17th to 18th of Sep, 2019. As a solid business partner of CAERI, ATIC was invited to attend this workshop and presented a special report concerning UNECE R10 by the manager Mrs. Yvette Yang and the researcher Mr. Terrance Lin of ATIC 's Global Vehicle Regulation Research Department. ATIC's team briefly described the system formation and operation procedure about E-Mark certification, testing items and technical requirements provided in ECE R10 regulation and changes from the 6th revision draft of ECE R10, then shared knowledges and discussed with conferee engineers from Changan New Energy Auto, Foton Automotive and JMC Auto.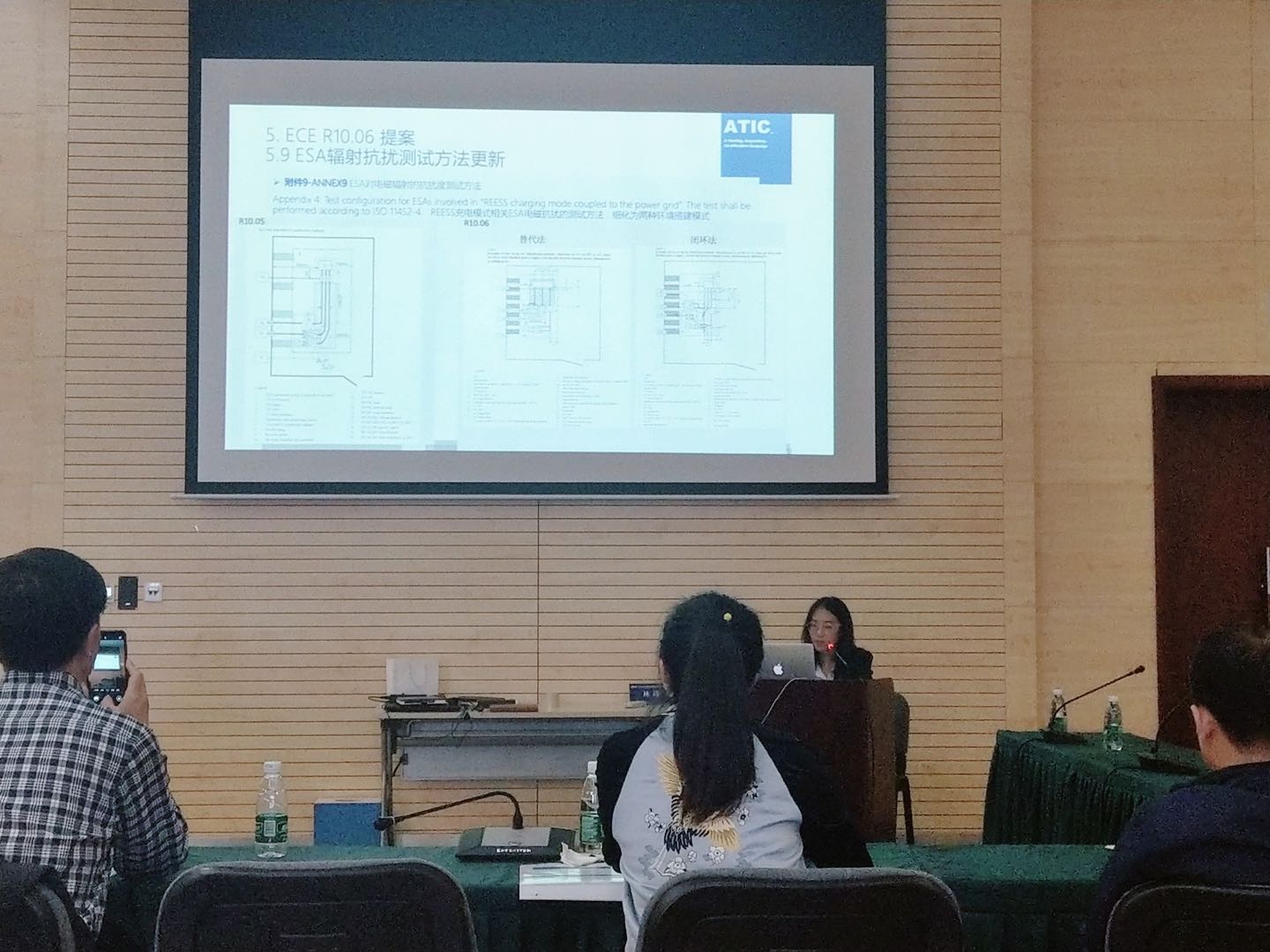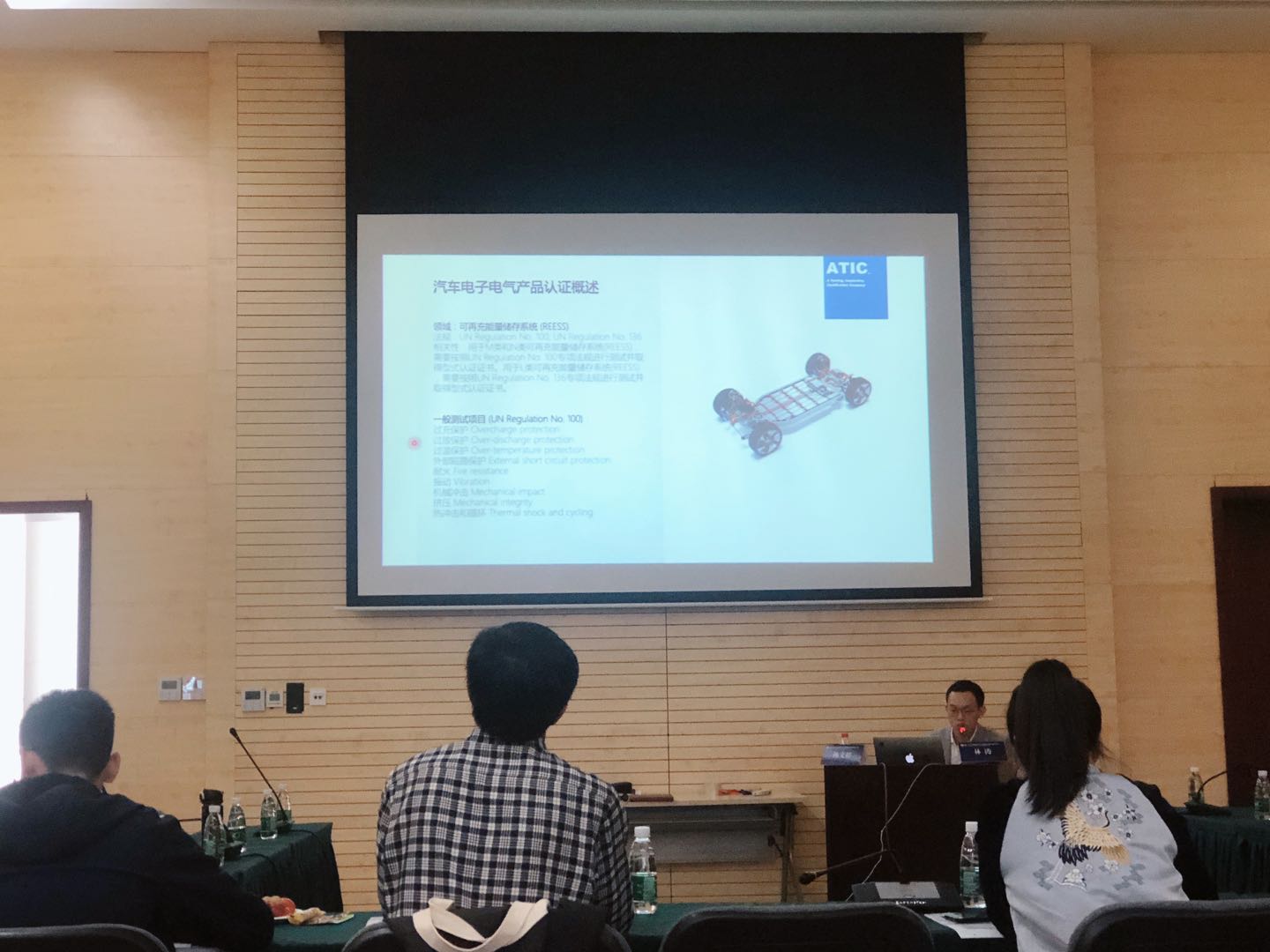 E-MARK CERTIFICATION AND ECE REGULATIONS
E-Mark is an international mutual recognition certification for motor vehicle compliance lead by the United Nations Economic Commission for Europe (UNECE) under the 1958 Agreement. The World Forum for the harmonization of vehicle regulations (WP.29) responsible for establishing ECE regulations of E-Mark certification include inside seven working parties (GRE, GRB, GRPE, GRSG, GRSP, GRVA and GRRF), in which new drafts or updated version of ECE regulations would be proposed at their twice-yearly session. After discussing and accepting, WP.29 would decide to release the related final rules. With continuous development, the ECE system has already grown to total 147 regulations today.

ECE REGULATION NO. 10 FOR AUTOMOTIVE EMC
EMC Task Force of WP.29's GRE working party is in charge of compiling and revising ECE R10. The 6th edition draft first appeared at the 77th session of GRE working party and was considered to be adopted at the 177th informal session of WP.29. Comparing with the existing 5th edition, the 6th edition was changed much in following aspects: the applicable scope to vehicle types, the limits and test methods of broadband and narrowband disturbance for the whole vehicle and ESA (electrical components or sub-assemblies), the test method of immunity to transient conducted emissions (ISO 7637) for vehicle and ESA, test conditions and criteria of immunity to radiated emissions etc. With experienced program practices on automotive EMC testing and certification, ATIC as a technical service authorized by ministries of department of several European Union countries is capable of facilitating auto manufacturer to get E-mark type approval from E1, E9, E24, E49 and E57 for ECE R10.

ATIC GVRR DEPARTMENT
The department is committed to the establishment of a global automotive regulatory framework, the study of national automotive certification systems and access systems, the analysis and interpretation of national automotive regulations and standards, and the survey of national automotive markets and industry policies. Based on a digital platform, the department furnish a one-stop full range of technical services and solutions to customers in automotive and IT industries in more than 20 countries, including: market access consulting, product certification solutions, analysis and technical review for product compliance to regulations and legislations, interpretation and tracking to regulations, regulatory training etc. As an exclusive compliance service provider for many well-known auto and E&E companies such Huawei, BYD, GWM, Foton, CATL etc., ATIC successfully assisted customers to enter Korea, Vietnam, India, Indonesia and South America with full compliance.


HOMOLOGATION PLEASE CONTACT


Yvette Yang
GVRR / Vehicle Homologation Line Manager
Yvette graduated from Shanghai Jiao Tong University with a master's degree.She now, as one of the European authority recognized expert,
is the Vehicle Homologation Product Line Manager of ATIC and Manager of the Global Automobile Regulation Research Deapartment.
She is responsible for the operation of ATIC Vehicle Homologation Product Line, Product Digital System and Global Regulation Database development.
Phone: +86 020-82510156
Mail: cs@atic-cn.com