RELEASE DATE:

2022-11-04 09:52
Abstract
:
Mechanical coupling devices, such as trailer ball and tow hook, are commonly used to connect vehicles and trailers. They are very critical to driving safety in mechanical properties, so most countries have mandatory requirements for certification of this product. In order to ensure the safety requirements and international interchangeability of standard and non-standard mechanical coupling devices and components, ECE R55 provides for the above devices for use in Class M, N and O vehicles. ATIC has very rich experience in R55 project, and has helped Wuxi Jingdun, Jiaxing Paike, Jilin GM and other domestic Oems and parts manufacturers to obtain certification certificates.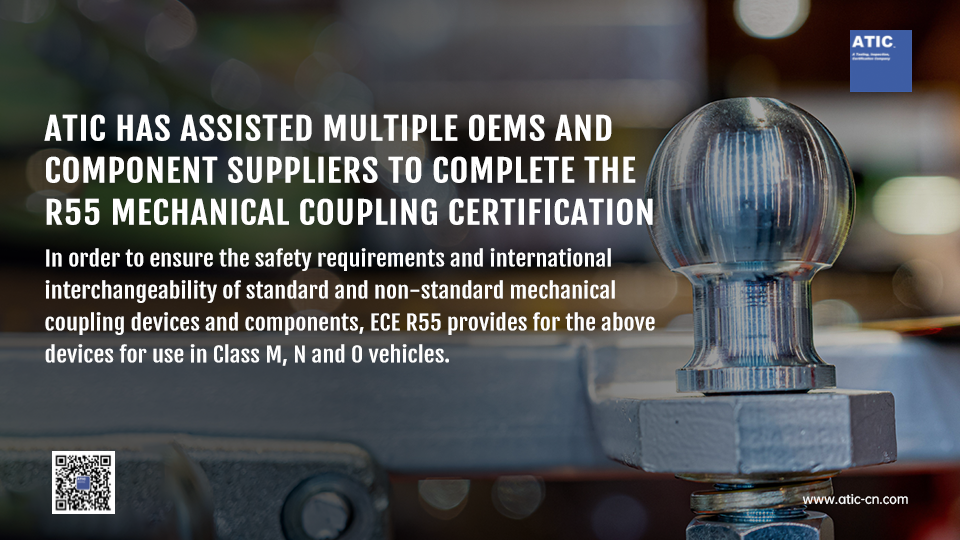 SCOPE

Mechanical coupling devices and components listed below require R55 certification:
Parts

Overall Vehicle

Class A Coupling balls and to wing brackets

Class C Clevis type drawbar c oupling

Class E Non-standard drawbar

ClassF Non-standard draw be ams

Class G Fifth wheel couplings

Class H Fifth wheel coupling pins

Class J Non-standard mounting plates

Class K Standard hook type couplings

Class L Standard toroidaldrawbar eyes for use with appropriate

ClassS Other coupling device

Class T Dedicated drawbar type couplings

Class W Non-standard miscellaneous,automatic drawbar coupling clevis type

For vehicles equipped with mechanical link devices or components conforming to R55, the installation height and Angle of the vehicle coupling device can be checked based on the R55 certificate of components.



THE CERTIFICATION PROCESS
Project application
Factory audit
Preparation of documents and samples
Sample delivery and testing
Preparation of reports
Submit for review
Certificate issuance
TEST PROJECT
Sign check
General Functional examination
Size requirements
Strength requirements(Dynamic and Static testing)
ATIC PROVIDES SERVICE
ATIC's vehicle homologation experts have an average of more than 10 years of experience in motor vehicle certification, and are familiar with multinational certification processes, local regulations, and testing requirements. ATIC cooperates with multinational official organizations and integrates high-quality testing and certification resources, to provide a global one-stop certification service for manufacturers to complete the certification process, including certification application, documentation preparation, regulatory guidance and training, and pre-testing and test coordination, etc.
ABOUT ATIC
ATIC is a technical service company from China, established in 2015. ATIC is committed to integrate domestic and international regulations, testing and certification resources with a global perspective in the context of globalization, and establish a new, specialized regulation research, testing and certification platform. With innovative Digital Reporting System (DRS), Customer Service Platform (CSP) and self-developed Global Vehicle Regulation Database (GVRD),ATIC's compliance service covers more than 54 countires/regions globally, testing and certification service covers more than 30 countries/regions worldwide. ATIC serve more than 4,500 manufactures each year.
REGULATORY SUBSCRIPTION PLEASE CONTACT