ATIC HAS SUCCESSFULLY ASSISTED BYD TO OBTAIN ISO/SAE 21434 CERTIFICATES, CSMS/SUMS CERTIFICATES, AND UN R155/156 VTA CERTIFICATES, A TOTAL OF 5 CERTIFICATES
ATIC HAS SUCCESSFULLY ASSISTED BYD TO OBTAIN ISO/SAE 21434 CERTIFICATES, CSMS/SUMS CERTIFICATES, AND UN R155/156 VTA CERTIFICATES, A TOTAL OF 5 CERTIFICATES
RELEASE DATE:

2023-07-14 12:15
Brief: According to EU Regulation (EU) 2018/858 and Regulation (EU) 2019/2144, motor vehicle manufacturers need to obtain CSMS and SUMS certificates, and each type need to obtain VTA certificates for corresponding models to comply with EU regulations and enter into compliance EU market. As of today, ATIC has successfully assisted BYD to obtain ISO/SAE 21434 certificates, CSMS/SUMS certificates, and UN R155/156 VTA certificates, a total of 5 certificates.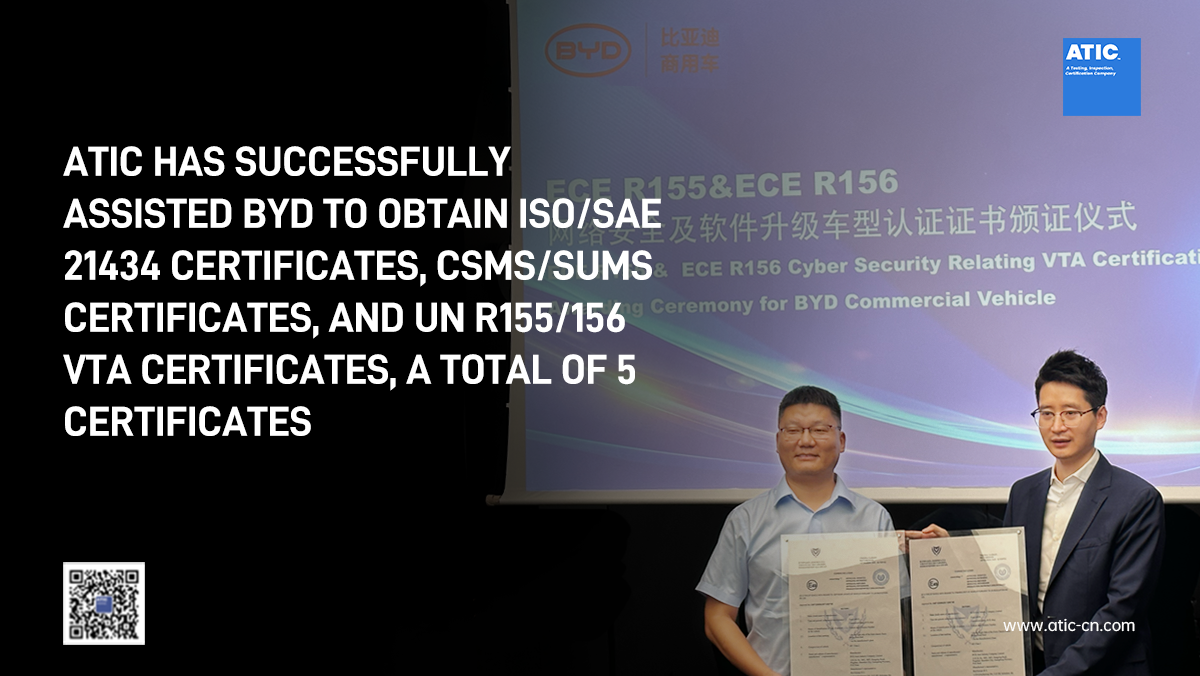 UN R155/ UN R156 REGULATIONS
In order to avoid the cybersecurity and consumer privacy risks brought about by the development of automobile digitization, networking and automation, WP.29 formulates UN R155/156 regulations, which will establish clear performance and audit requirements for automobile manufacturers. The manufacturers will need to comply with the regulations from July 2022 for new type and from July 2024 for new cars.
ABOUT BYD
BYD is committed to "using technological innovation to satisfy people's yearning for a better life". After more than 20 years of rapid development, it has established more than 30 industrial parks around the world, realizing the strategic layout of six continents around the world. At present, its automotive products have been exported to 200 countries around the world. Many countries and regions.

BYD joined hands with ATIC to launch the cybersecurity and software update project more than a year ago. During the period, it overcame the impact of the epidemic and obtained the ISO/SAE 21434 certificate in September 2022. Afterwards, the ATIC expert team and the European team carried out the review and audit through a combination of offline and online. The final audit was completed in December 2022. Finally, the CSMS and SUMS certificates were obtained in 2023, which proves that BYD commercial vehicles are in full life in product concept, development, production, operation, maintenance, and scrapping. All phases of the cycle comply with EU regulatory requirements for cybersecurity and software updates.
After obtaining the CSMS and SUMS certificates, BYD launched the VTA certification of several types. ATIC experts conducted the document review, witness testing and technical reports. As of today, the first type has obtained the UN R155/UN R156 certificates.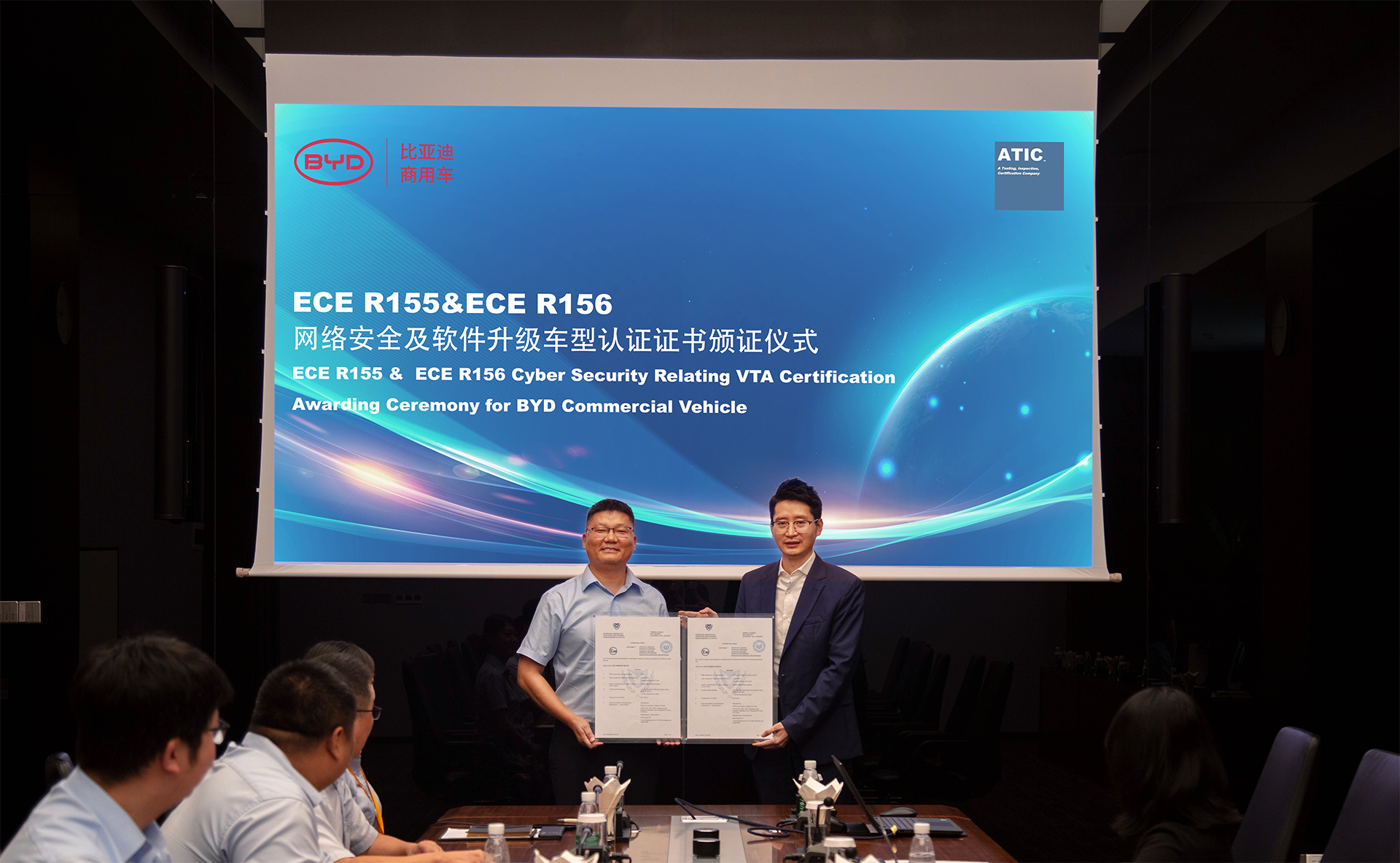 ATIC EU/UN HOMOLOGATION SERVICE
ATIC experts are working under designated technical services in Europe to conduct Initial Assessment, Witness Testing and CoP assessment as authorized inspectors with authorities including e/E4 Netherland, e/E5 Sweden, e/E24 Ireland, e/E49 Cyprus and E57 San Marino.
ATIC GLOBAL HOMOLOGATION RESEARCH AND VEHICLE CERTIFICATION DEPARTMENT
ATIC Automotive Regulation Research Deparment and Vehicle Homologation Product Line is dedicated to global automotive regulation research, homologation procedure research and WVTA project.In the field of automotive compliance, we provide a automotive compliance services iof different markets and regulatory subscription services based on the digital platform . In the field of vehicle certification, we are the first to complete the first M1 WVTA project under the new GSR framework for domestic testing and certification. Our service clients include BYD, NIO Xpeng, GWM, Smart, Geely and other famous OEMs at home and abroad.

ABOUT ATIC
ATIC is a young technical service company from China, established in 2015. By creating a better entrepreneurial environment, we build a professional and passionate team with the best experts, returnees and extraordinary graduates. We are committed to integrate international and domestic regulations, testing and certification resources from a globalization perspective, to establish a neo-specialized regulation research, testing and certification platform. ATIC serves more than 4,500 manufactures per year.
EU CERTIFICATION
PLEASE CONTACT
RND Department / Vehicle Homologation
Vehicle Homologation Line Manager / RND Department Manager. As one of the European authority recognized experts, Yvette is responsible for the operation of ATIC Vehicle Homologation Product Line and RND management.

Phone: +86 020-82510156
Mail: cs@atic-cn.com