RELEASE DATE:

2023-07-01 18:22
Brief: In recent years, there have been significant updates to EU vehicle regulations, with over ten mandatory new technology regulations implemented, making new car entry certification in the EU market challenging. ATIC's expert team and Xiaopeng Automotive team have worked closely for nearly a year and have recently successfully obtained 56 system certificates (including R155, R156) and a unlimited WVTA certificates for its smart electric passenger car P7i according to the new framework regulations. During the project, ATIC's team worked with Xiaopeng Automotive to complete 56 safety and performance tests and audits in Tianjin, Yancheng, Guangzhou, France, and Italy, many of which were the first in the country, making it the first technical service team in China to complete the new framework unlimited vehicle certification.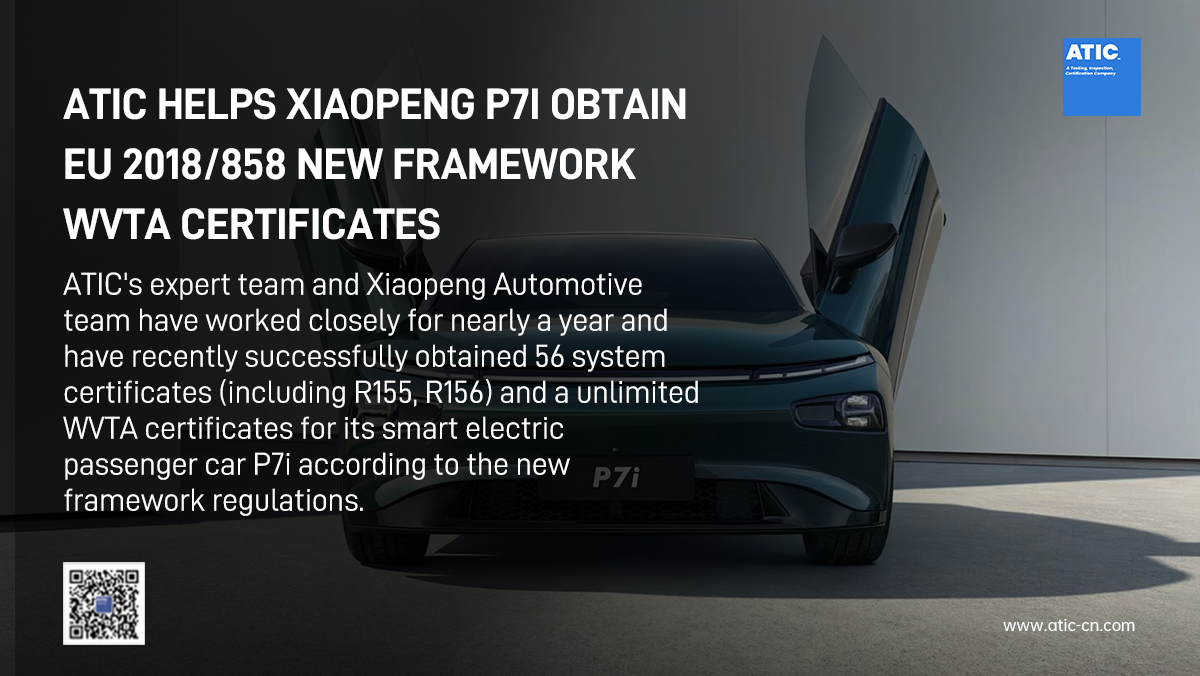 GUANGZHOU XIAOPENG AUTOMOTIVE TECHNOLOGY CO., LTD.
Xiaopeng Automotive was formally established in 2015 and is a technology company focused on future travel. Xiaopeng has always insisted on saturated R&D investment, building a fully self-developed core capability stack. Today, Xiaopeng Automotive has become one of China's leading smart electric vehicle companies. Xiaopeng Automotive's mission is to use technology to create a more convenient and enjoyable travel life for humanity.
The Xiaopeng P7i is equipped with Xiaopeng Automotive's latest intelligent platform and has comprehensively upgraded the entire underlying architecture, domain controller, chips, cameras, radar, algorithms, and other advanced driving and auxiliary functions such as automatic lane keeping, automatic parking, turn signal lane change, and emergency braking. The European version of the P7i was officially unveiled at the Stockholm eCar Expo 2023 and was officially launched in the European market recently.
EU 2018/858 NEW FRAMEWORK WVTA CERTIFICATION
Since September 1, 2020, EU 2018/858 regulations have been in effect and have repealed Directive 2007/46/EC. It provides unified rules and principles for the approval and production consistency of EU motor vehicles and their trailers. Later, the EU officially announced the new General Safety Regulation (GSR) Regulation (EU) 2019/2144 at the end of December 2019, aimed at strengthening the protection of vehicle occupants and vulnerable road users (pedestrians, cyclists, etc.) and reducing traffic accident rates and casualties.
According to the latest revised regulation REGULATION (EU) 2022/2236 of EU 2018/858, all M1 new vehicle models need to comply with the following technical regulations in addition to meeting the requirements of conventional technical regulations after July 2022:
Automatic lane change by direction indicator,

Corrective Steering Function

Emergency Steering Function

Optional,if fitted should be in compliance with UN R79

Emergency lane keeping system- ELKS

Intelligent speed assistance- ISA

Advanced emergency braking-AEBS

Driver drowsiness and attention warning-DDAW
ATIC EU/UN HOMOLOGATION SERVICE
ATIC experts are working under designated technical services in Europe to conduct Initial Assessment, Witness Testing and CoP assessment as authorized inspectors with authorities including e/E4 Netherland, e/E5 Sweden, e/E24 Ireland, e/E49 Cyprus and E57 San Marino.
ATIC GLOBAL HOMOLOGATION RESEARCH AND VEHICLE CERTIFICATION DEPARTMENT
ATIC Automotive Regulation Research Deparment and Vehicle Homologation Product Line is dedicated to global automotive regulation research, homologation procedure research and WVTA project.In the field of automotive compliance, we provide a automotive compliance services iof different markets and regulatory subscription services based on the digital platform . In the field of vehicle certification, we are the first to complete the first M1 WVTA project under the new GSR framework for domestic testing and certification. Our service clients include BYD, NIO Xpeng, GWM, Smart, Geely and other famous OEMs at home and abroad.
ABOUT ATIC
ATIC is a young technical service company from China, established in 2015. By creating a better entrepreneurial environment, we build a professional and passionate team with the best experts, returnees and extraordinary graduates. We are committed to integrate international and domestic regulations, testing and certification resources from a globalization perspective, to establish a neo-specialized regulation research, testing and certification platform. ATIC serves more than 4,500 manufactures per year.
EU CERTIFICATION PLEASE CONTACT
RND Department / Vehicle Homologation
Vehicle Homologation Line Manager / RND Department Manager. As one of the European authority recognized experts, Yvette is responsible for the operation of ATIC Vehicle Homologation Product Line and RND management.

Phone: +86 020-82510156
Mail: cs@atic-cn.com