RELEASE DATE:

2021-12-10 18:24
Brief:
Recently, ATIC assisted Guangzhou Xpeng Motors Technology Company Ltd. in overcoming the difficulties of the pandemic and successfully obtained the EU 2018/858 WVTA certificates for P5 and G3i, providing support for two intelligent electric vehicles export to the EU market.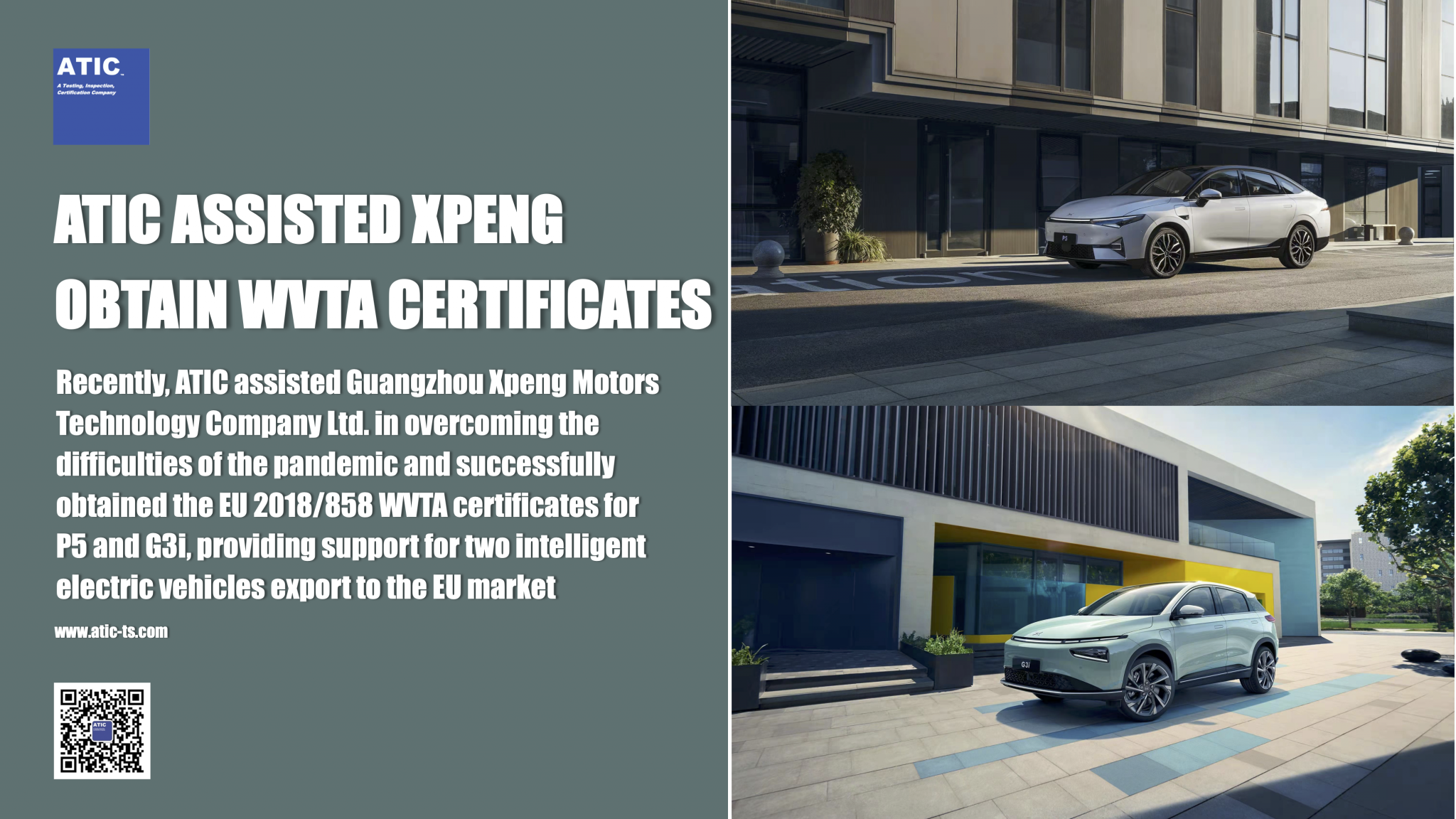 GUANGZHOU XPENG MOTORS TECHNOLOGY COMPANY LTD.
Formally established in 2015, Xpeng Motors is a technology company focused on the future of mobility. Xpeng has always insisted on saturated R&D investment and built a full-stack self-research core capability, and today Xpeng Motors has become one of the leading intelligent electric vehicle companies in China. The mission of Xpeng Motors is to use technology to create a more convenient and enjoyable travel life for humans.
Since its establishment more than six years ago, Xpeng Motors has completed its global layout, with its R&D headquarters in Guangzhou, R&D centres in Beijing, Shanghai, Shenzhen, Silicon Valley and San Diego, and its own production bases in Zhaoqing, Guangzhou and Wuhan. Xpeng Motors insists on an open and inclusive attitude, carrying out cross-regional and cross-cultural communication and integration to bring together global talents. As of 30 September 2021, Xpeng has over 10,000 employees worldwide, building up a large-scale, diversified and self-research-oriented talent team.
COMPREHENSIVE AND RIGOROUS CERTIFICATION TESTING
Under the witness and supervision of ATIC's certification experts, the two types of Xpeng vehicles underwent 40 stringent safety tests in two months, including braking, steering and assisted driving functions, electric consumption and range, electromagnetic compatibility, 40% offset frontal collision and side impact, both the P5 and G3i were successfully passed the full tests of the regulations.
ATIC EU WHOLE VEHICLE TYPE APPROVAL SERVICE
European Type Approval System: German StVZO, EU Regulations and UNRegulations. StVZO standards apply to Germany, EU Regulations apply to EU/EEA/EFTA member states, while UN Regulations may accepted by EU and more than 50 UNECE member states.
ATIC experts are working under designated technical services in Europe to conduct Initial Assessment, Witness Testing and CoP Assessment as authorizedinspectors under authorities including e/E4 Netherland, e/E5 Sweden, e/E13 Luxembourg, e/E24 Ireland, e/E49 Cyprus.
UNECE CERTIFICATION PLEASE CONTACT