RELEASE DATE:

2019-09-27 12:36
Brief:
On September 18, 2019, Qi Xiaodong-Director, Yang Wenting-Manager of Vehicle Regulation Research Department, and Yuan Rong-Researcher of ATIC conducted technical communication with KICAS- Korea Internationalization Center for Automobile Standards. ATIC and KICAS Principal Investigator Mr. Jin had an in-depth discussion on the revision of Korean automotive standard KMVSS, the trend of Korean autopilot policy and regulation, and the KC certification of Korean motor vehicle aftermarket parts.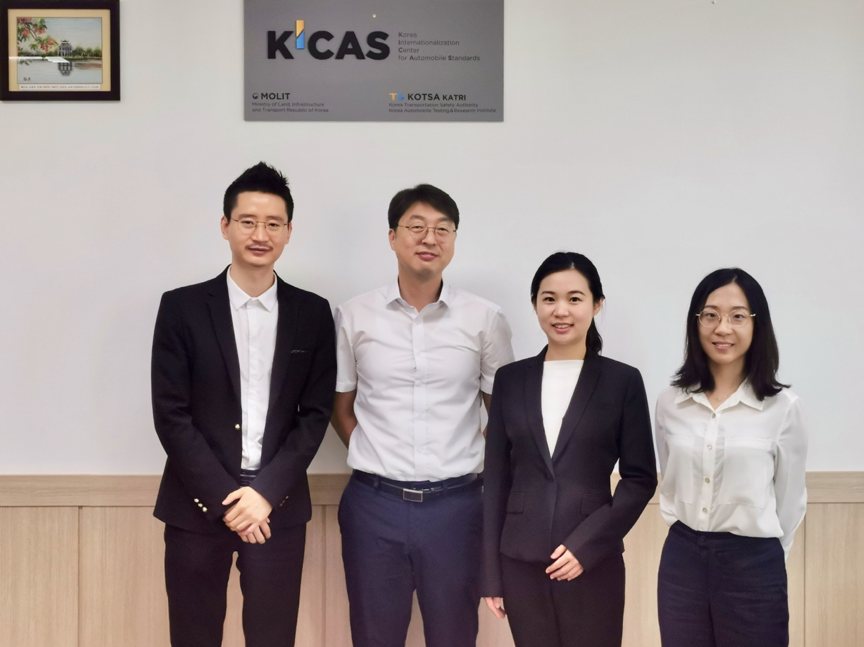 INTRODUCTION TO KICAS
KICAS (Korea Internationalization Center for Automobile Standards) is affiliated with KATRI, the Korean Institute of Motor Vehicle Testing and Research. KICAS' main responsibilities include: research on Korean motor vehicle policies and standards, coordination of international standards for motor vehicles, and international cooperation in the field of motor vehicle research. KICAS provides technical support for the development of domestic standards and the adoption of international standards in Korea and participates in the WP.29 meeting.

AUTOPILOT POLICY
Autopilot policy:
In 2019, the Korean Ministry of Transport MOLIT proposed to further promote the autopilot test research base K-CITY. K-CITY is located in the KATRI test site and is open to all enterprises and research institutions. It is expected to be completed in 2021.
At the same time, the Korean government is actively promoting the commercialization of L3-class autonomous driving. It plans to build Sejong and Busan as smart cities in 2023.

Autopilot regulations:
The Korean government has only officially issued regulations for self-driving road tests - "Safety Operation Requirements and Test Operation Regulations for Self-driving Vehicles", for the automatic driving road test application process, control mode, display device requirements, accident recorder installation, speed limit Provisions are made with collision prevention and the like.
It is expected that at the end of 2019, the Korean Motor Vehicle Safety Standards Regulation KMVSS will be revised for autonomous driving. The main contents include definitions of terms related to autonomous driving, such as fully automatic driving systems, partial automatic driving systems, lane keeping systems, and driver behavior monitoring systems.

Automated driving standards are established:
South Korea is actively participating in the WP.29 Autopilot Working Group meeting. It is expected that in March 2020, after the end of UN legislation in the auto-driving network security and software update regulations, the Korean government plans to integrate the corresponding UN regulations into KMVSS. However, for functional safety, the Korean government has not explicitly defined the plan to directly reference ISO 26262 or ISO 21448.


ATIC KOREA COMPLIANCE AND CERTIFICATION SERVICES
ATIC is the third-party technical service in China with experience in Korean vehicle certification, and has a deep understanding of Korean motor vehicle access procedures, regulations and policy requirements, safety and environmental protection and subsidy standards. ATIC has a smooth communication with the official agencies and can coordinate the local coordination and rapid response in Korea. Korean compliance and certification services for OEMs: Compliance services incluing Korean access consulting and training, interpretation of regulations and standards, testing and certification program planning; certification services including vehicle safety certification, environmental certification, subsidy testing, manufacturers Registration and parts certification services.


KOREA CERTIFICATION PLEASE CONTACT
Yvette Yang
GVRR / Vehicle Homologation Line Manager
Yvette graduated from Shanghai Jiao Tong University with a master's degree.She now, as one of the European authority recognized expert,
is the Vehicle Homologation Product Line Manager of ATIC and Manager of the Global Automobile Regulation Research Deapartment.
She is responsible for the operation of ATIC Vehicle Homologation Product Line, Product Digital System and Global Regulation Database development.
Phone: +86 020-82510156
Mail: cs@atic-cn.com