RELEASE DATE:

2021-05-06 17:15
Brief
:

The Road Vehicle Standards Act 2018 (RVSA) and associated Road Vehicle Standards Acts relating to consequential and transitional provisions passed Parliament in late 2018. The RVSA will replace the existing Motor Vehicle Standards Act 1989 (MVSA) and deliver an updated and modernised system to regulate the first provision of road vehicles to the Australian market. The RVS legislation will commence in full on 1 July 2021.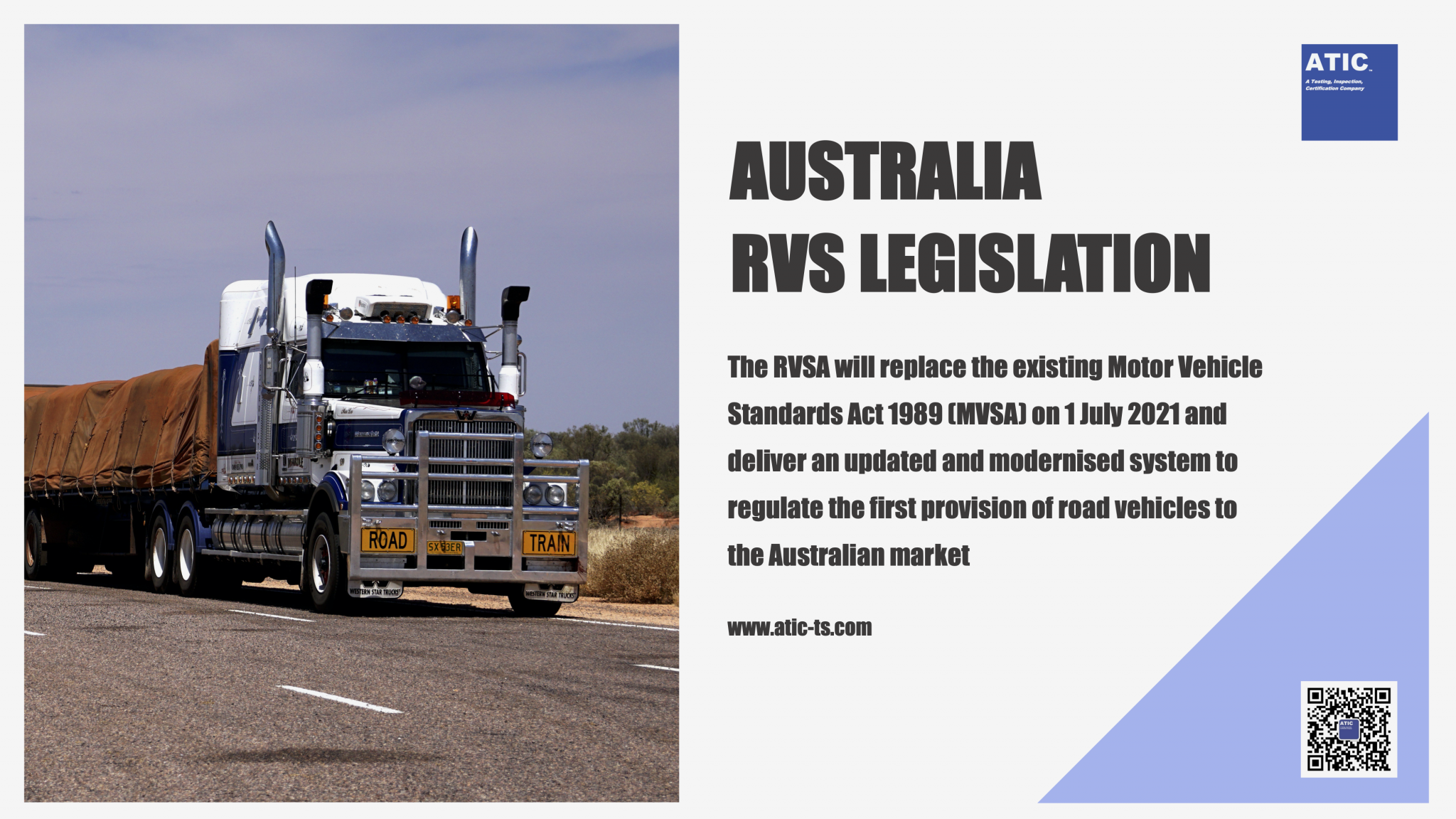 CHANGES ARE COMING FOR THE FOLLOWING UNDER THE RVS LEGISLAION
1. Importing a vehicle
2. Register of Approved Vehicles (RAV)
3. Vehicle certification
4. Registered automotive workshops
5. Model Reports
6. Authorised vehicle verifiers
7. Testing facilities
8. Specialist and Enthusiast Vehicles Register
9. Component type approvals
10. Vehicle recalls
As the official registered agent (Registration No.: A16386), ATIC provides Australian vehicle certification services to whole vehicle and component manufacturers mainly in China.
ATIC is a young technical service company from China, established in 2015. ATIC is committed to integrate domestic and international regulations, testing and certification resources with a global perspective in the context of globalization, and establish a new, specialized regulation research, testing and certification platform. With innovative Digital Reporting System (DRS), Customer Service Platform (CSP) and self-developed Global Vehicle Regulation Database (GVRD), ATIC's compliance service covers more than 54 countries/regions globally, testing and certification service covers more than 30 countries/regions worldwide. ATIC serve more than 3,300 manufactures each year.
RVS
CERTIFICATION PLEASE CONTACT
Charlie Li
Component Homologation Department
ATIC Component Homologation Product Line Manager/BDM (Western China Region), Technical Expert accredited by European Authorities, Lead Auditor for Brazil INMETRO.
Rich experience in vehicle and component compliance, testing and certification for markets including EU, America, Japan, South Korea and India etc..
Phone: +86 020-82510156
Mail: cs@atic-cn.com