RELEASE DATE:

2022-04-01 11:29
Brief
:
The Ministry of Transport and Telecommunications(MTT), The Ministry of Environment (MMA) and Vehicle Control and Certification Center (3CV) are the bodies responsible for regulating market access for automotive products. The MTT is the main regulatory authority for vehicle certification and is responsible for the development and publication of technical regulations on vehicle safety; the MAA, in conjunction with the MTT, develops technical regulations on vehicle pollution and noise emissions; the 3CV is the executive body authorised by the MTT to certify vehicles, and in accordance with Chilean regulations, all motor vehicles entering the Chilean market must pass the 3CV certification and obtain a Chilean vehicle type approval certificate before they can circulate in the Chilean market.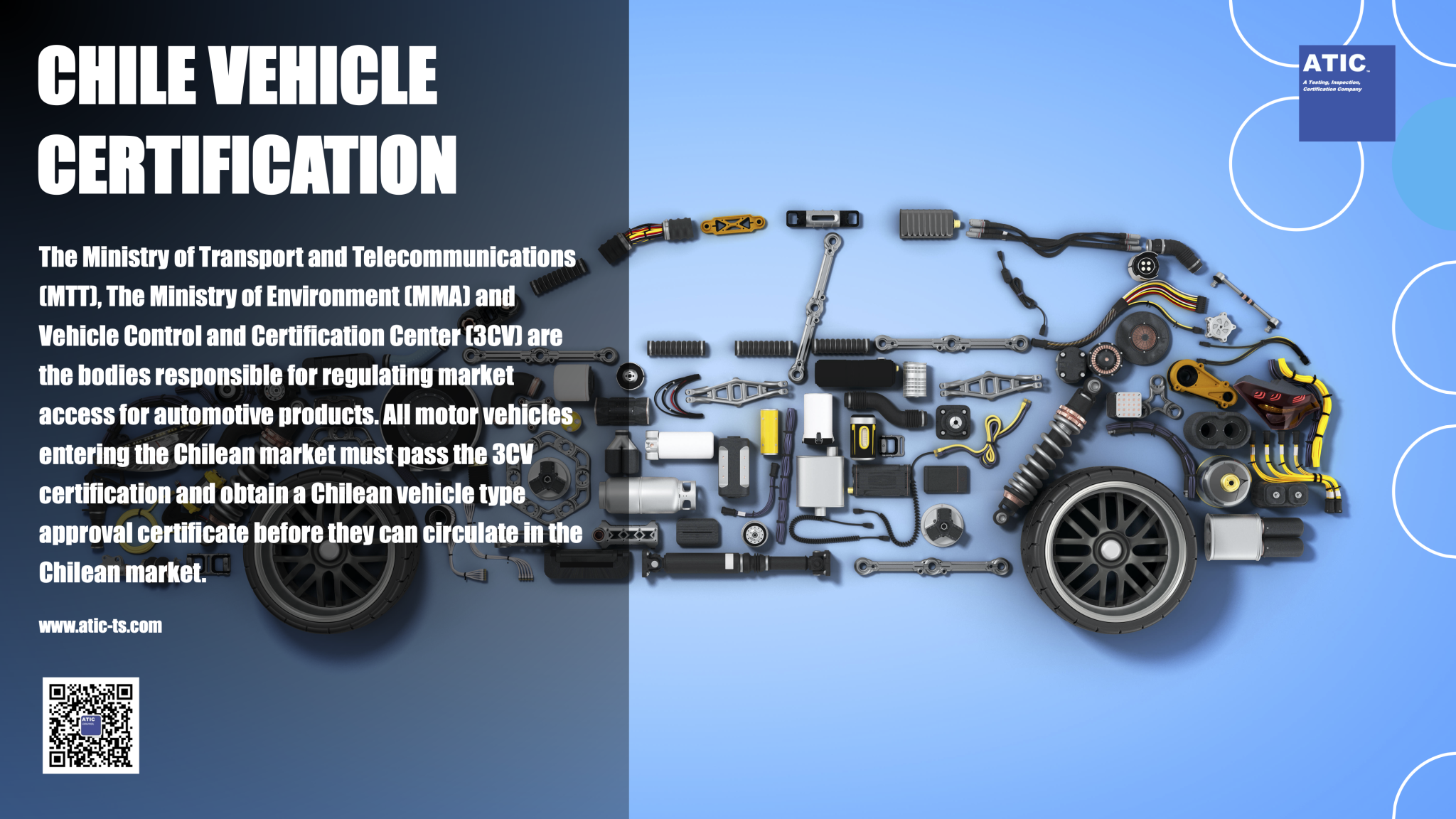 CLASSIFICATION OF CERTIFIED MODELS

Light duty: Gross vehicle weight less than 2700 kg, excluding two and three wheels
Medium duty: Gross vehicle weight over 2700 kg and under 3860 kg
Heavy duty: Gross vehicle weight over 3860 kg
Safety Bus: Passenger vehicles for urban transport

TYPE APPROVAL INTRODUCTION
Safety certification:
Some of the core safety components of motor vehicles are as follows:
| | |
| --- | --- |
| | |
| | Seat Belt |
| | Safety glazing |
| | Rear Window Defogger |
| | Headrest |
| | Rear view Mirror |
| | Seat Anchoring |
| | Retractable Steering Column |
| | Airbag |
| | Brake System |
| | Occupant Protection System |
| | Inflammability of the materials inside the passenger compartment |
The additional safety requirements for light and medium duty electric vehicles are as follows:
| | |
| --- | --- |
| | |
| | Traction Battery |
| | Charging Standards |
| | Electrical safety |
| | Audible warning system |
| | Travel Charging Cable |
| | Charging cable adapter |
| | Orange high voltage cable |
| | Warning signs for electric and hybrid vehicles |
| | Safety information leaflet |
| | Electric and hybrid vehicle labels |
Emission certification (exhaust emissions and noise) for light and medium duty vehicles:
Exhaust emissions:
Current limit value: Euro 5 ( or EPA Tier 2 Bin 5).
From 2022/9/30, New models need to comply with Euro 6b limit values;
From 2023/3/30, All models need to comply with Euro 6b limit values;
From 2024/9/30, All models need to comply with Euro 6c limits values.

Noise emissions: UN ECE R51.03

CERTIFICATION PROCESS
Register and submit company and model information
Prepare technical documentation and submit application documents
Send prototype vehicles to 3CV for safety certification and emissions testing
3CV test and audit assessment followed by issuance of type approval certificate

CERTIFICATION SERVICE PROVIDED BY ATIC
ATIC's vehicle certification experts have an average of more than 10 years of experience in motor vehicle certification, and are familiar with multinational certification processes, local regulations, and testing requirements. ATIC cooperates with multinational official organizations and integrates high-quality testing and certification resources, to provide a global one-stop certification service for manufacturers to complete the certification cycle, including certification application, documentation preparation, regulatory guidance and training, and pre-testing and test arrangement, etc. With the best service and the fastest efficiency, AITC assists the manufacturers to enter the global market with one-stop certification. ATIC experts are working under designated technical services in Europe to conduct Initial Assessment, Witness Testing and CoP assessment as authorized inspectors by authorities including e/E5 Sweden, e/E24 Ireland, e/E49 Cyprus, e/E32 Latvia, e/E36 Lithuania and E57 San Marino. ATIC serve more than 200 whole vehicle and component manufactures each year in China.


ATIC GLOBAL HOMOLOGATION RESEARCH AND VEHICLE CERTIFICATION DEPARTMENT
ATIC Automotive Regulation Research and Vehicle Homologation Product Line is dedicated to global automotive regulation research, homologation procedure research and WVTA homologation project management.
Based on ATIC digital platform, our team provides a series of automotive compliance services including market access solutions, technical review, regulation interpretation, regulation database and update, training and Q&A, etc.
ATIC homologation experts are nominated by European technical service and authorities covering all EU/UN regulations for M/N/O/T/L/NRMM category vehicle, system, component and separate technical unit. Authorities includes Netherlands (e/E4), Sweden (e/E5), Luxembourg (e/E13), Ireland (e/E24) and Cyprus (e/E49).
ATIC is long-term compliance and homologation service provider for GWM, GEELY, SAIC MOTOR, BYD, XPENG, NIO, RIMAC, Smart etc. top domestic and international OEMs, and HUAWEI, CATL, SVOLT, FINDREAMS etc. system and component manufactures.
CHILE HOMOLOGATION PLEASE CONTACT
Emily Shui
Global Vehicle Regulation Research Department
Emily is Researcher in ATIC, she holds a Master's degree from Chongqing University of Technology.
Emily is specializing in cross-disciplinary compliance and certification solutions,
as well as ATIC regulation database development
Phone: +86 020-82510156
Mail: cs@atic-cn.com