RELEASE DATE:

2021-04-21 11:47
Brief: CMS (Camera-Monitor System, hereinafter referred to as CMS), replaces the inner rearview mirror and two outer rearview mirrors with cameras and monitors. "Camera" means a device that renders an image of the outside world and then converts this image into a signal (e.g. video signal); "Monitor" means a device that converts a signal into images that are rendered into the visual spectrum. According to the UN R46 regulations, whether CMS products are installed with the Vehicle or CMS products in the aftermarket, they must pass the UN Only with Regulation No.46 certification can it enter Europe or be sold in more than 50 UNECE countries.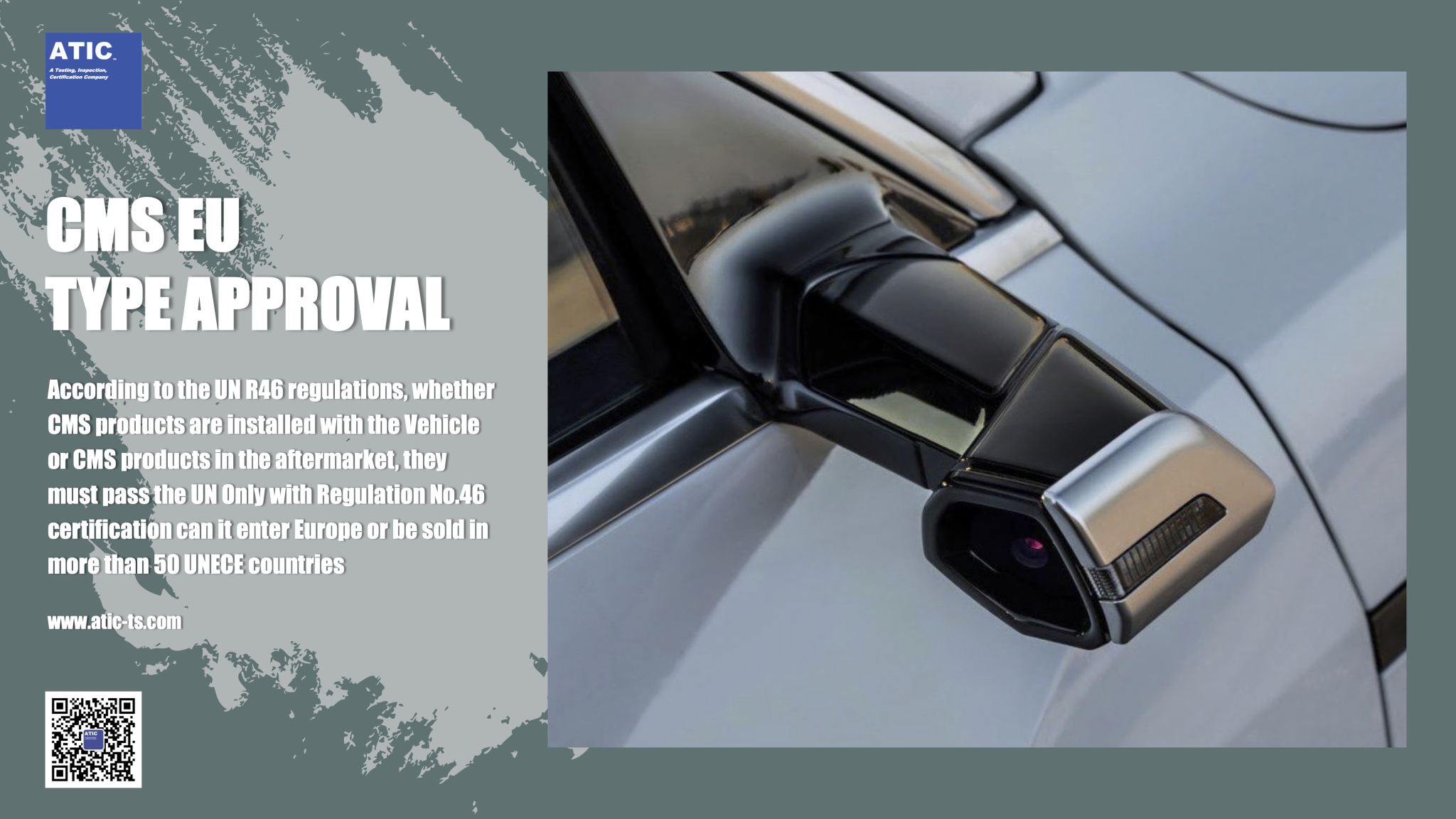 ADVANTAGES OF CMS
1. Reduce wind resistance and wind noise, reduce fuel consumption
2. A wider field of vision, enhanced visibility, and higher security
3. Support vision-based analysis
4. Vehicle Aesthetics
CMS GENERAL REQUIREMENTS (PARTIAL)
1. If adjustment by the user is needed, the device for indirect vision shall be adjustable without the use of tools.
2. If a device for indirect vision can only render the total prescribed field of vision by scanning the field of vision, the total process of scanning, rendering and reset to its initial position together shall not take more than 200 milliseconds at room temperature of 22 °C ± 5 °C.
3. The effectiveness of the CMS of Classes I to IV shall not be adversely affected by magnetic or electrical fields. This shall be demonstrated by compliance with the technical requirements and transitional provisions of Regulation No. 10, 04 series of amendments or any later series of amendements.
TYPE APPROVL PROCESS
1. Submit application
2. Initial assessment
3. Information document and testing sample preparation
4. Testing and reporting
5. Type approval certificate issuing
CMS HOMOLOGATION REQUIREMENTS
General requirements

Whole Vehicle or component

Luminance adjustment

Component

Operating readiness (System availability)

Whole Vehicle

Monitor isotropy

Component

Luminance and contrast rendering

Grey scale rendering

Colour rendering

Artefacts Smear

Artefacts Blooming and lens flare

Artefacts Point light sources

Sharpness and depth of field

Geometric distortion

Flicker

Frame rate

Image formation time

System latency

Glare due to high luminance of the monitor

Impact test

Component

Intended use, activation and deactivation

Whole Vehicle

Default view

Component

Luminance and contrast adjustment

Whole Vehicle

Overlay requirements within the minimum required field of vision

Whole Vehicle or Component

Operating readiness (System availability)

Whole Vehicle

Magnification and resolution

Component

Magnification aspect ratio

Component

Monitor inside the vehicle

Whole Vehicle

Obstruction of the driver's direct view

Whole Vehicle

Decreasing accommodation

Whole Vehicle
Remarks: Non-parts items are not applicable for EU type approval of CMS Component.
ATIC SERVICE ABOUT EU/UN HOMOLOGATION
ATIC experts are working under designated technical services in Europe to conduct Initial Assessment, Witness Testing and CoP assessment as authorized inspectors with authorities including e/E4 Netherland, e/E5 Sweden, e/E24 Ireland, e/E49 Cyprus, e/E32 Latvia and e/E36 Lithuania.
Also, ATIC is qualified ATS-Point who is designated by Sammarinese Approval Authority, through which type approval certificates of Vehicles, components, technical units and Vehicle systems according to UN Regulations are issued with the code E57.
In China, our witness laboratories cover North China, Central China and South China. No matter where your products are produced, we can provide the nearest witness test site. If your factory laboratory meets the requirements of ISO17025, We can also perform witness tests in your factory and apply type approval certificate.
ATIC leading digital customer platform and digital reporting system make it easy for you to submit information files online, and technical reports can be generated online, minimizing file and report preparation time and improving quality, leaving valuable time to you and yours client.
ABOUT ATIC
ATIC is a young technical service company from China, established in 2015. ATIC is committed to integrate domestic and international regulations, testing and certification resources with a global perspective in the context of globalization, and establish a new, specialized regulation research, testing and certification platform. With innovative Digital Reporting System (DRS), Customer Service Platform (CSP) and self-developed Global Vehicle Regulation Database (GVRD), ATIC's compliance service covers more than 54 countries/regions globally, testing and certification service covers more than 30 countries/regions worldwide. ATIC serve more than 3,300 manufactures each year.
KMVSS CERTIFICATION PLEASE CONTACT
Luara Yuan
Regulatory Researcher
Laura graduated from Xiamen University with MSc degree in the major of Analytical Chemistry.
In ATIC she is responsible for global automotive regulation and homologation system research,
focus on components global homologation solutions.
Phone: +86 020-82510156
Mail: cs@atic-cn.com