RELEASE DATE:

2022-02-08 12:36
Brief
:
Hong Kong's automobile product market access management agencies include the Hong Kong Transport Department, the Environmental Protection Department, and the Electrical and Mechanical Services Department. The Transport Department is responsible for enforcing the provisions of the Road Traffic Ordinance and related legislation on the management of road traffic, the regulation of public transport services, the operation of major transport infrastructure, vehicle inspection, and vehicle registration and licensing; the EPD is mainly responsible for the management of vehicle exhaust and noise emissions. standards, and electric vehicle approvals; the Electrical and Mechanical Services Department provides electrical and mechanical services and is responsible for the approval of electric vehicle charging facilities.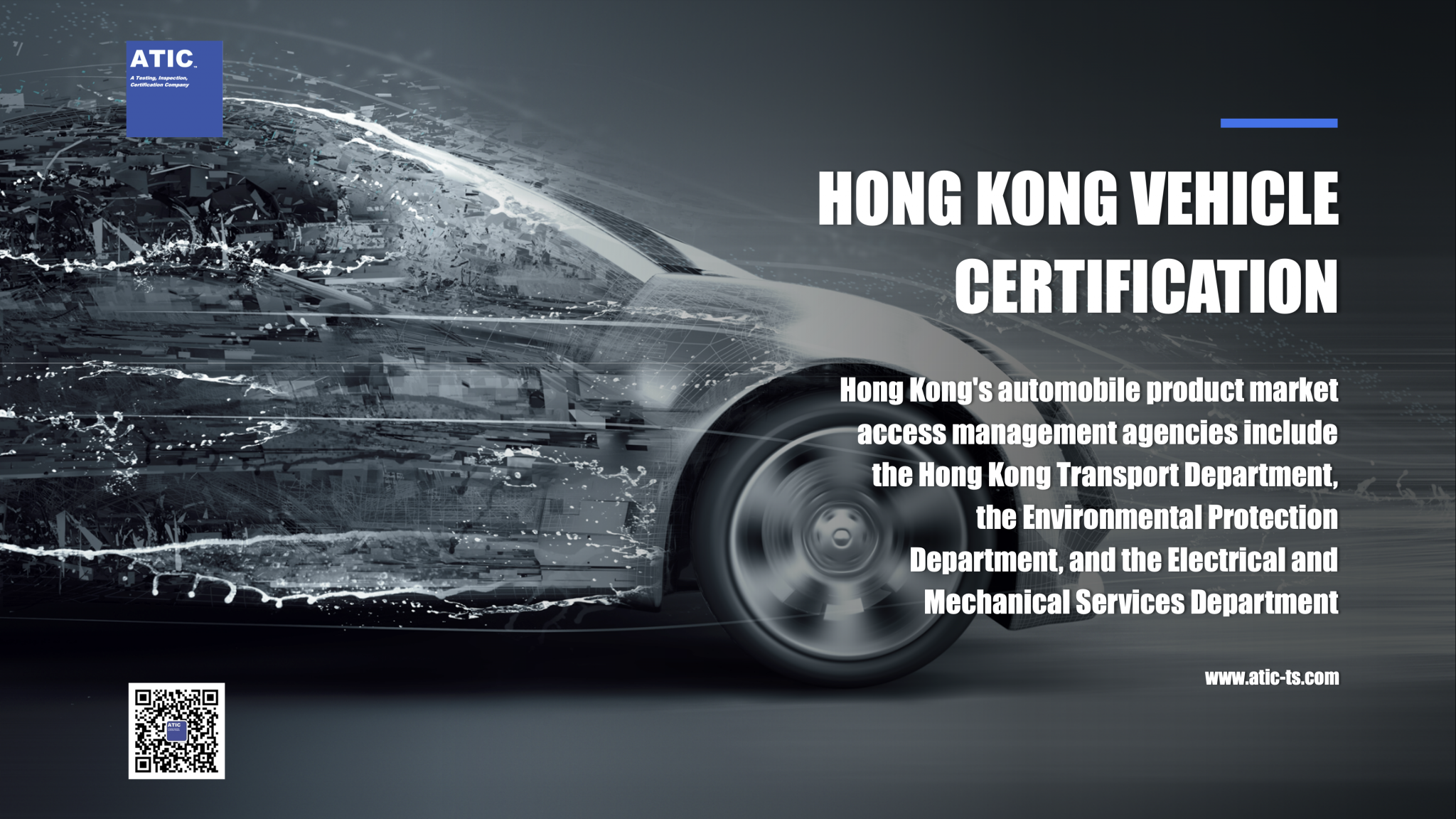 RELEVANT LEGISLATIONS AND REGULATIONS
The relevant regulations on vehicle access in Hong Kong are as follows:
1.1 Road Traffic (Construction and Maintenance of Vehicles) Regulations, Cap. 374A
1.2 Road Traffic (Safety Equipment) Regulations, Cap. 374F
1.3 Specification of Safety Glass Notice, Cap. 374H
1.4 Latest Change in Vehicle Glass Requirements
1.5 Specifications of wheel guards (mudguards and mudflaps) Notice
1.6 Mandatory Installation of Reversing Video Devices (RVDs) on Goods Vehicles
1.7 Legislative Regulation and Guidelines over the Installation of Visual Display Unit (TV Screen) in a Vehicle
1.8 Vehicle Construction Approval Requirements for Pure Electric Vehicles and Plug-in Hybrid Vehicles
1.9 Regulatory Requirements of "HID" Head Lamps for the Public
1.10 Requirements for Daytime Running Lamps
1.11 LED Headlamps
1.12 DAB Radio on Motor Vehicles
1.13 Mini-motor Cycles, Motor-driven Bicycle and Motor-driven Skateboard
1.14 Electric Mobility Devices are banned on roads
1.15 Vehicle Silencers Inspection
1.16 The Use of Camera Monitor System (or "Digital Mirrors") in Vehicles
1.17 Seat Belts for Passenger Seats of Non-Franchised Buses
1.18 Requirment for installation of over-height alert system for vehicles with extendable aerial structure before type approval application and pre-registration examination (Draft)
Cap. 400I Noise Control (Motor Vehicles) Regulation
Notification on Implementation of Acoustic Vehicle Alerting System (AVAS) for Electric / Electric Hybrid Vehicles in Type Approval Application
Seatbelt requirements in the rear position of private light buses subject to vehicle type boarding or pre-registration inspection
VEHICLE TYPE-APPROVAL PROCESS
1.Manufacturer Registration - Transport Department
The purpose of manufacturer registration is to register a local representative who is authorised by the vehicle manufacturer to act as its representative in Hong Kong. The local representative is required to provide local after-sales service including recall, service, repair, etc.
2. One Stop Application for Vehicle Type Approval - Transport Department
Prepare the following list of documents and submit them to the Transport Department, which will coordinate with the Environmental Protection Department and the Electrical and Mechanical Services Department for vetting and issuing a referral letter, which will be used during the vehicle inspection
1) Application form
2) Information document
3) Vehicle Noise and Emission Certificate Application Form
4) Electric vehicle related documents
3.Vehicle Import - Hong Kong Customs
Before importation: No duty is payable on any type of vehicle imported into Hong Kong. In general, however, importers of vehicles must make an accurate and complete declaration to the Customs and Excise Department within 14 days of the importation of the vehicle.
After importation: Within 30 days of importation and at least 5 working days before delivery of the vehicle, the importer of the vehicle will complete an import declaration form and submit it to the Vehicle Assessment Division of the Customs and Excise Department or submit an application through the Motor Vehicles First Registration Tax System website; in addition, the distributor of the vehicle will submit the retail price list to the Vehicle Assessment Division of the Customs and Excise Department for assessment at least 7 days before the retail price is published, and the Customs and Excise Department will issue a notification of provisional vehicle duty after assessment.
Any importer of a motor vehicle for use in Hong Kong who fails to file the import return within 30 days of the importation of a motor vehicle into Hong Kong commits an offence and is liable on conviction to a fine of $500,000 and to imprisonment for 12 months.
4.Vehicle Inspection - Hong Kong Vehicle Examination Centre
After the vehicle is imported into Hong Kong, an inspection must be arranged at a vehicle examination centre for the vehicle . The vehicle to be inspected (pre-registration vehicle inspection) must comply with the Road Traffic Ordinance (Cap 374) and its subsidiary legislation, and be maintained in good and serviceable condition.
The following information is required to be brought along for the vehicle examination.
1) A referral letter issued by the Transport Department.
2) an approval letter issued by the Environmental Protection Department certifying that the vehicle complies with the vehicle emission standards and noise emission standards, and that the electric vehicle also meets the requirements of the electrical safety and charging standards, and the required vehicle inspection fee
Vehicles that pass the inspection will be issued with a Certificate of Motor Vehicle Mechanical Compliance for registration and licensing purposes.
5.Vehicle Registration and Licensing - Hong Kong Transport Department Licensing Office
Application for first registration of a vehicle must be submitted to the Transport Department's Hong Kong Licensing Office on a completed Transport Department form together with the supporting documents specified in the form. Upon verification of the information submitted, the appropriate first registration tax, vehicle registration fee, vehicle licence fee and Traffic Accident Victims Assistance Fund levy must be paid before the vehicle can be registered and licensed.
CERTIFICATION SERVICE PROVIDED BY ATIC
ATIC's vehicle certification experts have an average of more than 10 years of experience in motor vehicle certification, and are familiar with multinational certification processes, local regulations, and testing requirements. ATIC cooperates with multinational official organizations and integrates high-quality testing and certification resources, to provide a global one-stop certification service for manufacturers to complete the certification cycle, including certification application, documentation preparation, regulatory guidance and training, and pre-testing and test arrangement, etc. With the best service and the fastest efficiency, AITC assists the manufacturers to enter the global market with one-stop certification. ATIC experts are working under designated technical services in Europe to conduct Initial Assessment, Witness Testing and CoP assessment as authorized inspectors by authorities including e/E5 Sweden, e/E24 Ireland, e/E49 Cyprus, e/E32 Latvia, e/E36 Lithuania and E57 San Marino. ATIC serve more than 200 whole vehicle and component manufactures each year in China.
ATIC GLOBAL HOMOLOGATION RESEARCH AND VEHICLE CERTIFICATION DEPARTMENT
ATIC Automotive Regulation Research and Vehicle Homologation Product Line is dedicated to global automotive regulation research, homologation procedure research and WVTA homologation project management.
Based on ATIC digital platform, our team provides a series of automotive compliance services including market access solutions, technical review, regulation interpretation, regulation database and update, training and Q&A, etc.
ATIC homologation experts are nominated by European technical service and authorities covering all EU/UN regulations for M/N/O/T/L/NRMM category vehicle, system, component and separate technical unit. Authorities includes Netherlands (e/E4), Sweden (e/E5), Luxembourg (e/E13), Ireland (e/E24) and Cyprus (e/E49).
ATIC is long-term compliance and homologation service provider for GWM, GEELY, SAIC MOTOR, BYD, XPENG, NIO, RIMAC, Smart etc. top domestic and international OEMs, and HUAWEI, CATL, SVOLT, FINDREAMS etc. system and component manufactures.
HONG KONG HOMOLOGATION PLEASE CONTACT
Emily Shui
Global Vehicle Regulation Research Department
Emily is Researcher in ATIC, she holds a Master's degree from Chongqing University of Technology.
Emily is specializing in cross-disciplinary compliance and certification solutions,
as well as ATIC regulation database development
Phone: +86 020-82510156
Mail: cs@atic-cn.com