RELEASE DATE:

2022-08-22 15:47
Brief
:
The Korean standard KMVSS Article 95 for fire resistance of interior materials of vehicle, is the technical requirement in the Korean vehicle mandatory certification framework, which applies to motor vehicle models including M1, M2, M3 and N1, N2, N3. When the Ministry of Land, Infrastructure and Transport of the Republic of Korea conducts after-sales supervision and inspection, the interior combustion test is one of its key items of concern.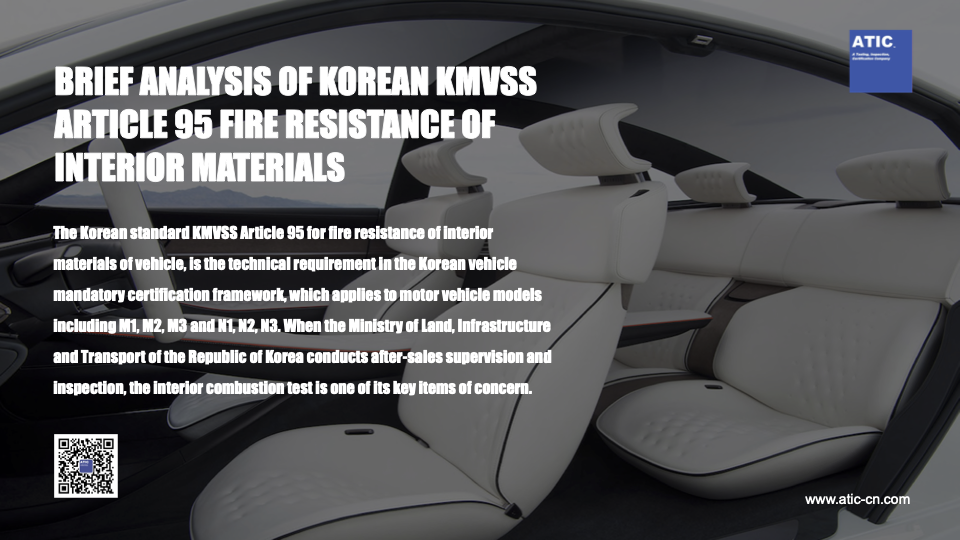 BRIEF ANALYSIS
This regulation establishes the flammability technical requirements and test methods for interior materials installed in automobile interiors to minimize damage in case of fire in the vehicle interior
Test Materials
1) seat cushions, seat backs, arm rests, head restraints, seat belts, mattress covers
2) headlining, convertible tops, sun visors
3) floor coverings, wheel housing covers
4) other interior materials
4.1. engine compartment covers, compartment shelves, curtains, shades
4.2. trim panels including door, front, rear, and side panels
4.3. padding and any crash-deployed elements that are designed to absorb energy on contact by occupants in the event of a crash
4.4. any other interior material made of flammable materials
Burning speed
Shall not burn at a rate of 102 millimeters per minute or more.
LINKS TO PREVIOUS ARTICLES
ATIC SOUTH KOREA HOMOLOGATION SERVICES
As the first technical service company in China to carry out Korean automotive certification, ATIC has successfully provided services for many native EV OEMs. ATIC set up technical exchange mechanism and/or partnership with Korea Automotive Testing and Research Center (KATRI), Korea Transportation Pollutant Research Center (TPRC), and Korea Automotive Parts Association (KAPA). ATIC is capable to serve throughout the whole process in safety certification, environmental certification, fuel consumption label testing, subsidy evaluation testing, and KC certification.
ABOUT ATIC
ATIC is a young technical service company from China, established in 2015. By creating a better entrepreneurial environment, we build a professional and passionate team with the best experts, returnees and extraordinary graduates. We are committed to integrate international and domestic regulations, testing and certification resources from a globalization perspective, to establish a neo-specialized regulation research, testing and certification platform. ATIC serves more than 4,500 manufactures per year.

KOREA HOMOLOGATION PLEASE CONTACT
Thomas Wu
Business Development Manager
Thomas graduated from Beihang University with 13 years of experience in TIC industry.
He has an in-depth understanding of international homologation and certification systems.
In ATIC he is focusing on the regulation of new energy power trains and homologation procedures in various countries.
Phone: +86 020-82510156
Mail: cs@atic-cn.com