RELEASE DATE:

2020-10-12 16:03
Brief:
With the rapid development of the electrical commerce (EC) , the lack of manpower in the logistics work especially "last one mile" delivery is becoming more prominent. Additionally, considering the current severe situation of the COVID-19 virus, the demand for "non-contact" delivery has also increased under the anti-epidemic requirements. In this regard, the Ministry of Land, Infrastructure, Transport and Tourism (abbreviated to MLITT below) , the Ministry of Economy, Trade and Industry (abbreviated to METI below) and other departments in Japan have organized seminar for several times to conduct research. In May 2020, the Japanese government also announced in the Future Investment Conference that JP Gov will coordinate relevant resources to implement road tests and other necessary measures as soon as possible within the year to promote the launch of the self-driving delivery vehicles, in order to meet the increasing demand for distribution.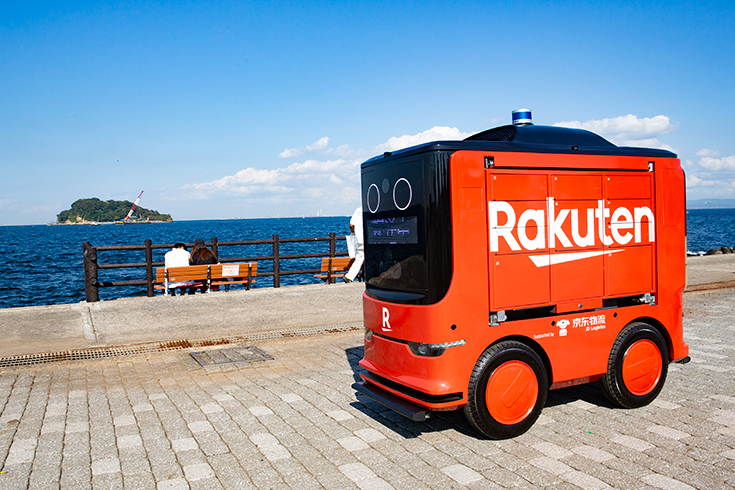 SELF-DRIVING TECHNOLOGY IN JAPAN
In order to be in the global leadership of self-driving, and promote the domestic self-driving regulatory system to be in line with international standards (ECE WP29/ISO/TC22, 204 etc.) at the same time , the Japanese government set about developing self-driving from 2015, the MLITT , METI and several departments took the lead in establishing the self-driving business seminar, the self-driving strategy headquarters of the MLITT and the Institute for Automated and Connected Vehicle Standardization(Abbreviated to IACVS below), studying systematically in the aspects of traffic safety, technical research, road testing, legal system establishment, technician cultivation in software and hardware, the society acceptability and so on.
Based on the definition, the level of self-driving technology is normally divided into levels from Level 1 to 5. whereas, current adopted self-driving technologies are still limited to Level 1 (assisted driving tech) and part of level 2(self-driving functions under certain conditions, some models have been equipped) , including automatic braking, adaptive cruise control (ACC), lane keeping assist system (LKAS), automatic overtaking, automatic merging/diversion etc. As shown in the figure below, Level 3 and above level technology is quite different from L1 and L2 level, L3 level and above technology can usually take over driving tasks under the supervision of the driving system, but still in the stage of conception, road test, and issue arrangement.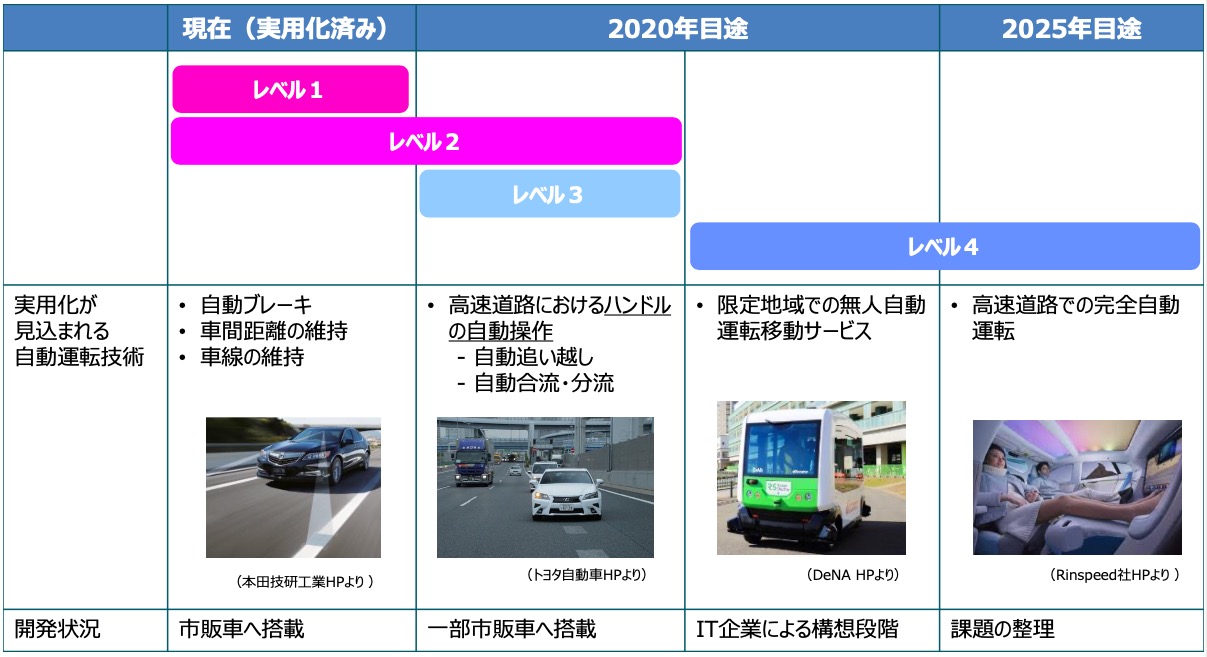 UNMANNED DELIVERY VEHICLE STUDY STATUS IN JAPAN
Since June 2019, in order to promote the implementation of unmanned delivery vehicles, the METI (serves as the bureau) has organized manufacturers or logistics providers, well-known universities and institutions, official departments and communes to attend several official-civilian seminars. The main topics are about: Amendment of regulations by referring to the data accumulated in road tests, safety assurance and recognition of responsibilities, universality assurance (care for vulnerable traffic groups), high-precision three-dimensional driving maps and other basic supporting facilities (coordination of resources), recognition of responsibilities in the event of an accident (to be referred to related content of drones and self-driving) and so on.
At the same time, the Japanese government has allocated a budget of 300 million yen to the New Energy and Industrial Technology Development Organization (abbreviated to NEDO below), which recruits and subsidizes relevant companies to participate in the actual research project of unmanned delivery vehicles. As of June 30, the NEDO has recruited companies including Panasonic, Honda Motor, Rakuten, Toshiba, Aisin Seiki, and Kyocera Communications to participate in the test development. The tests aim at reflecting the following content for reference to the METI bureau: Clearification of core use cases for industrialization, the specification and safety evaluation of unmanned delivery vehicles and the establishment of safety systems, as well as the deliberation and revision of unmanned delivery vehicles related systems and laws (if necessary).
Up to now, it has been confirmed that Japan Post and ZMP Co., Ltd., Mitsubishi Real Estate and Marble Co., Ltd., China JD.com and Japan Lotte Co., Ltd. have taken the lead in cooperating and conducting simulated delivery and obstacle avoidance tests in Japan. By September 21,the NEDO will also organize applicant companies to conduct experiments in various weather or road conditions across Japan (such as Fukushima-ken, Tokyo, Hokkaido, etc.).
The Japanese government aims to effectively improve the capacity and efficiency of "last one mile" distribution services in Japan by promoting the implementation of unmanned delivery vehicles and similar products, and at the same time build unmanned delivery vehicles as infrastructure to develop emerging services (food and Living material distribution, non-contact distribution, visit the aged and children, guard patrol, environmental data collection, etc.).
UNMANNED DELIVERY VEHICLE TYPE APPROVAL IN JAPAN
For unmanned delivery vehicles, Japanese official departments are still in the stage of road testing (The road test needs to be permitted in advance by the NEDO and National Police Agency) and legal system development, and have not yet completed the establishment of standardization. The competent authority and process corresponding to the type approval have not yet been clarified.In addition, foreign companies that plan to participate in the road test in Japan need to cooperate with Japan domestic companies in the implementation.
LINKS TO PREVIOUS ARTICLES
ABOUT ATIC
ATIC is a young technical service company from China, established in 2015. ATIC is comitted to integrate domestic and international regulations, testing and certification resources with a global perspective in the context of globalization, and establish a new, specialized regulation research, testing and certification platform.
With innovative Digital Reporting System (DRS), Customer Service Platform (CSP) and self-developed Global Vehicle Regulation Database (GVRD), ATIC's compliance service covers more than 54 countries/regions globally, testing and certification service covers more than 30 countries/regions worldwide. ATIC serve more than 3,300 manufactures each year.
JAPAN CERTIFICATION PLEASE CONTACT