RELEASE DATE:

2023-03-10 10:39
Brief: Since the 1980s, Korea has gradually established and improved its own automotive product certification system with reference to the international typical automotive product management system. Korean automotive product certification includes mandatory certification (environmental certification, energy certification) and self-certification (KMVSS safety certification).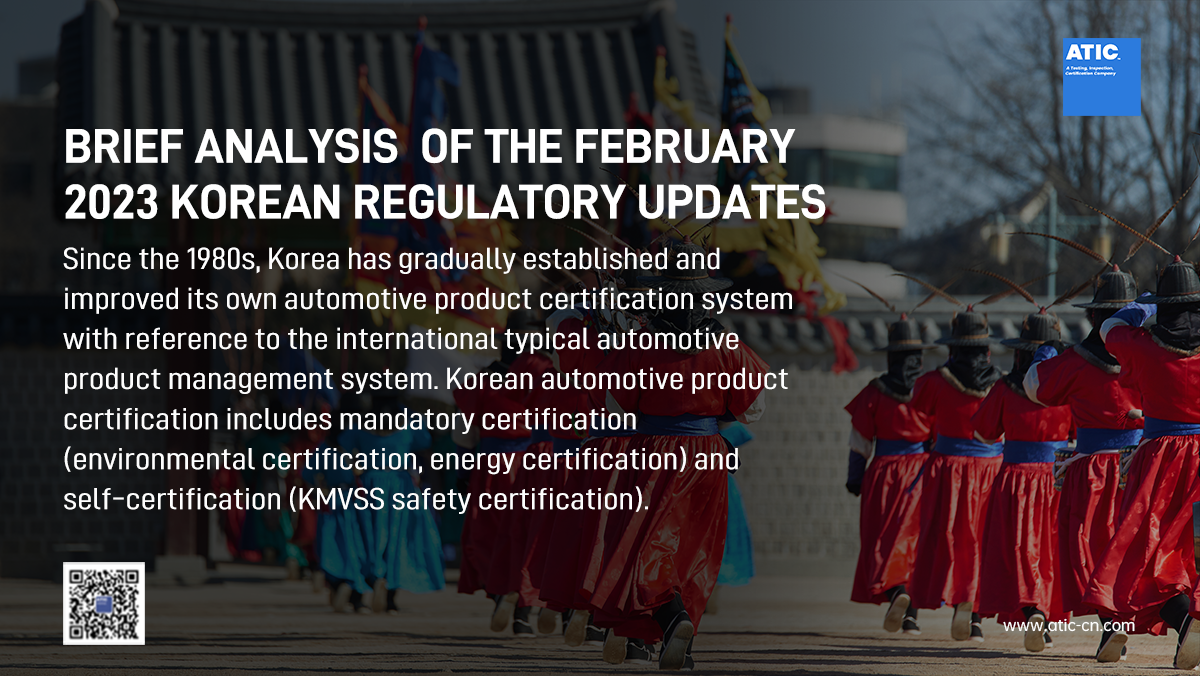 The mandatory certification regulations stipulate that any vehicle entering the Korean market must pass the safety, environmental, and energy labels, which are regulated by the Ministry of Organic Land Transportation (MOLIT), the Ministry of Environmental Protection (MOE), and the Ministry of Trade, Industry, and Energy (MOTIE), respectively. For electric vehicles, they are required to pass a subsidy evaluation test supervised by the Ministry of Environmental Protection (MOE), and the MOE grants subsidies to those that pass the test, the amount of which varies according to policy.
For automotive parts entering the aftermarket, in addition to self-certification based on KMVSS and KC mark (products including auto glass, headlights, seat belts, brake pads, brake hoses, etc.), KC (Korea Certification) certification (products such as brake fluid, jacks, tires) regulated by the Ministry of Industry is also required. For in-vehicle communication devices, KC radio certification regulated by RRA (products such as wifi, 2g/3g/4g modules, Bluetooth keys, etc.) is required.
Since 2016, ATIC's Regulatory Research Department has been continuously tracking and researching Korean KMVSS, MOE, MOTIE and subsidy policies and regulations, and has formed a complete set of regulatory tracking solutions. We are able to provide one-stop services such as regulatory lists, regulatory translations, regulatory subscriptions and regulatory updates to ensure that domestic OEMs can quickly respond to changes in Korean regulations.
FEBRUARY2023KOREAN REGULATORY UPDATES AT A GLANCE
There are 6 articles in this regulation update, 1 article is a draft for comments, and the remaining 5 articles are formal regulation updates, as follows:
| | | | | | | |
| --- | --- | --- | --- | --- | --- | --- |
| | | Before update - old regulation number and version information | After update - new regulation number and version information | | | |
| | Draft-Regulations on Energy Consumption Efficiency and Rating Display of Vehicles | | | | | |
| | Enforcement Decree of Air Conservation Act | Presidential Decree No.33192 | Presidential Decree No.33321 | | | |
| | Enforcement Rules of the Energy Use Rationalization Act | | | | | |
| | Enforcement Decree of the Act on Promotion of Development and Distribution of Eco-Friendly Vehicles | Presidential Decree No.32361 | Presidential Decree No.33310 | | | |
| | Regulations on requirements, etc. for environmentally friendly vehicles | | | | | |
| | Customs Act Enforcement Decree | Presidential Decree No.32931 | Presidential Decree No.33275 | | | |
A BRIEF OVERVIEW OF THE HIGHLIGHTS OF THE FEBRUARY 2023 KOREAN REGULATORY UPDATE
Draft-Regulations on Energy Consumption Efficiency and Rating Display of VehiclesMOTIE Notice 2023-195:
Main contents:
A. Deletion of the upper limit condition of gross vehicle weight from the range of vehicles subject to energy consumption efficiency and grade indication (Article 2, Paragraph 1)
B. Clarify the definition of electric vehicles subject to energy consumption efficiency and grade indication (Article 3 (4))
C. Establishment of rating standards according to the energy consumption efficiency of electric vehicles, and the duty to report and display electric vehicle energy consumption efficiency ratings to manufacturers (Proposal Article 9 Paragraph 1, Article 10 Paragraph 1, Attached Table 4)
D. Specify the processing deadline for issuance of the energy consumption efficiency and rating report confirmation and specify the content that can be confirmed by vehicle category (Article 9 (4), (5), Annex 5, 5-2, 5-3, 5-4 )
E. Revision of the automobile energy consumption efficiency label design and drawing law to strengthen the labeling of the efficiency level of electric vehicles and other efficiency management equipment labels (Appendix 5 and Attached Table 5)
F. When electric vehicles use advertising media to advertise energy consumption efficiency and ratings, the efficiency ratings must be indicated (Annexed Table 7)
*To subscribe to ATIC's regulatory services or to receive detailed Korean regulatory updates, please contact ATIC Global Regulatory Researcher (contact Ms.Shui, 18875016631).
ATIC KOREA MOTOR VEHICLE CERTIFICATION SERVICE
ATIC is the first technical service provider in China to provide certification services for Korean vehicles and components, and has successfully provided services for many leading new energy vehicle brands. We provide technical services throughout the process of safety certification, environmental certification, fuel consumption labelling, subsidy assessment testing, KC certification and voluntary component certification.
GLOBAL REGULATORY RESEARCH AND VEHICLE CERTIFICATION DIVISION

ATIC's Global Regulatory Research and Vehicle Certification Department is dedicated to global automotive access research and vehicle certification services.
Based on ATIC's digital platform, we provide a series of overseas access compliance services, with service modules including: automotive access consulting, product access solutions for multiple countries and regions, technical verification, regulation interpretation and tracking, regulation training and technical Q&A services.
In the field of global automotive compliance and certification, ATIC is a long-term partner of top domestic and international OEMs such as Great Wall Motor, Geely Automobile, SAIC Group, BYD, Xiaopeng Automobile, Azera, RIMAC, Smart, and system and component suppliers such as Huawei, Ningde Times, Honeycomb Energy, and Verde Technology.
REGULATORY SUBSCRIPTION PLEASE CONTACT
Global Vehicle Regulation Research Department
Emily is Researcher in ATIC, she holds a Master's degree from Chongqing University of Technology.
Emily is specializing in cross-disciplinary compliance and certification solutions,
as well as ATIC regulation database development
Phone: +86 020-82510156
Mail: cs@atic-cn.com