RELEASE DATE:

2022-08-15 16:16
Brief
:
Since the 1980s, Korea has gradually established and improved its own automotive product certification system with reference to the international typical automotive product management system. Since 2016, ATIC's Regulatory Research Department has been continuously tracking and researching Korean KMVSS, MOE, MOTIE and subsidy policies and regulations, and has formed a complete set of regulatory tracking solutions. We are able to provide one-stop services such as regulatory lists, regulatory translations, regulatory subscriptions and regulatory updates to ensure that domestic OEMs can quickly respond to changes in Korean regulations.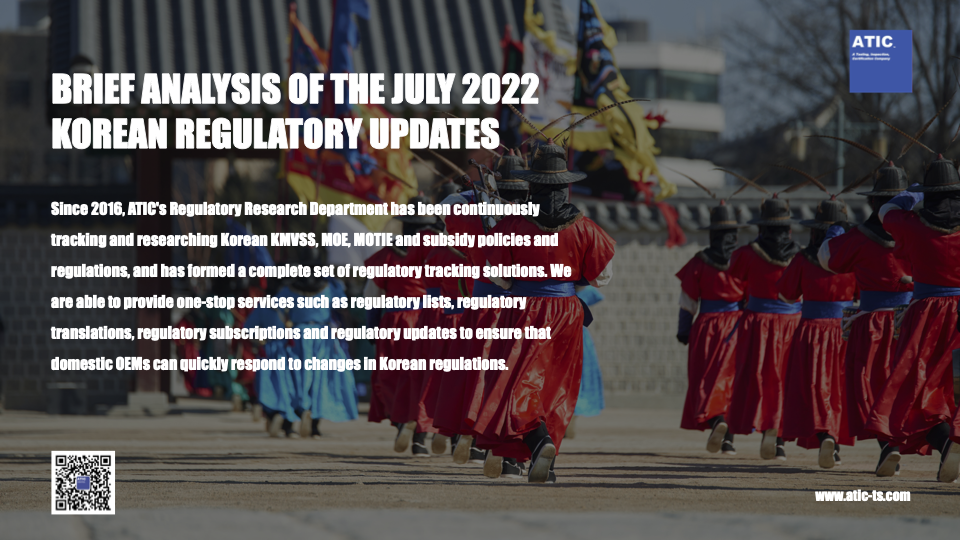 KOREAN AUTOMOTIVE PRODUCT CERTIFICATION

Korean automotive product certification includes mandatory certification (environmental certification, energy certification) and self-certification (KMVSS safety certification).The mandatory certification regulations stipulate that any vehicle entering the Korean market must pass the safety, environmental, and energy labels, which are regulated by the Ministry of Organic Land Transportation (MOLIT), the Ministry of Environmental Protection (MOE), and the Ministry of Trade, Industry, and Energy (MOTIE), respectively. For electric vehicles, they are required to pass a subsidy evaluation test supervised by the Ministry of Environmental Protection (MOE), and the MOE grants subsidies to those that pass the test, the amount of which varies according to policy.
For automotive parts entering the aftermarket, in addition to self-certification based on KMVSS and KC mark (products including auto glass, headlights, seat belts, brake pads, brake hoses, etc.), KC (Korea Certification) certification (products such as brake fluid, jacks, tires) regulated by the Ministry of Industry is also required. For in-vehicle communication devices, KC radio certification regulated by RRA (products such as wifi, 2g/3g/4g modules, Bluetooth keys, etc.) is required.
JULY 2022 KOREAN REGULATORY UPDATES AT A GLANCE
There are a total of 9 regulatory updates this time, involving 1 draft and 8 formal regulatory updates, as follows:

| | | | | | | |
| --- | --- | --- | --- | --- | --- | --- |
| | | Before update - old regulation number and version information | After update - new regulation number and version information | | | |
| | Regulations on certification and investigation of automobiles and automobile parts | | MOLIT Notice 2022-981 draft | Draft revision process public review phase, review period: 2022/7/15 to 2022/8/5 | | Public comment period for the draft revision process, call for comments ends on 5 August 2022 |
| | Technical standards for wireless equipment for telecommunication business | | | | | |
| | Announcement on conformity assessment of broadcasting and communication equipment | | | | | |
| | Automobile Damage Guarantee Act (abbreviation: Automobile Damages Act ) | | | | | |
| | Regulations on requirements, etc. for environmentally friendly vehicles | | | | | |
| | Enforcement Rules of the Act on Registration and Evaluation of Chemical Substances | | | | | |
| | Designation of restricted and prohibited substances | | | | | |
| | | | | | | |
| | Electronic and Electrical Products and Automobile Resource Circulation Law | | | | | |
A BRIEF OVERVIEW OF THE HIGHLIGHTS OF THE JULY 2022 KOREAN REGULATORY UPDATE:
Technical standards for wireless equipment for telecommunication businessRRA Notice No.2022-15:

In consideration of the additional allocation of the 20 MHz width of the 3.5 GHz band 5G mobile communication frequency, the frequency band used by mobile communication radio equipment was expanded and changed from "3420 MHz ∼ 3700 MHz" to "3400 MHz ∼ 3700 MHz" (Article 4 (8)) Item 1 C)
Enforcement Rules of the Act on Registration and Evaluation of Chemical Substances MOE Ordinance No.997:
In Chapter 3, Article 34-2 is newly added as follows, and it will take effect on 2022.10.15:
Article 34-2 (Selection of Candidate Substances Subject to Permission)
1. When the Minister of Environment intends to select a candidate substance subject to permission (hereinafter referred to as "substance candidate for permission") pursuant to Article 19 (1) of the Decree, he/she shall comprehensively consider the following matters:
Whether the chemical substance meets the notification standards for critically controlled substances according to Annex 1-2 of the Decree

Domestic distribution of chemicals

Types of people who may be exposed to chemicals in the course of handling them

Whether it is a chemical substance already regulated or decided to be regulated by a foreign government or international organization
2. In addition to the matters stipulated in Paragraph 1, the details necessary for the selection of candidate substances for permission shall be determined and publicly notified by the Minister of Environment.
Designation of restricted and prohibited substances MOE Notice 2022-138:
Technical requirements to reduce the metal lead content to extend the implementation of the transition period.
In accordance with the strengthening of lead content standards for metal accessories (0.06% → 0.009%), the period of application of the handling restrictions has been extended by 2 years
- Prohibition of manufacturing and import: (current) 2022.7.1. → (Change) 2024.7.1.
- Prohibition of use, sale, storage, storage and transport: (current) 2023.1.1. → (Change) 2025.1.1.
*To subscribe to ATIC's regulatory services or to receive detailed Korean regulatory updates, please contact ATIC Global Regulatory Researcher (contact Ms.Shui, 18875016631).
ATIC KOREA MOTOR VEHICLE CERTIFICATION SERVICE
ATIC is the first technical service provider in China to provide certification services for Korean vehicles and components, and has successfully provided services for many leading new energy vehicle brands. We provide technical services throughout the process of safety certification, environmental certification, fuel consumption labelling, subsidy assessment testing, KC certification and voluntary component certification.

ATIC GLOBAL HOMOLOGATION RESEARCH AND VEHICLE CERTIFICATION DEPARTMENT
ATIC Automotive Regulation Research and Vehicle Homologation Product Line is dedicated to global automotive regulation research, homologation procedure research and WVTA homologation project management.
Based on ATIC digital platform, our team provides a series of automotive compliance services including market access solutions, technical review, regulation interpretation, regulation database and update, training and Q&A, etc.
ATIC homologation experts are nominated by European technical service and authorities covering all EU/UN regulations for M/N/O/T/L/NRMM category vehicle, system, component and separate technical unit. Authorities includes Netherlands (e/E4), Sweden (e/E5), Luxembourg (e/E13), Ireland (e/E24) and Cyprus (e/E49).
ATIC is long-term compliance and homologation service provider for GWM, GEELY, SAIC MOTOR, BYD, XPENG, NIO, RIMAC, Smart etc. top domestic and international OEMs, and HUAWEI, CATL, SVOLT, FINDREAMS etc. system and component manufactures.

REGULATORY SUBSCRIPTION PLEASE CONTACT
Emily Shui
Global Vehicle Regulation Research Department
Emily is Researcher in ATIC, she holds a Master's degree from Chongqing University of Technology.
Emily is specializing in cross-disciplinary compliance and certification solutions,
as well as ATIC regulation database development
Phone: +86 020-82510156
Mail: cs@atic-cn.com