RELEASE DATE:

2022-11-25 12:17
Brief
:
Turkey is a party to the UN WP29 1958 Agreement with the mark E37 and can issue E-Mark certificates. At the same time, Turkey applies the EU harmonization regulations, recognizing the validity of the e/E-Mark certificate issued by EU member states. Turkish automotive product type approval body is the Turkish Ministry of Industry and Technology. The General Directorate of Industry (SGM) under the Ministry of Industry and Technology of Turkey is the type approval authority. For the import of vehicles with e/E-Mark certificates, the Turkish Standards Institute (TSE) under the Ministry of Industry and Technology is directly responsible for the implementation.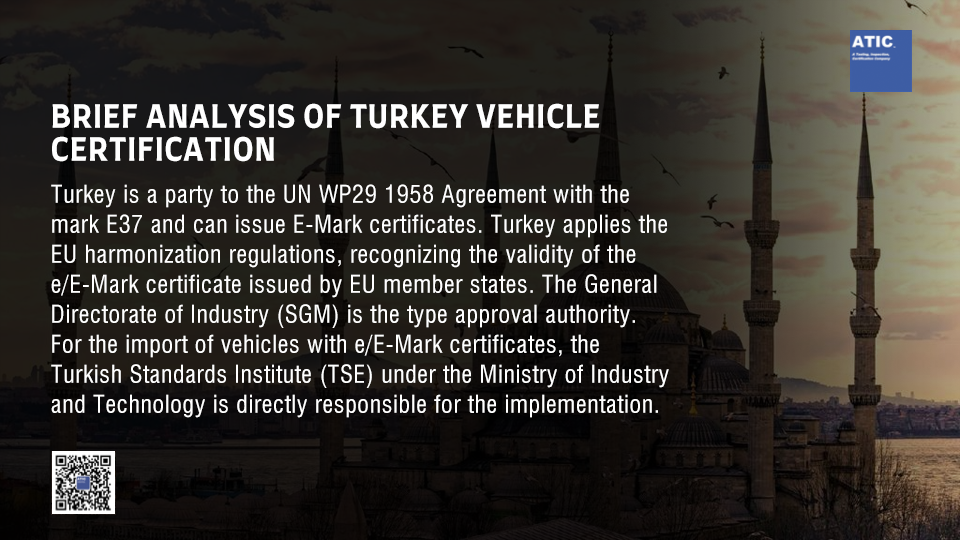 CLASSIFICATION OF CERTIFIED MODELS
Motor Vehicles and Trailers

Agricultural and Forestry Vehicles

Two- or three-wheeled motor vehicles and quadricycles

M

N

O

T

C

R

S

L

M1

M2

M3

N1

N2

N3

O1

O2

O3

O4

T1:T1a;T1b

T2:T2a;T2b

T3:T3a;T3b

T4:T4.1:T4.1a,T4.1b;T4.2:T4.2a,

T4.2b;T4.3:T4.3a;T4.3b

C1:C1a;C1b

C2:C2a;C2b

C3:C3a;C3b

C4:C4.1:C4.1a,C4.1b;C4.2:C4.2a,

T4.2b;C4.3:C4.3a,C4.3b

R1:R1a;R1b

R2:R2a;R2b

R3:R3a;R3b

R4:R4a;R4b

S1:S1a;S1b

S2:S2a;S2b

L3e:In terms of motorcycle performance: L3eA1,L3eA2,L3eA3.

In terms of private use: L3e-A1E,L3e-A2E or L3e-A3E;

L3e-A1T,L3e-A2T or L3e-A3T

L6e:L6eA;L6eB:L6eBU,L6eBP

L7e:L7eA:L7eA1,L7eA2;L7eB:L7eB1,L7eB2;

L7eC:L7eCU,L7eCP
TYPE APPROVAL INTRODUCTION
Whole Vehicle Certification
1.
Regulations
| | |
| --- | --- |
| Vehicle category | |
| | Regulation on type approval and market surveillance and inspection of motor vehicles and trailers, their parts, systems and separate technical units (MARTOY) |
| | Regulation on type approval and market surveillance and inspection of agricultural and forestry vehicles (TORTOY) |
| | Regulation on type approval and market surveillance and inspection of two- or three-wheeled motor vehicles and four-wheeled motorcycles(MOTOY) |
2. Certification Categories.
Turkey is likewise divided into unlimited series certification, small series certification and single-vehicle certification, with the following quantity limits.
| | | | |
| --- | --- | --- | --- |
| Vehicle category | Unlimited series | Small series | |
| | | | |
| | | | |
| | | | |
3. Emission
Emission certification is implemented in accordance with EU harmonized regulations. EU certificates are accepted.
Light passenger cars and commercial vehicles: Euro 5 and Euro 6
Heavy Vehicles: Euro 6
Import Of Parts And Components
The EU certificate is accepted and the import application is submitted to customs through the TAREKS system.
CERTIFICATION PROCESS
Prepare documents: EU Type Approval Certificate, Exhaust Emission Level Statement.
Submit documents to TSE for inspection.
Sending the vehicle to Turkey, TSE conducts inspection in the customs area.
After passing the examination and inspection, TSE sends the conformity of certificate (COC) to customs and the manufacturer, and customs releases the vehicle.
CERTIFICATION SERVICE PROVIDED BY ATIC
ATIC's vehicle certification experts have an average of more than 10 years of experience in motor vehicle certification, and are familiar with multinational certification processes, local regulations, and testing requirements. ATIC cooperates with multinational official organizations and integrates high-quality testing and certification resources, to provide a global one-stop certification service for manufacturers to complete the certification cycle, including certification application, documentation preparation, regulatory guidance and training, and pre-testing and test arrangement, etc. With the best service and the fastest efficiency, AITC assists the manufacturers to enter the global market with one-stop certification. ATIC experts are working under designated technical services in Europe to conduct Initial Assessment, Witness Testing and CoP assessment as authorized inspectors by authorities including e/E5 Sweden, e/E24 Ireland, e/E49 Cyprus, e/E32 Latvia, e/E36 Lithuania and E57 San Marino. ATIC serve more than 200 whole vehicle and component manufactures each year in China.
ATIC GLOBAL HOMOLOGATION RESEARCH AND VEHICLE CERTIFICATION DEPARTMENT
ATIC Automotive Regulation Research and Vehicle Homologation Product Line is dedicated to global automotive regulation research, homologation procedure research and WVTA homologation project management.
Based on ATIC digital platform, our team provides a series of automotive compliance services including market access solutions, technical review, regulation interpretation, regulation database and update, training and Q&A, etc.
ATIC homologation experts are nominated by European technical service and authorities covering all EU/UN regulations for M/N/O/T/L/NRMM category vehicle, system, component and separate technical unit. Authorities includes Netherlands (e/E4), Sweden (e/E5), Luxembourg (e/E13), Ireland (e/E24) and Cyprus (e/E49).
ATIC is long-term compliance and homologation service provider for GWM, GEELY, SAIC MOTOR, BYD, XPENG, NIO, RIMAC, Smart etc. top domestic and international OEMs, and HUAWEI, CATL, SVOLT, FINDREAMS etc. system and component manufactures.
TURKEY HOMOLOGATION PLEASE CONTACT