RELEASE DATE:

2023-05-29 12:37
Brief
:
The U.S. ATV off-road product market access management agencies include the National Highway Traffic Administration (NHTSA), the U.S. Environmental Protection Agency (EPA), the U.S. Consumer Product Safety Commission (CPSC), and the U.S. Special Vehicle Association (SVIA). The NHTSA is the authorized authority for ATVs imported into the United States; the EPA issues technical regulations on ATV pollution and noise emissions; the CPSC monitors and recalls ATVs on the market; and the SVIA develops and publishes ATV-related technical regulations. Safety and technical regulations.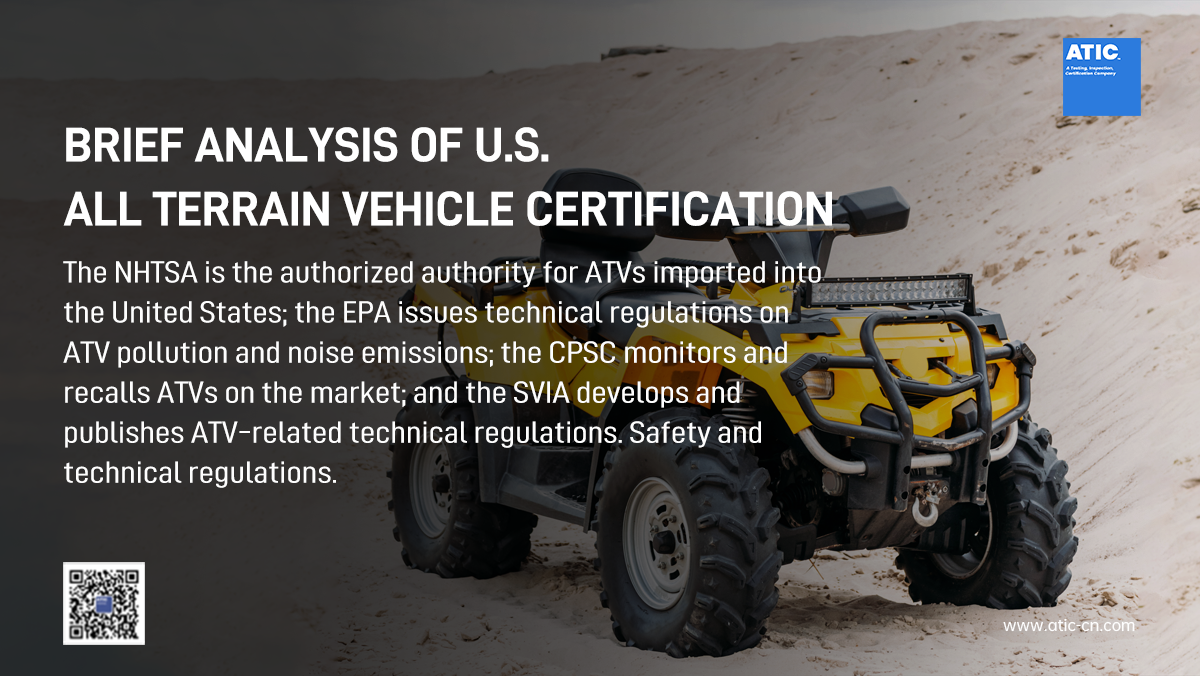 CLASSIFICATION OF CERTIFIED MODELS
ATV: Motorized off-road vehicle with straddle seat and steering handle.
Type l ATV for single operator, no passenger.
Type ll ATV for operator or operator and passenger (up to one).
SOME OF THE CORE SAFETY COMPONENTS OF MOTOR VEHICLES ARE AS FOLLOWS
| | |
| --- | --- |
| | |
| | |
| | |
| | |
| | |
| | |
| | |
| | |
| | |
| | |
| | Additional Clutch Control |
| | |
MATRIX OF ADDITIONAL TECHNICAL REQUIREMENTS FOR VEHICLES

| | |
| --- | --- |
| | |
| | EPA Emission Standards for Nonroad Engines and Vehicles |
| | EPA Standards for Fuel Sulfur |
| | Recreation Off-Road Vehicle Product Identification Numbering System |
ATV EMISSIONS (EXHAUST AND NOISE) CERTIFICATION
Current Standards: 40 CFR parts 1051, 1060 and 1068;
The following conditions need to be met:
1. Exhaust emission standards in § 1051.107
2. Evaporative emission standards in § 1051.110
3. All requirements in § 1051.115
Noise Standards:
US 40 CFR 205, Subpart D
MODELS CERTIFICATION PROCESS
1.Register and submit application
2.Prepare technical documents
3.Send samples for testing
4.Prepare test report
5.Submit Declaration of Conformity
6.Prepare customs clearance information
7.Accept regulation and recall
ATIC COMPONENT HOMOLOGATION DEPARTMENT
ATIC Component Homologation Product Line focuses on regulation research and homologation service for components and consumer products especially for European and American markets. We are committed to provide one-stop global homologation solution for automotive components and consumer products, at present ATIC is long-term TIC service partner with CATL, SVOLT, DICASTAL, XYG, FinDreams, VAST, TEXAS INSTRUMENTS etc., top tier 1 suppliers.
ATIC is a young technical service company from China, established in 2015. By creating a better entrepreneurial environment, we build a professional and passionate team with the best experts, returnees and extraordinary graduates. We are committed to integrate international and domestic regulations, testing and certification resources from a globalization perspective, to establish a neo-specialized regulation research, testing and certification platform. ATIC serves more than 4,500 manufactures per year.

U.S. CERTIFICATION PLEASE CONTACT