RELEASE DATE:

2023-07-24 11:09
Brief: According to Uzbekistan's regulatory requirements, vehicles entering the Uzbekistan market need to undergo vehicle safety approval (VTA) and environmental protection certification, which are implemented by the Uzbekistan Technical Supervision Bureau and the Ecological Environmental Protection Committee respectively.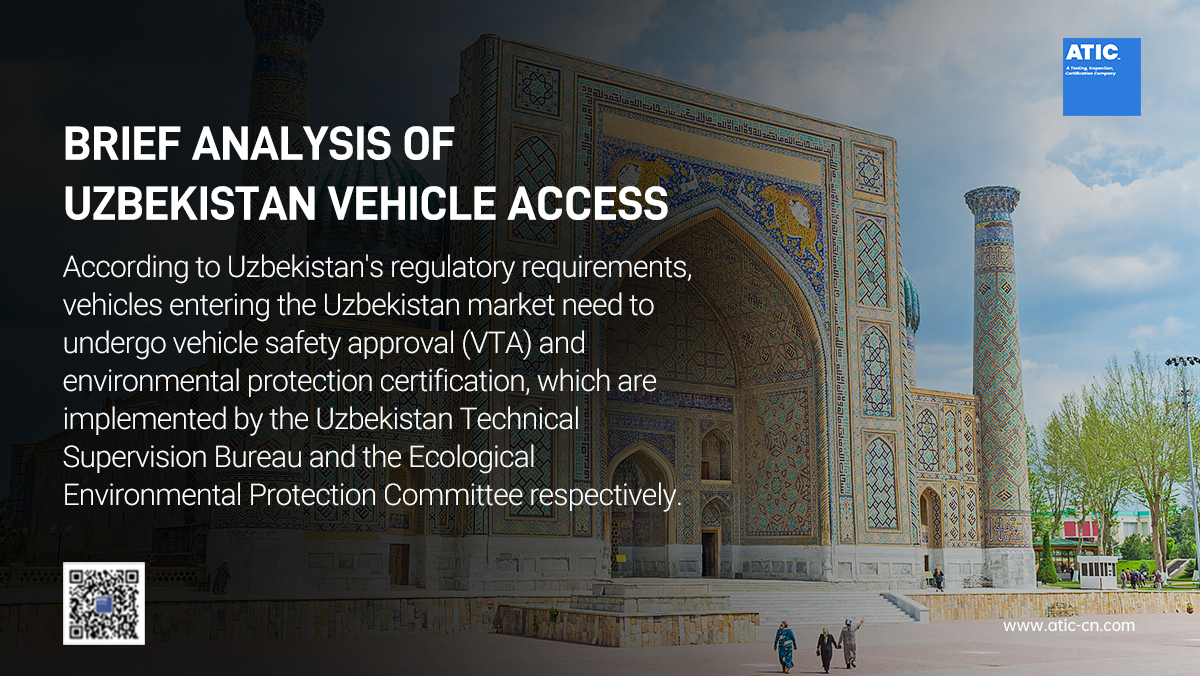 VEHICLE SAFETY CERTIFICATION
Part of the projects according to UNECE regulations:
UNECE Regulations Nos. 13-10UNECE Regulations Nos. 13-11

UNECE Regulation No. 13H-00

UNECE Regulation No. 78-03

UNECE Regulation No. 79-01

Equipment with coupling devices

UNECE Regulation No. 55-01

Tire pressure monitoring system

Close coupling device (CCD)

UNECE Regulation No. 102-00

UNECE Regulation No. 12-03

Seat belt attachment points

UNECE Regulation No. 14-07

Requirements for seat belts and restraint systems

UNECE Regulation No. 16-06

The strength of the seats and their fastenings

UNECE Regulation No. 17-08

UNECE Regulation No. 11-03

UNECE Regulation No. 29-02

Ensuring pedestrian protection

UNECE Regulation No. 127-00
Part of the project according to Russia's GOST or Uzbekistan's DST regulations:
| | | | |
| --- | --- | --- | --- |
| | | | |
| | Requirements for vehicles of category M 1 with regard to protection against splashing from under the wheels | | |
| | Requirements for overall dimensions, maneuverability and weight parameters of vehicles | | |
VEHICLE SAFETY CERTIFICATION PROCESS
VEHICLE ENVIRONMENTAL PROTECTION CERTIFICATION
M and N vehicles exported to Uzbekistan need to obtain environmental certification in accordance with Euro-4.
Vehicle Environmental Certification Process:
ATIC GLOBAL HOMOLOGATION RESEARCH AND VEHICLE CERTIFICATION DEPARTMENT
ATIC Automotive Regulation Research Department and Vehicle Homologation Product Line is dedicated to global automotive regulation research, homologation procedure research and WVTA project.In the field of automotive compliance, we provide a automotive compliance services if different markets and regulatory subscription services based on the digital platform . In the field of vehicle certification, we are the first to complete the first M1 WVTA project under the new GSR framework for domestic testing and certification. Our service clients include BYD, NIO Xpeng, GWM, Smart, Geely and other famous OEMs at home and abroad.
ABOUT ATIC
ATIC is a young technical service company from China, established in 2015. By creating a better entrepreneurial environment, we build a professional and passionate team with the best experts, returnees and extraordinary graduates. We are committed to integrate international and domestic regulations, testing and certification resources from a globalization perspective, to establish a neo-specialized regulation research, testing and certification platform. ATIC serves more than 4,500 manufactures per year.
AISA
CERTIFICATION
PLEASE CONTACT