RELEASE DATE:

2023-05-29 10:56
Brief
: The EU officially published the new general safety regulationRegulation (EU) 2019/2144 (referred to as the new GSR) at the end of December 2019. To prevent visual distraction-related crashes, Regulation (EU) 2019/2144 mandates the implementation of Advanced Drivers Distraction Warning (ADDW) systems for new types of vehicles from 2024.ADDW system should help drivers focus on driving tasks and warn them when they are distracted. After several rounds of revisions to the draft, the EU finally issued a draft for comment on 24 March 2023.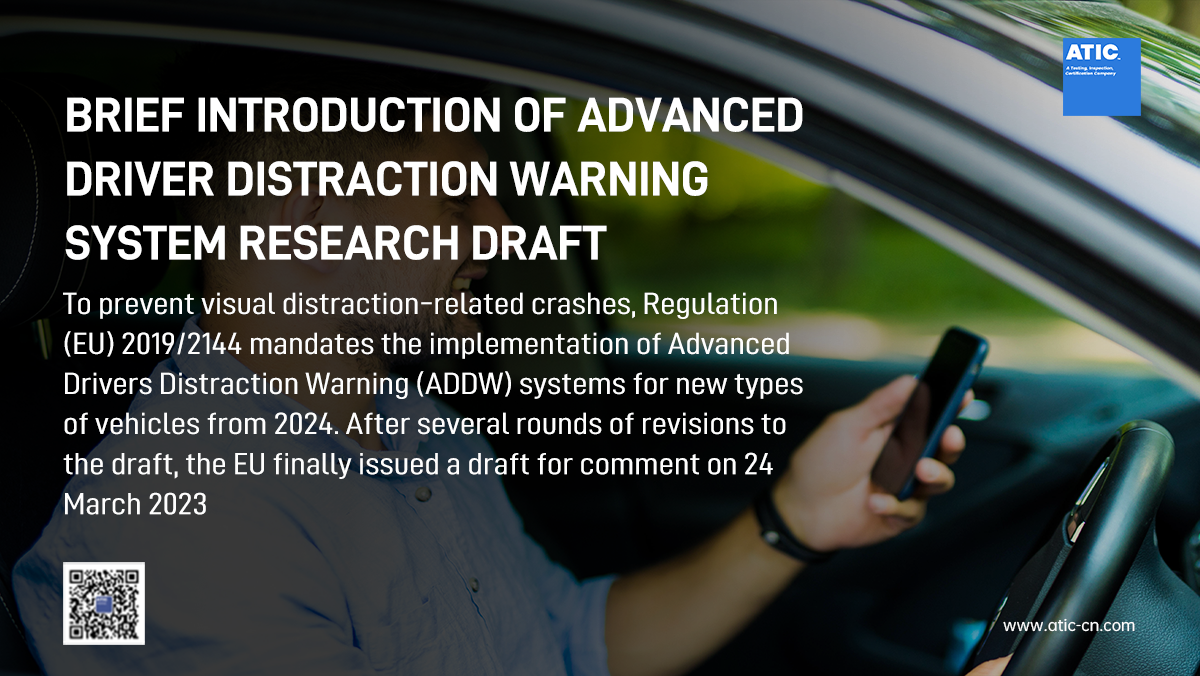 This article introduces theADDW validation test by technical service.
The Advanced Driver Distraction Warning (ADDW) system shall determine when the driver's visual attention is not directed toward the driving tasks and alert the driver through the vehicle's human machine interface.
TEST CONDITIONS
The validation test shall be taken in simulator or track road. There shall be at least one test driver who must be in a position that allows the driver eyes at the eye point of the ocular reference with a variability of position at ±100 mm longitudinally and ±50 mm vertically around the ocular reference point. The driver is without glasses or head accessory, and no facial hair other than eyebrows.
TEST PROCESS
The draft regulates a spot-check test for validation. The spot-check test includes a series of fixation points in area 3 which located in all of the following zones. Test driver should gaze the points at least 3 seconds in order.
(a) driver's left knee;
(b) driver's right knee;
(c) driver's lap;
(d) passenger's footwell or similar location looking down toward the front lower area of the vehicle from left or right from the driver's seat;
(e) passenger's seat surface or similar location looking down left or right from the driver's seat toward a surface intended to seat a passenger, store goods or allow passenger's movement in the vehicle;
(f) air vents to the immediate left side of the driver;
(g) air vents to the immediate right side of the driver;
(h) instrument cluster, excluding the heads-up display nor a display crossing the base of the windscreen;
……



Test steps are as follows:
1. The system shall assess the driver as not distracted for at least 60 seconds and until the vehicle get the velocity to be tested.
2. The test driver is instructed to gaze to one of the fixation points at least 3 seconds then transfer to drive at least 15s.
3. Then continue to finish others fixation points. All fixation points assigned to the zones set out before shall be tested and got warning by ADDW system in time.
TEST RESULT
The authority responsible for the type-approval may decide the sequence in which the fixation points are tested. All gaze fixation points shall be tested, at least, once between 20 and 35 km/h and once between 50 and 65 km/h. The test result complied to the list below can be acceptable.
distraction sustains 3.5s
The re-test procedure must be performed for a maximum of two times for each fixation point assessed as false negative.
ATIC GLOBAL HOMOLOGATION RESEARCH AND VEHICLE CERTIFICATION DEPARTMENT
ATIC Automotive Regulation Research and Vehicle Homologation Product Line is dedicated to global automotive regulation research, homologation procedure research and WVTA homologation project management.
Based on ATIC digital platform, our team provides a series of automotive compliance services including market access solutions, technical review, regulation interpretation, regulation database and update, training and Q&A, etc.
ATIC homologation experts are nominated by European technical service and authorities covering all EU/UN regulations for M/N/O/T/L/NRMM category vehicle, system, component and separate technical unit. Authorities includes Netherlands (e/E4), Sweden (e/E5), Luxembourg (e/E13), Ireland (e/E24) and Cyprus (e/E49).
ATIC is long-term compliance and homologation service provider for GWM, GEELY, SAIC MOTOR, BYD, XPENG, NIO, RIMAC, Smart etc. top domestic and international OEMs, and HUAWEI, CATL, SVOLT, FINDREAMS etc. system and component manufactures."
ATIC is a young technical service company from China, established in 2015. By creating a better entrepreneurial environment, we build a professional and passionate team with the best experts, returnees and extraordinary graduates. We are committed to integrate international and domestic regulations, testing and certification resources from a globalization perspective, to establish a neo-specialized regulation research, testing and certification platform. ATIC serves more than 4,500 manufactures per year.

EU CERTIFICATION PLEASE CONTACT