RELEASE DATE:

2021-02-02 18:31
Brief
:
Currently, the energy consumption test cycles for vehicles such as NEDC or WLTP are mainly for light vehicles, while the energy consumption test cycle and procedure for buses is the SORT published by the UITP.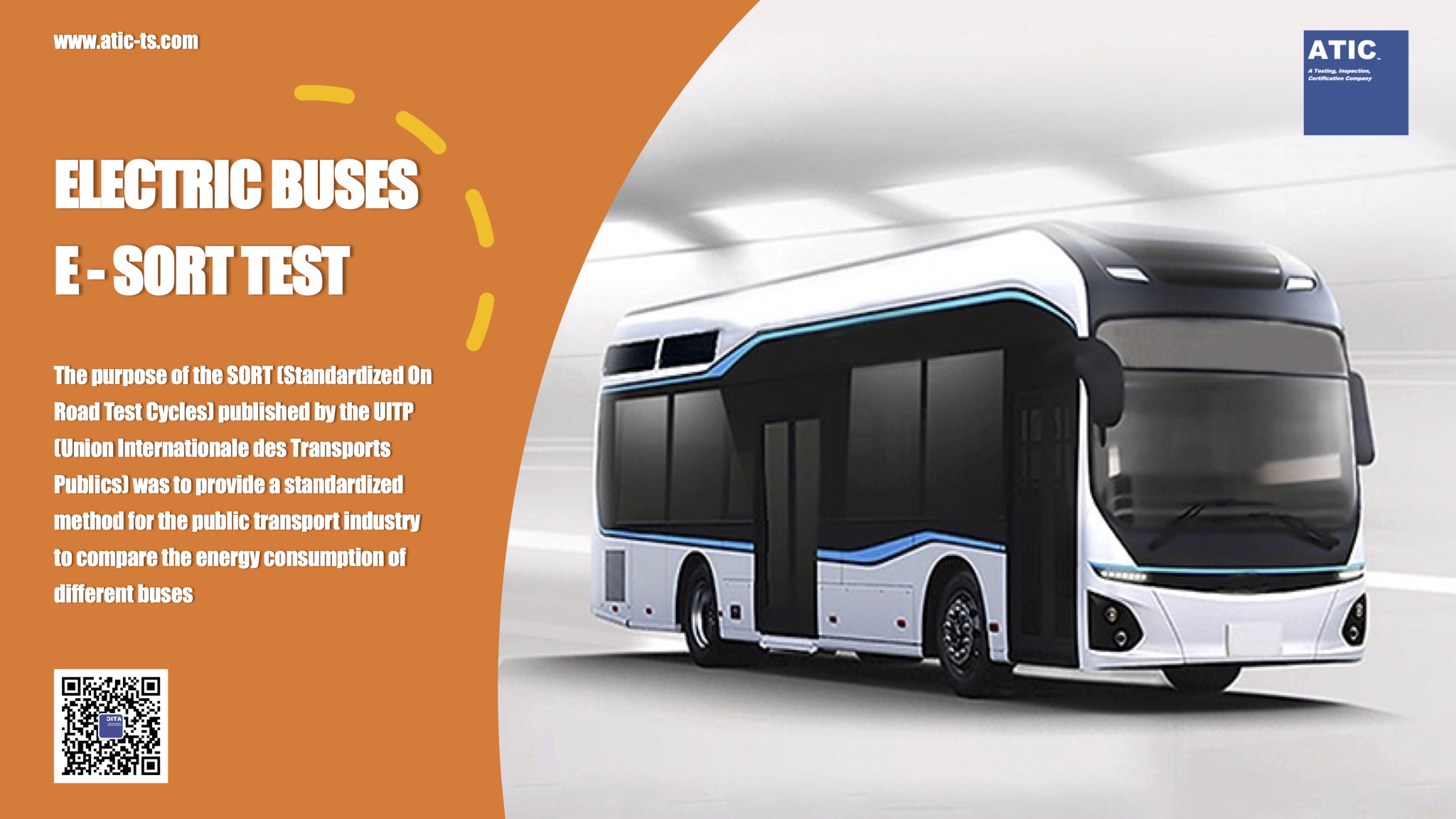 UNION INTERNATIONALE DES TRANSPORTS PUBLICS
The purpose of the SORT (Standardized On Road Test Cycles) published by the UITP (Union Internationale des Transports Publics) was to provide a standardized method for the public transport industry to compare the energy consumption of different buses. It is very important that bus operators get an objective information about especially the energy consumption and it doesn`t matter if we speak about classic driven or e-driven buses. Bus operators often require bus manufacturers to provide SORT test results. Previously, the SORT cycle was mainly used to compare the difference in energy consumption between traditional internal combustion engine buses, the scope of application including buses use liquid or gaseous fuels, or non-plug-in hybrids buses.
And as electric buses or plug-in hybrid buses gradually become more popular, UITP founded E-SORT in 2017, the aim of the current project "E-SORT" is to measure, in a reproducible way, the energy consumption and the zero emissions range of a bus.
THE INTRODUCTION OF E-SORT
The SORT cycle is mainly divided into 3 cycles of SORT 1, SORT 2, SORT 3. SORT 1 represents the urban cycle, SORT 2 represents the mixed cycle and SORT 3 represents the suburban cycle (as figure below). Each network will thus have to position itself in relation to the proposed cycles, and define its own weighting coefficients (which can be as numerous as the local situation requires). The consumption C can be obtained by using the formula: C=a x C_SORT1+b x C_SORT2+c x C_SORT3, the definition of the coefficients a, b, and c is the responsibility of the operator. It is up to each of the users (operators) to adapt the coefficients to their own situation and experience. It shall be noted that the sum of the coefficients must not necessarily be equal to 1.
E-SORT test cycle is identical to the SORT test cycle used by internal combustion engine buses. A basic cycle is composed of three trapezes (sections) and stopping time. Each trapeze is composed of acceleration, constant speed, and braking phases. The sequence of trapezes (sections) in one module is intended to reflect the traffic conditions of a public transport vehicle: frequent stops (either with opening of doors for boarding/alighting, or stops due to traffic conditions (traffic lights, congestion). At the end of each 'section' a 'stop time' is provided, which reflects traffic dependent stops (without door opening). Each 'module' finishes with the provision of a 'stop time' representing passenger boarding and alighting (therefore including door opening and closing during the test).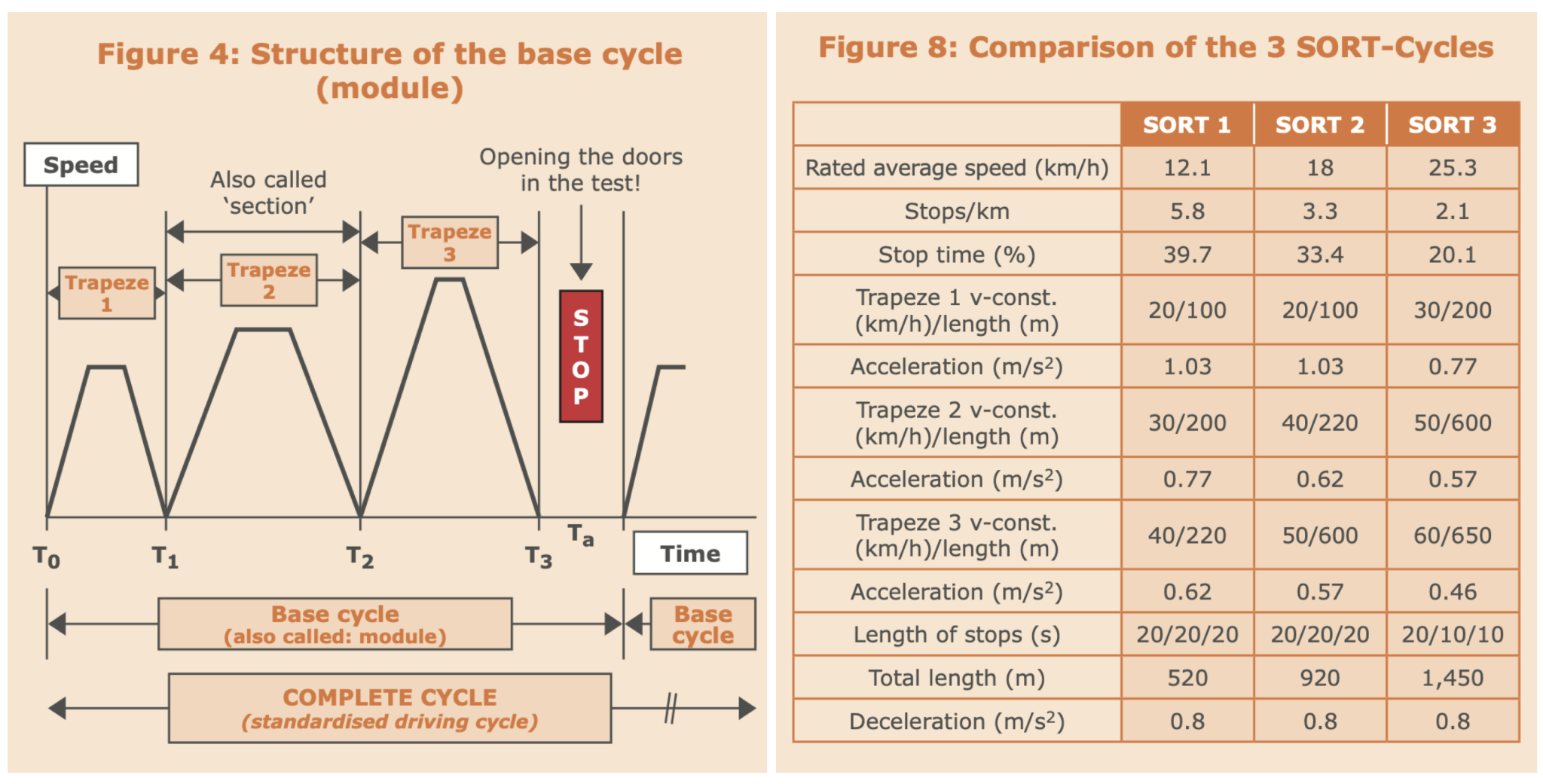 SORT cycles 1, 2, and 3 are based on the base cycle. By assigning different average driving speed, stop time, acceleration, length, and other parameters, three different types of cycles are formed. All three cycles have the same braking deceleration of 0.8m/s2.
SORT 1 cycle: the average speed is 12.1km/h, the total time is 154.5s, total length is 520m.
SORT 2 cycle: the average speed is 18km/h, the total time is 183.9s, total length is 920m.
SORT 3 cycle: the average speed is 25.3km/h, the total time is 206.2s, total length is 1450m.
The SORT 1 cycle must produce at least two consecutive sets of valid data, and the SORT 2 and SORT 3 must produce at least one set of valid data. For each cycle, the energy consumption measurement should be repeated until the data fluctuation ((Cmax-Cmin)/Cmin x 100%) of the 3 measurements is within 2% to be considered a valid set of data. The time interval between each measurement must not exceed 10 minutes.
THE E-SORT TEST
ATIC can provide multi-location SORT or E-SORT testing and issue official test reports based on manufacturers' requirements.
ATIC PROVIDES AUTOMOTIVE GLOBAL HOMOLOGATION SERVICE
ATIC's vehicle homologation experts have an average of more than 10 years of experience in motor vehicle certification, and are familiar with multinational certification processes, local regulations, and testing requirements. ATIC cooperates with multinational official organizations and integrates high-quality testing and certification resources, to provide a global one-stop certification service for manufacturers to complete the certification process, including certification application, documentation preparation, regulatory guidance and training, and pre-testing and test coordination, etc.
ATIC GLOBAL VEHICLE REGULATION RESEARCH & VEHICLE DEPARTMENT
ATIC Automotive Regulation Research and Automotive Homologation Team is dedicated to global automotive regulation research, homologation procedure research and homologation project management. Based on ATIC digital platform, our team provides a series of automotive compliance services including market access solutions, technical verification, regulation interpretation, regulation database and update, training and Q&A, etc. ATIC automotive experts are nominated by European technical service and authorities covering all EU/UN regulations for M/N/O/T/L/NRMM category vehicle, system, component and separate technical unit. Authorities includes Netherlands (e/E4), Sweden (e/E5), Luxembourg (e/E13), Ireland (e/E24), Cyprus (e/E49) and San Marino (E57).
SORT TEST PLEASE CONTACT