RELEASE DATE:

2020-08-10 15:40
Brief: When a truck is turning, it is easy to collide with a bicycle due to its limited visibility. This situation generally occurs at low speed or at a standstill, and usually has serious consequences for vulnerable road users (VRU).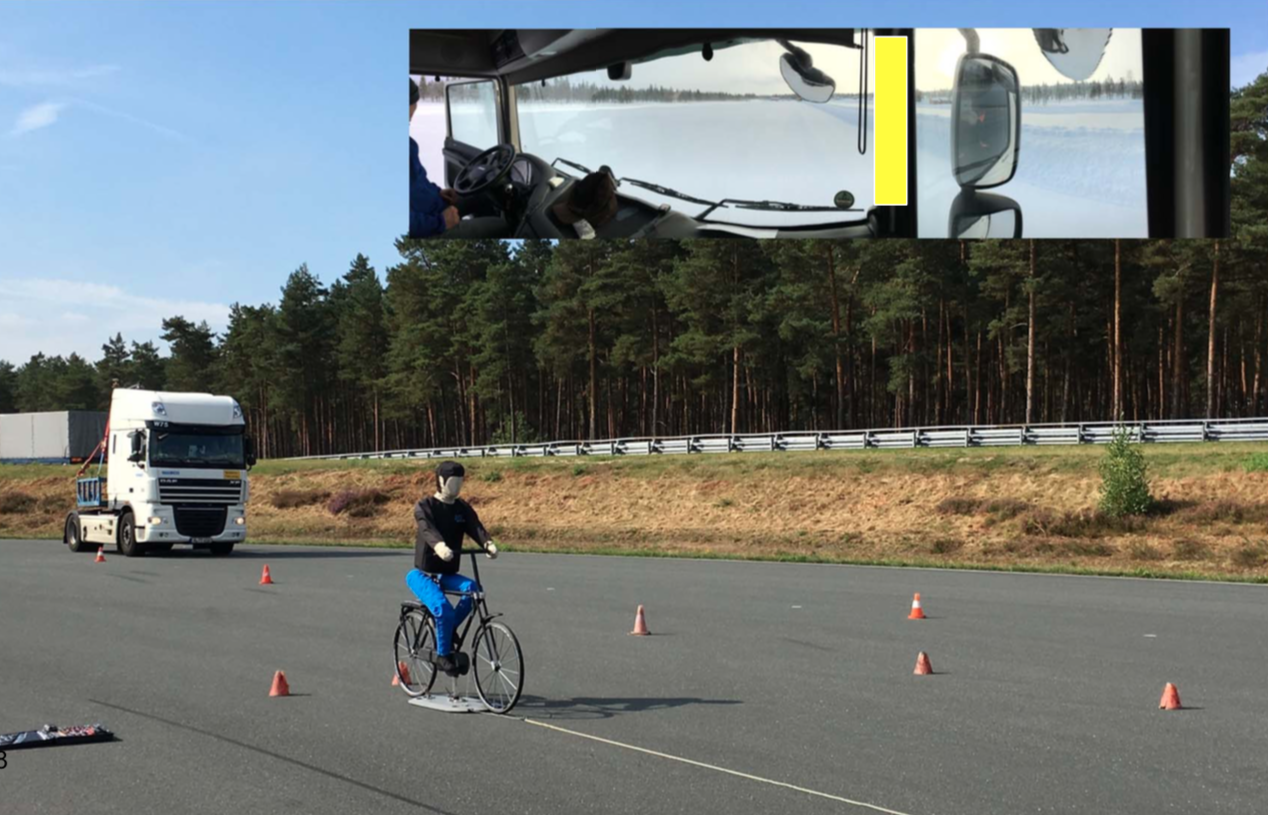 INTRODUCTION TO THE BLIND SPOT INFORMATION SYSTEM
Due to the large size of the truck, there are many blind spots during the driving process. In the past, the sightline of the truck driver was improved by increasing the number of rearview mirrors and equipping the truck with underside protection devices. However, turning accidents still occurred, so blind spot monitoring was introduced. System Blind Spot Information System (BSIS), which can effectively avoid collisions between trucks and bicycles when turning.
*"Bicycle" means a combination of a bicycle and cyclist.
BSIS WORKING PRINCIPLE
BSIS refers to a system that is installed on a truck to inform the truck driver that there may be a collision with a nearby bicycle so that the driver can take appropriate measures in time to avoid traffic accidents. The system involves two types of warning signals, information signals and warning signals.
INFORMATION SIGNAL
BSIS uses an optical information signal to inform the truck driver that there is a bicycle nearby. If the bicycle has been driving in a critical area where a collision may occur, the information signal will always remain to remind the truck driver. The information signal will only be automatically deactivated in the event of a system failure or sensor contamination. It cannot be manually deactivated and is visible during the day and night. The device that sends out the information signal should form a horizontal angle greater than 30° with the axis parallel to the longitudinal midplane of the vehicle and pass through the driver's eye reference point.
The main features of information signals are summarized as follows:
Low intensity
Low annoyance if issued too often Lesser effect in steering driver's attention
> 30° to the right of the driver
Only automatic deactivation (ice, snow on sensors, ...)
The diagram is as follows: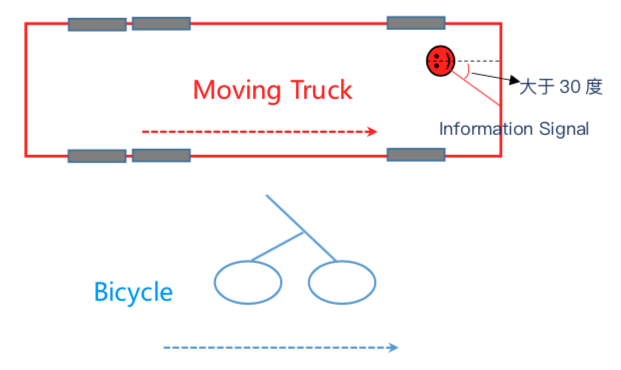 Both the truck and the bicycle are moving, and the bicycle enters a key area that may collide with the truck, but the truck driver has no intention to turn, and an information signal appears to remind.
WARNING SIGNAL
When the probability of an accident is relatively high, that is, when the system detects a potential collision. At the time, BSIS warns the driver through optical signals, acoustic signals, tactile signals or any combination of these signals. If it is an optical signal, this signal is also visible during the day and night. The warning signal is different from the information signal in the mode or start strategy. It is easy for the driver to understand and associate it with the potential danger. This warning signal can be manually or automatically deactivated. In the event of malfunction or sensor contamination, it Disabled with the information signal. The verification of the warning signal is achieved through technical document review.
The main features of warning signals are summarized as follows:
High intensity
If issued right, good effects in steering driver's attention
High annoyance if issued too often
Different to information signal
Activation strategy decided by Vehicle Manufacturer
not before collision becomes imminent
The diagram is as follows: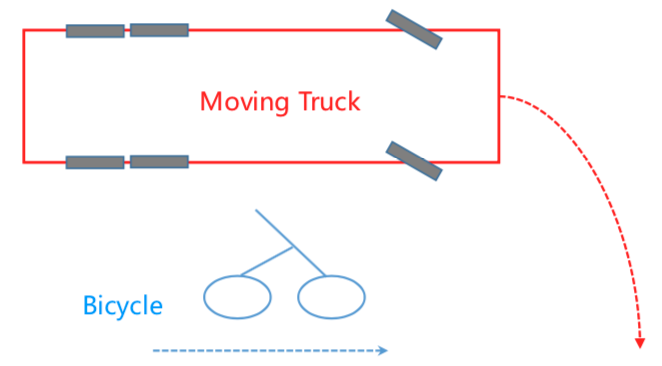 Trucks and bicycles are both in motion, the bicycle enters a key area that may collide with the truck, and the truck driver intends to turn. When BSIS evaluates the trajectory intersection or detects the operation of the turn indicator on the steering wheel, a warning signal appears to remind.
When the truck is stationary, if a bicycle enters the nearby area, a signal reminder will also appear, the diagram is as follows: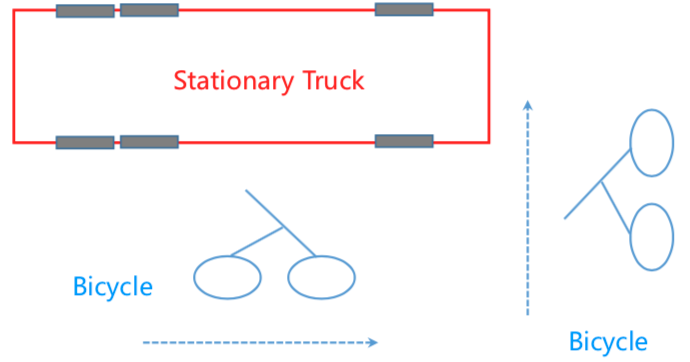 UN R151 SCOPE OF APPLICATION
This Regulation applies to the blind spot information system of vehicles of categories N2, N3, M2 and M3.
The requirements of this Regulation are so worded as to apply to vehicles which are developed for right-hand traffic. In vehicles that are developed for left-hand traffic, these requirements shall be applied by inverting the criteria, when appropriate.
No.

Test items

Remark

1

Dynamic test

Truck: 0-30km/h

Bicycle: 5 km/h -20 km/h

Cyclist Dummy: Reference to ISO [CD] 19206-4

Only test information signals, no warning signals

2



Static test

Truck: standstill

Bcycle: 5 km/h -20 km/h driving parallel and perpendicular to the truck respectively

Cyclist Dummy: Reference to ISO [CD] 19206-4

Only test information signals, no warning signals

3



Automatic deactivation test
BSIS is automatically deactivated after ice, snow, mud or other pollution, and automatically restarted after the pollution is eliminated

4

Failure detection test
Signal reminder when BSIS is not available

5

Optical failure warning signals verification test

Information signal

Warning signal

Failure warning signals

6

Electro Magnetic Compatibility (EMC)
The effectiveness of the BSIS shall not be adversely affected by magnetic or electrical fields and meet the requirements of R10.04
EU CERTIFICATION SERVICE PROVIDED BY ATIC
ATIC experts are working under designated technical services in Europe to conduct Initial Assessment, Witness Testing and CoP assessment as authorized inspectors by authorities including e/E5 Sweden, e/E24 Ireland, e/E49 Cyprus, e/E32 Latvia, e/E36 Lithuania and E57 San Marino. ATIC serve more than 200 whole vehicle and component manufactures each year in China.

ABOUT ATIC
ATIC is a young technical service company from China, established in 2015. ATIC is committed to integrate domestic and international regulations, testing and certification resources with a global perspective in the context of globalization, and establish a new, specialized regulation research, testing and certification platform. With innovative Digital Reporting System (DRS), Customer Service Platform (CSP) and self-developed Global Vehicle Regulation Database (GVRD), ATIC's compliance service covers more than 54 countries/regions globally, testing and certification service covers more than 30 countries/regions worldwide. ATIC serve more than 3,300 manufactures each year.


UN R151 CERTIFICATION PLEASE CONTACT
Emily Shui
Global Vehicle Regulation Research Department
Emily is Researcher in ATIC, she holds a Master's degree from Chongqing University of Technology.
Emily is specializing in cross-disciplinary compliance and certification solutions,
as well as ATIC regulation database development
Phone: +86 020-82510156
Mail: cs@atic-cn.com