RELEASE DATE:

2022-05-17 10:24
Brief:
Automotive AEBS system is also known as Advanced Emergency Braking System. According to the new framework regulation of EU 2019/2144, starting from July 6, 2022, all new type of vehicles entering the EU market must be equipped with AEBS function. However, advanced emergency braking for pedestrians and bicycles will not be mandatory for new type of vehicles until July 7, 2024.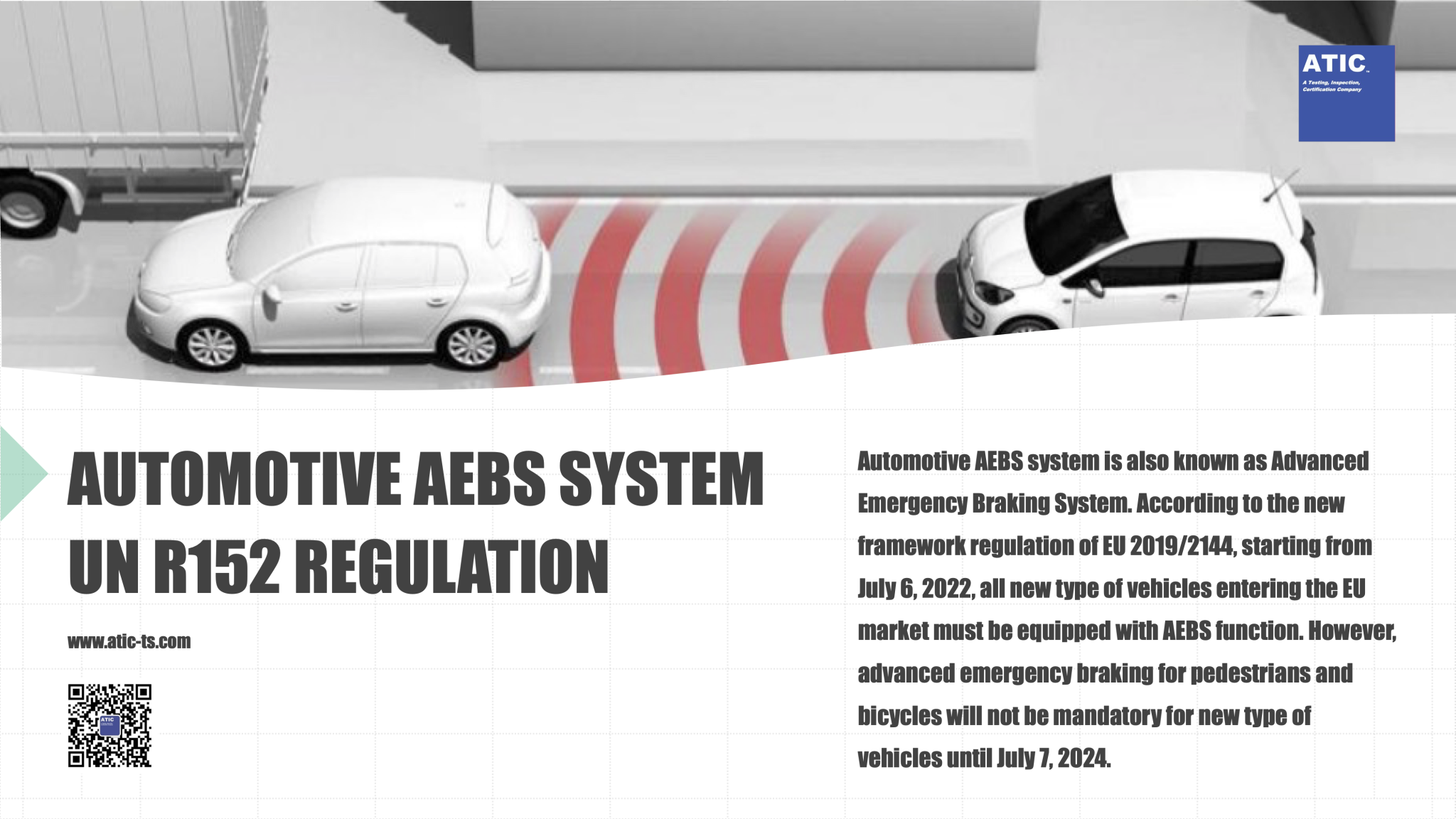 THE INTRODUCTION OF UN R152
The intention of this Regulation is to establish uniform provisions for Advanced Emergency Braking Systems (AEBS) fitted to motor vehicles of the Categories M1 and N1 primarily used within urban driving conditions.
The system shall automatically detect a potential forward collision, provide the driver with an appropriate warning and activate the vehicle braking system to decelerate the vehicle with the purpose of avoiding or mitigating the severity of a collision in the event that the driver does not respond to the warning.
SPECIFICATIONS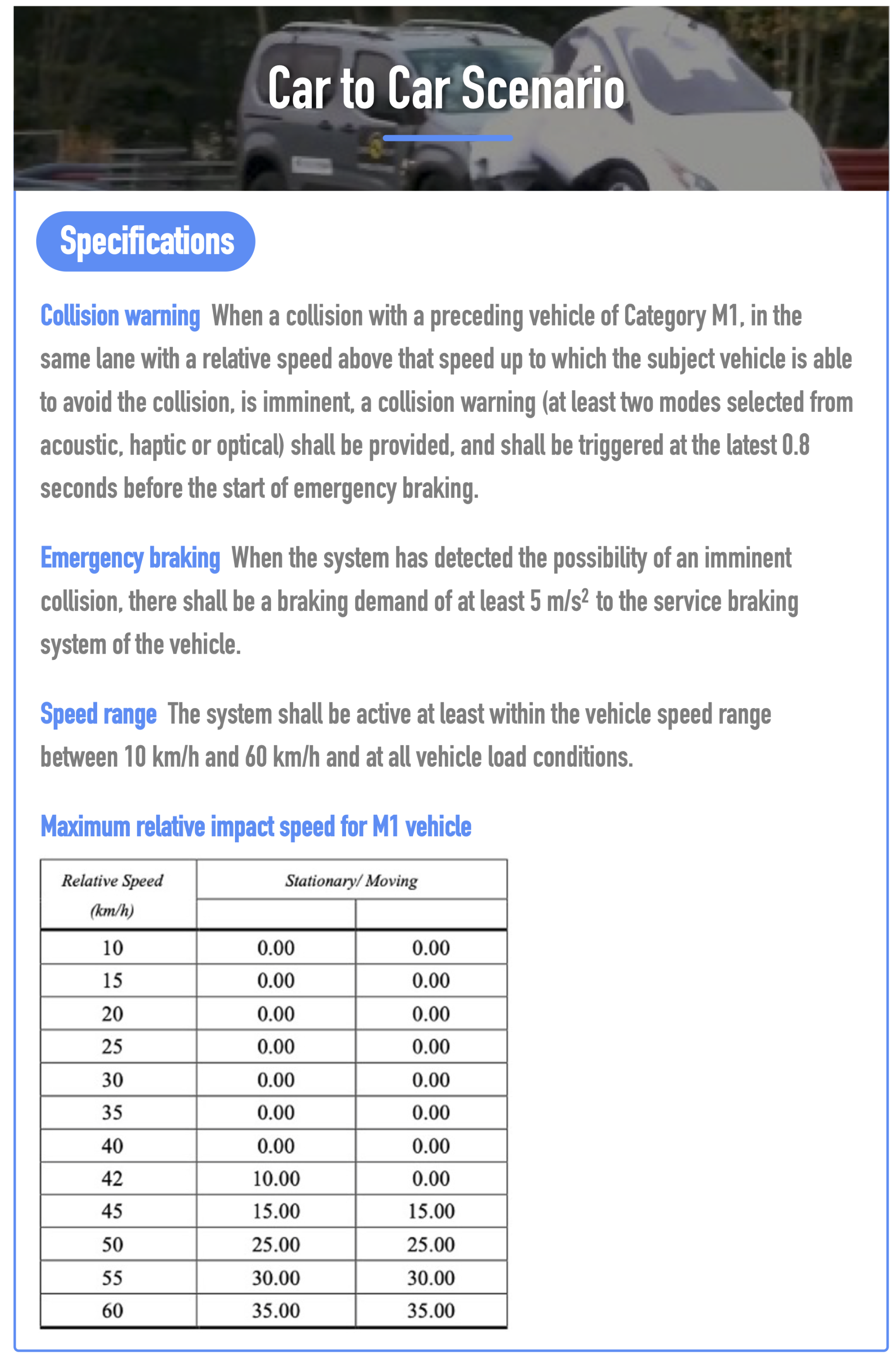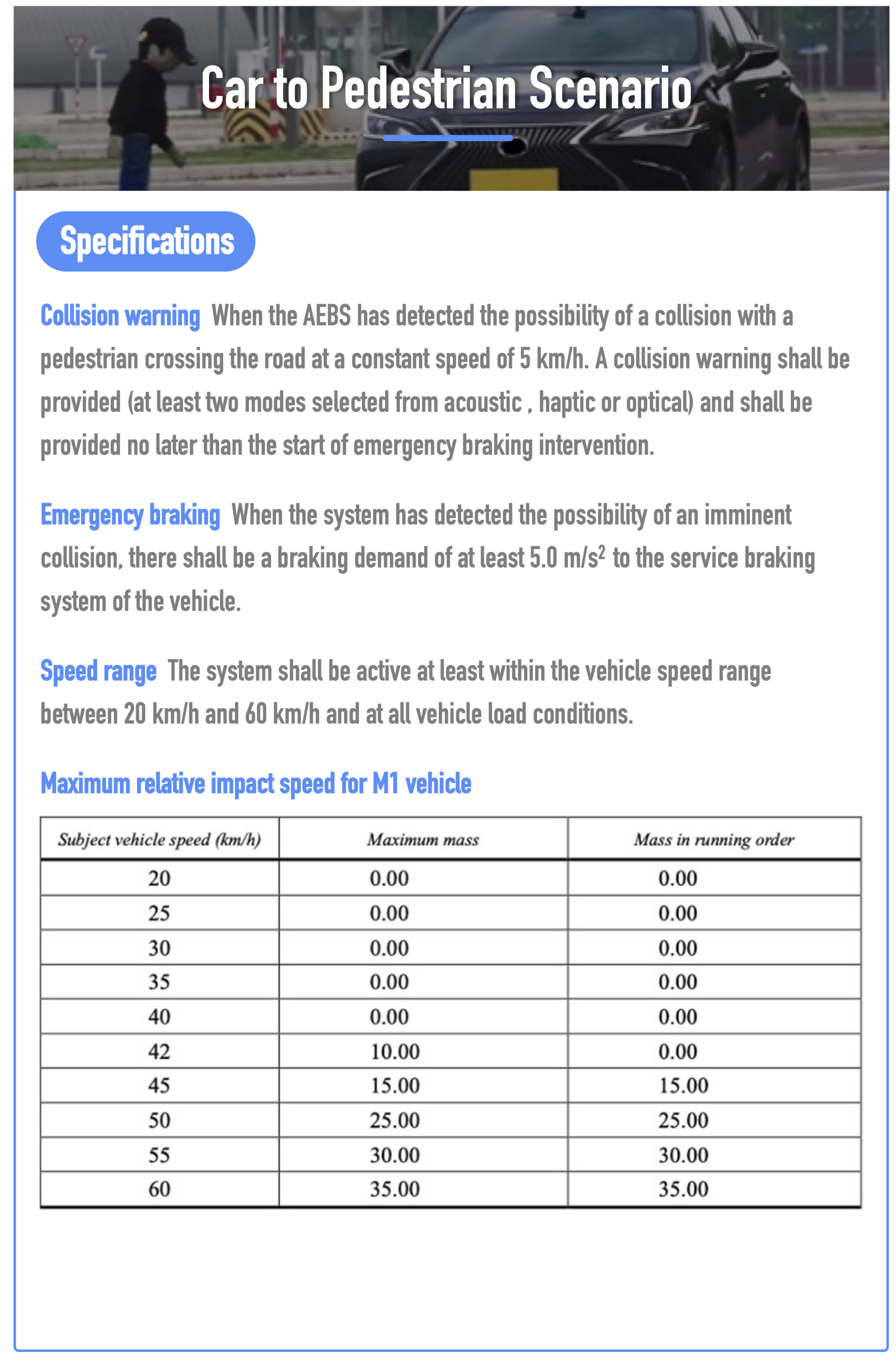 TEST PROCEDURE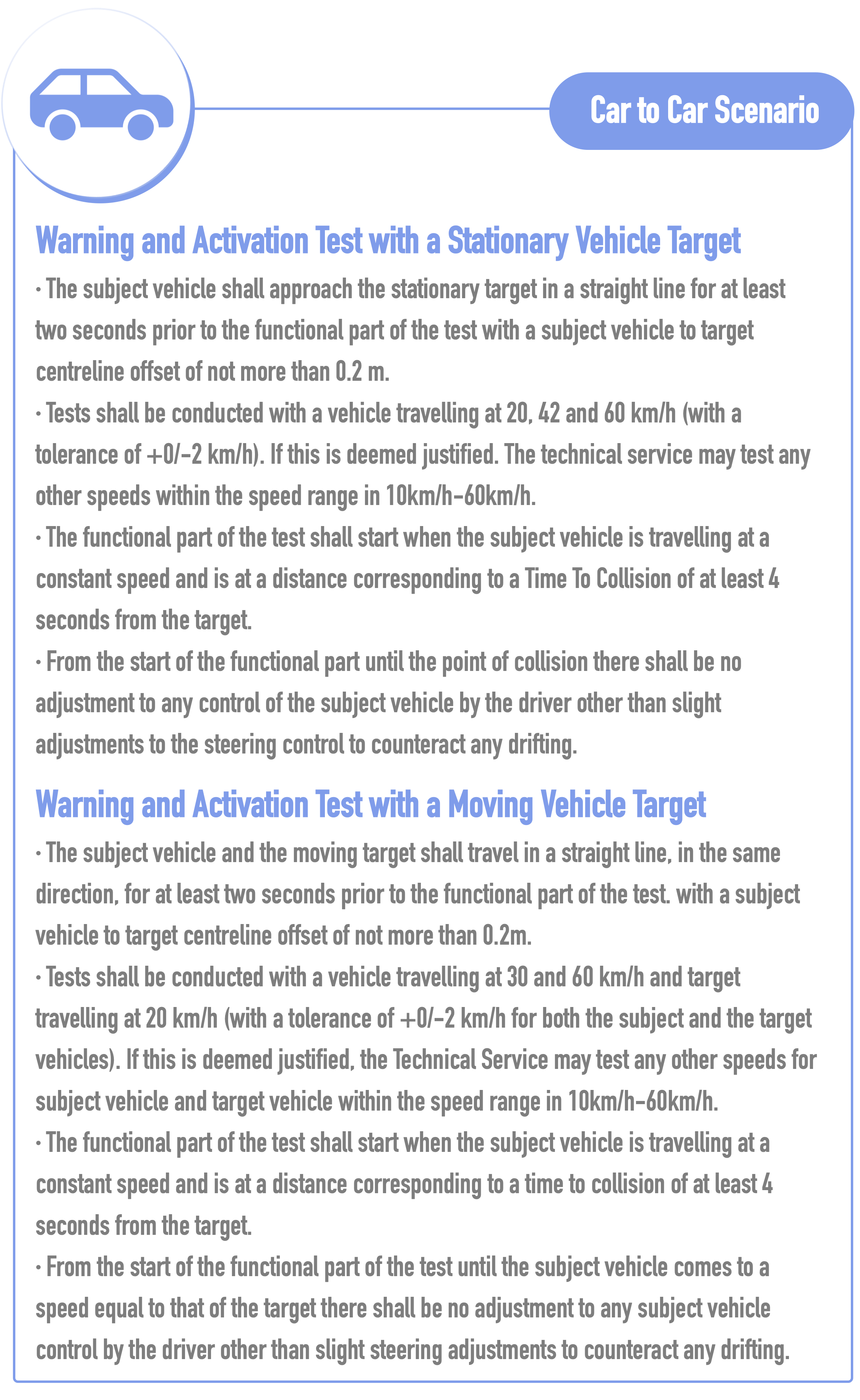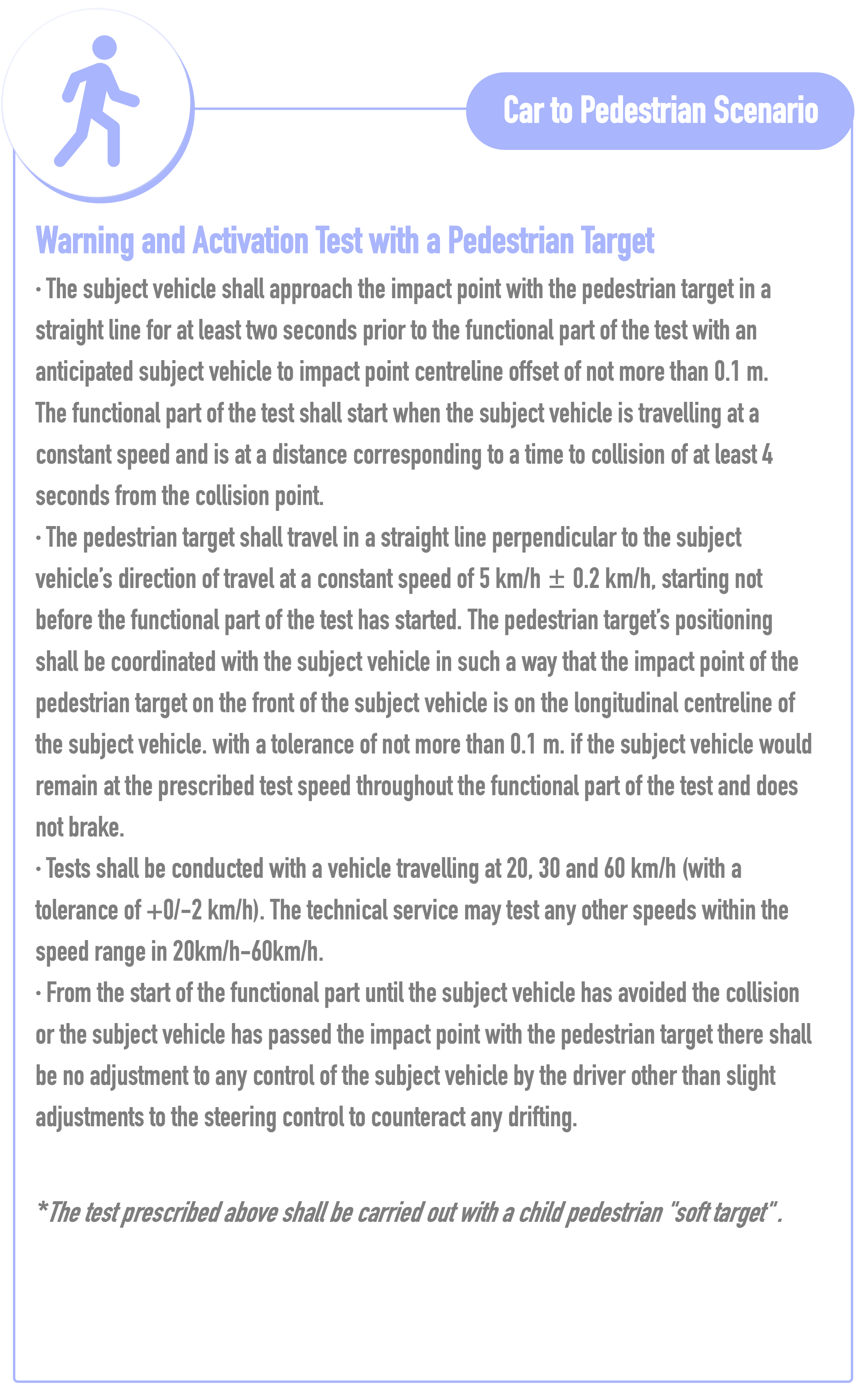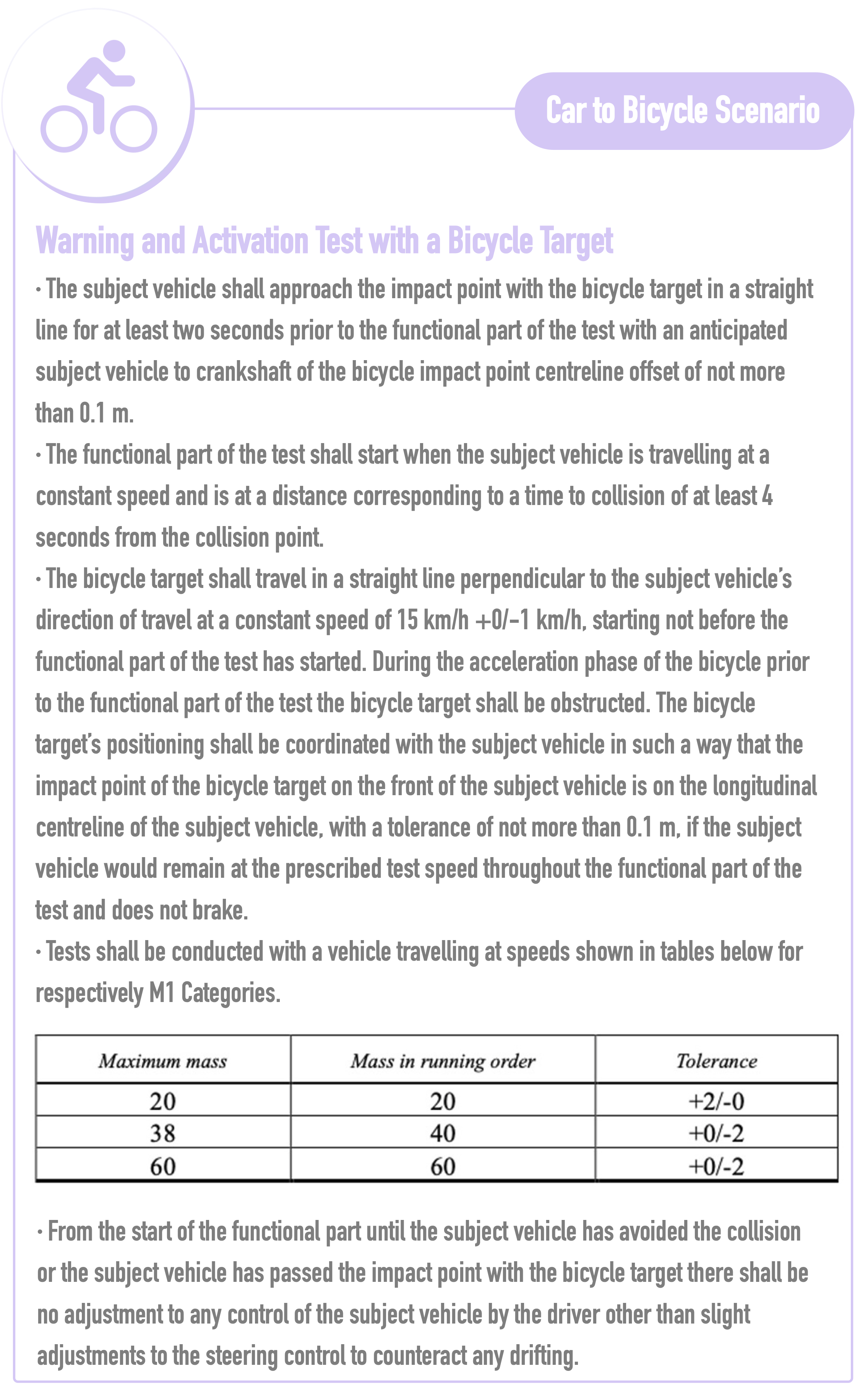 ATIC PROVIDES AUTOMOTIVE GLOBAL HOMOLOGATION SERVICE
ATIC's vehicle homologation experts have an average of more than 10 years of experience in motor vehicle certification, and are familiar with multinational certification processes, local regulations, and testing requirements. ATIC cooperates with multinational official organizations and integrates high-quality testing and certification resources, to provide a global one-stop certification service for manufacturers to complete the certification process, including certification application, documentation preparation, regulatory guidance and training, and pre-testing and test coordination, etc.
ATIC GLOBAL VEHICLE REGULATION RESEARCH & VEHICLE DEPARTMENT
ATIC Automotive Regulation Research and Vehicle Homologation Product Line is dedicated to global automotive regulation research, homologation procedure research and WVTA homologation project management.
Based on ATIC digital platform, our team provides a series of automotive compliance services including market access solutions, technical review, regulation interpretation, regulation database and update, training and Q&A, etc.
ATIC homologation experts are nominated by European technical service and authorities covering all EU/UN regulations for M/N/O/T/L/NRMM category vehicle, system, component and separate technical unit. Authorities includes Netherlands (e/E4), Sweden (e/E5), Luxembourg (e/E13), Ireland (e/E24) and Cyprus (e/E49).
ATIC is long-term compliance and homologation service provider for GWM, GEELY, SAIC MOTOR, BYD, XPENG, NIO, RIMAC, Smart etc. top domestic and international OEMs, and HUAWEI, CATL, SVOLT, FINDREAMS etc. system and component manufactures.
AEBS CERTIFICATION PLEASE CONTACT