RELEASE DATE:

2020-12-23 14:30
Brief
: Spray- suppression system means a system intended to reduce the pulverisation of water thrown upwards by the tyres of a vehicle in motion and which is made up of a mudguard, rain flaps and valances equipped with a spray-suppression device. According to the directive of WVTA, Spray- suppression system should be tested as per the requirements of REGULATION (EU) No 109/2011, and achieve the e mark approval.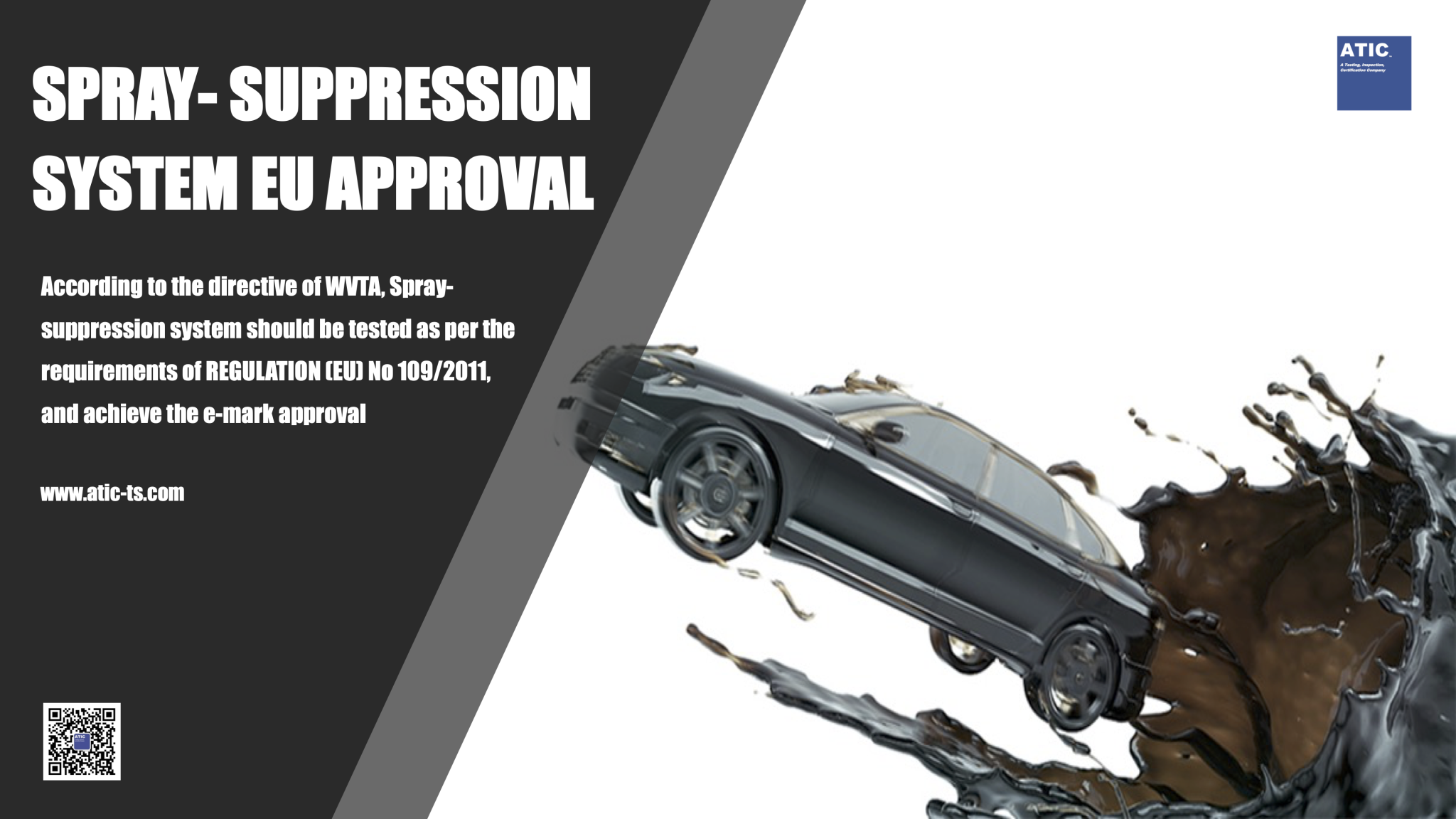 THE PROCEDURE OF TYPE APPROVAL
1. Application Submission
3. Samples Preparation and Testing
4. Technical Documents and Test Report Submission
5. Documents Review and Issuance of Certificate
Spray-Suppression Device means part of the spray-suppression system, which may comprise an air/water separator and an energy absorber.
1. Air/water Separator: a component forming part of the valance and/or of the rain flap through which air can pass whilst reducing pulverised water emissions;
2. Energy Absorber: a component forming part of the mudguard and/or valance and/or rain flap which absorbs the energy of water spray, thus reducing pulverised water spray.
As per the requirements of (EU) No 109/2011, the test is intended to determine the effectiveness of a porous material intended to retain the water. For energy absorber spray-suppression device, the average percentage of the water should be 70 % or higher; For air/water separator spray-suppression device, the average percentage of the water should be 85 % or higher.
OUR SERVICE ABOUT EU/UN HOMOLOGATION
ATIC experts are working under designated technical services in Europe to conduct Initial Assessment, Witness Testing and CoP assessment as authorized inspectors with authorities including e/E4 Netherland, e/E5 Sweden, e/E24 Ireland, e/E49 Cyprus, e/E32 Latvia and e/E36 Lithuania.
Also, ATIC is qualified ATS-Point who is designated by Sammarinese Approval Authority, through which type approval certificates of vehicles, components, technical units and vehicle systems according to UN Regulations are issued with the code E57.
In China, our witness laboratories cover North China, Central China and South China. No matter where your products are produced, we can provide the nearest witness test site. If your factory laboratory meets the requirements of IS017025, We can also perform witness tests in your factory and apply type
ATIC leading digital customer platform and digital reporting system make it easy for you to submit information files online, and technical reports can be generated online, minimizing file and report preparation time and improving quality, leaving valuable time to you and yours client.
ABOUT ATIC
ATIC is a young technical service company from China, established in 2015. ATIC is committed to integrate domestic and international regulations, testing and certification resources with a global perspective in the context of globalization, and establish a new, specialized regulation research, testing and certification platform. With innovative Digital Reporting System (DRS), Customer Service Platform (CSP) and self-developed Global Vehicle Regulation Database (GVRD), ATIC's compliance service covers more than 54 countries/regions globally, testing and certification service covers more than 30 countries/regions worldwide. ATIC serve more than 3,300 manufactures each year.
EU/UN CERTIFICATION PLEASE CONTACT
Charlie Li
Component Homologation Department
ATIC Component Homologation Product Line Manager/BDM (Western China Region), Technical Expert accredited by European Authorities, Lead Auditor for Brazil INMETRO.
Rich experience in vehicle and component compliance, testing and certification for markets including EU, America, Japan, South Korea and India etc..
Phone: +86 020-82510156
Mail: cs@atic-cn.com