RELEASE DATE:

2022-05-27 19:03
Brief
:
Brazil INMETRO (Brazilian National Institute of Metrology, Standardization and Industrial Quality) officially issued Ordinance No. 62 on February 17, 2022, which updated the Luminaires Requirements for Road Lighting. Ordinance No. 62 has come into effect on March 3, 2022, and replace Ordinance No. 20/2017.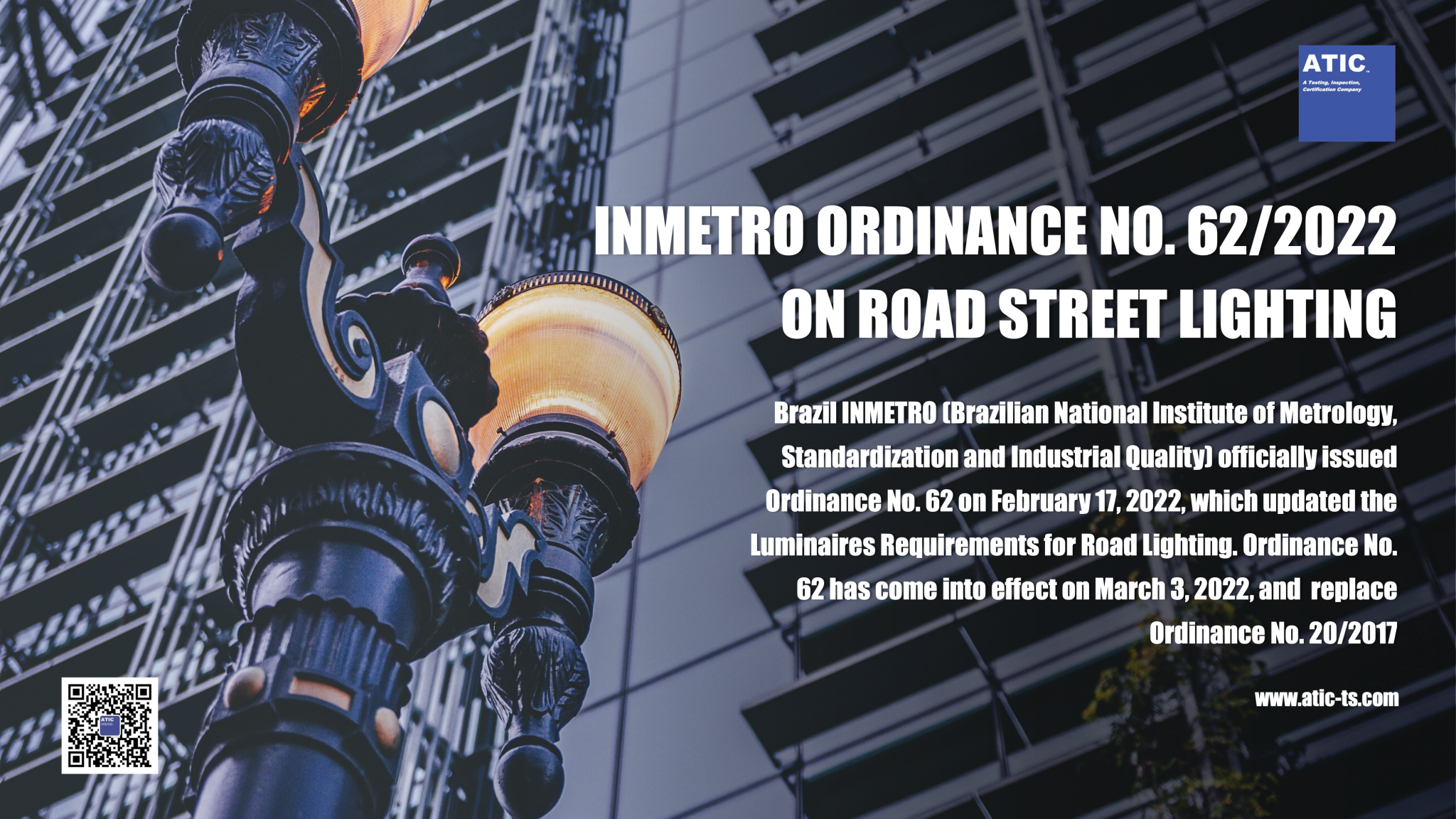 SCOPE OF NEW ORDINANCE
This Regulation applies to luminaires for road street lighting, which operate with alternating current (AC) or continuous (DC) power, with independent or inline control system, comprising:
I – Luminaires for road street lighting, with discharge lamps up to 600 W;
II –Luminaires for road street lighting, with LED technology.
The following are excluded from compliance with the provisions of these Regulations:
I – Fixed general purpose luminaires;
II – Built-in luminaires;
III – Portable luminaires of general use;
IV – Luminaires with integrated transformers for tungsten filament lamps;
V –Portable luminaires for garden use
VI – Lamps for stage lighting studios, television and cinema (indoor and outdoor);
VII –Luminaires for swimming pools and similar applications;
VIII–Luminaires for emergency lighting;
IX – Luminaires with extra-low voltage lighting systems for filament lamps;
X – Luminaires for use in clinical areas of hospitals and health buildings; or
XI–Luminaires coupled to photovoltaic systems and other independent types of power, integrated or not

THE PROCEDURE OF TYPE APPROVAL
Application Submission
Factory Audit (As per ISO9001 & QMS documents)
Samples Preparation and Testing
Legal Representative Audit
Technical Documents Submission And Review
Certification Maintenance
ATIC PROVIDES SERVICE
ATIC provide INMETRO certification service for the manufacturers of road lighting Product by direct co-operation with approvals authorities without communication barriers. ATIC helps arrange full-life time product compliance including certification application, documentation preparation, regulatory analysis, compliance training, pre-testing and test arrangement, etc. With the best service and the fastest efficiency, ATIC assist the manufacturers to enter Brazil market with one-stop certification.

ABOUT ATIC
ATIC is a young technical service company from China, established in 2015. By creating a better entrepreneurial environment, we build a professional and passionate team with the best experts, returnees and extraordinary graduates. We are committed to integrate international and domestic regulations, testing and certification resources from a globalization perspective, to establish a neo-specialized regulation research, testing and certification platform. ATIC serves more than 4,500 manufactures per year.
INMETRO HOMOLOGATION PLEASE CONTACT