RELEASE DATE:

2020-11-24 16:05
Brief: "Personal Protective Equipment" means the protective equipments provided to protect workers from accidents and occupational hazards during the production process, including any load area. According to related regulations regulated by INMETRO (National Institute of Metrology, Standardization and Industrial Quality) and MTE (Ministry of Labor and Employment), Only after it obtained INMETRO certification and complete INMETRO registration, eapecially some products also need to complete CA registration, the Personal protective equipment products can be legally sold in the Brazilian market.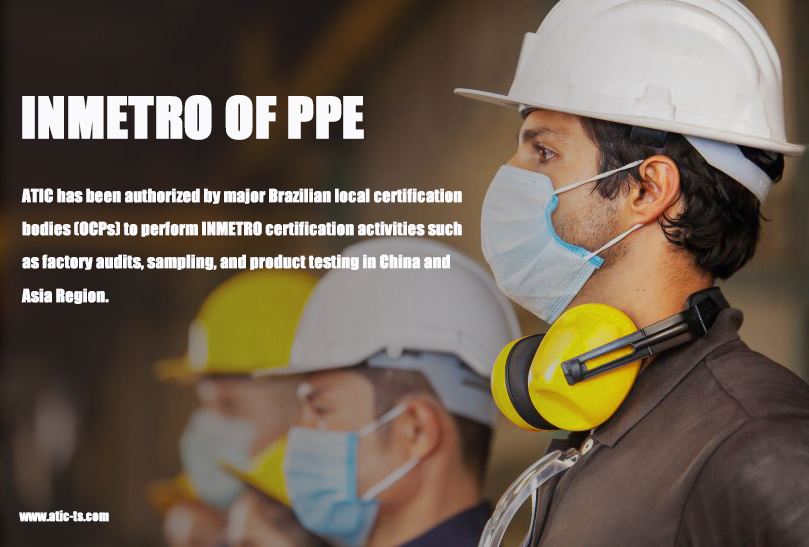 THE PROCEDURE OF TYPE APPROVAL
1. Application Submission
2. Factory Audit
3. Samples Preparation and Testing
4. Legal Representative Audit
5. Technical Documents Submission And Review
6. Issuance of Certificate
7. Certification Maintencance
MANDATORY APPROVAL LIST OF PPE PRODUCTS
| | | | |
| --- | --- | --- | --- |
| | | | |
| High Visibility Security Vest | Ordinance No. 46/2014 | INMETRO | Supplier Declaration of Conformity |
| | Ordinance No. 388/2012 | INMETRO | Type Approval or Batch Test |
| | Ordinance No. 229/2009 | INMETRO+CA | Type Approval or Batch Test |
| Particle Filter-Half Mask | Ordinance No. 561/2014 | INMETRO+CA | Type Approval or Batch Test |
| Safety Helmets Used In The Industry | Ordinance No. 118/2009 | INMETRO+CA | Type Approval or Batch Test |
ABOUT ATIC
ATIC is a young technical service company from China, established in 2015. ATIC is committed to integrate domestic and international regulations, testing and certification resources with a global perspective in the context of globalization, and establish a new, specialized regulation research, testing and certification platform. With innovative Digital Reporting System (DRS), Customer Service Platform (CSP) and self-developed Global Vehicle Regulation Database (GVRD), ATIC's compliance service covers more than 54 countries/regions globally, testing and certification service covers more than 30 countries/regions worldwide. ATIC serve more than 3,300 manufactures each year.
INMETRO CERTIFICATION PLEASE CONTACT
Charlie Li
Component Homologation Department
ATIC Component Homologation Product Line Manager/BDM (Western China Region), Technical Expert accredited by European Authorities, Lead Auditor for Brazil INMETRO.
Rich experience in vehicle and component compliance, testing and certification for markets including EU, America, Japan, South Korea and India etc..
Phone: +86 020-82510156
Mail: cs@atic-cn.com