RELEASE DATE:

2020-04-26 00:06
Brief: Taiwan, Hong Kong, South Korea and Singapore are also known as the "The Four Asian Tigers" and are regarded as the fifth largest economy in Asia. For categories of automobiles, componets, consumer products, ICT products, Taiwan authorities such as Ministry of Transport and Communication (MOTC), Bureau of Standard, Metrology and Inspection (BSMI), Taiwan Communication Commision (NCC), etc., have specific requirements in regulatory supervision.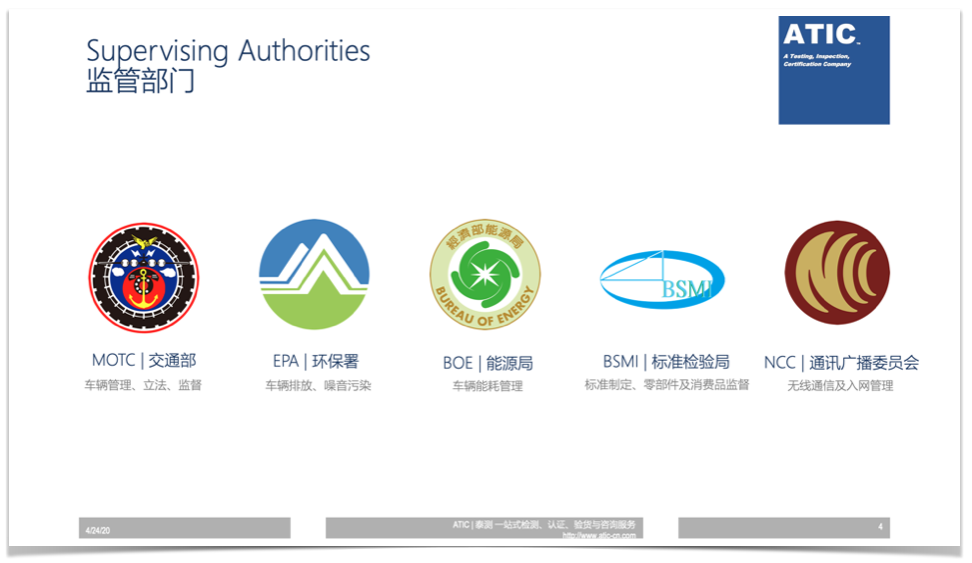 VSTD MOTOR VEHICLE APPROVAL
Ministry of Transportation and Communication (MOTC), as the regulating authority to road motor vehicles in safety inspection and monitor testing. Bureau of Energy Resources is the authority to motor vehicle energy consumption. Environmental Protection Administration is supervising to motor vehicle exhausted gas emissions and sound emissions. A vehicle type shall obtain all four certificates of safety, emission, sound and energy consumption before being used on public roads.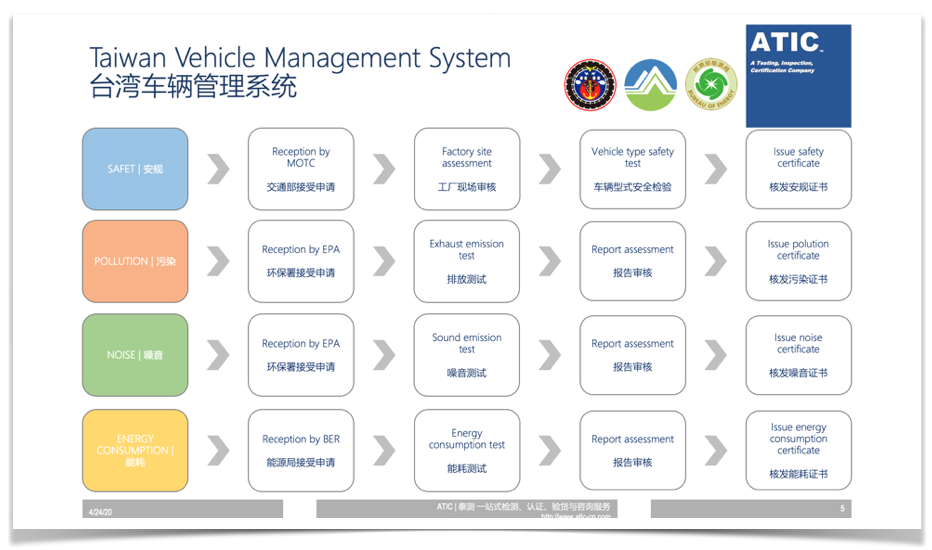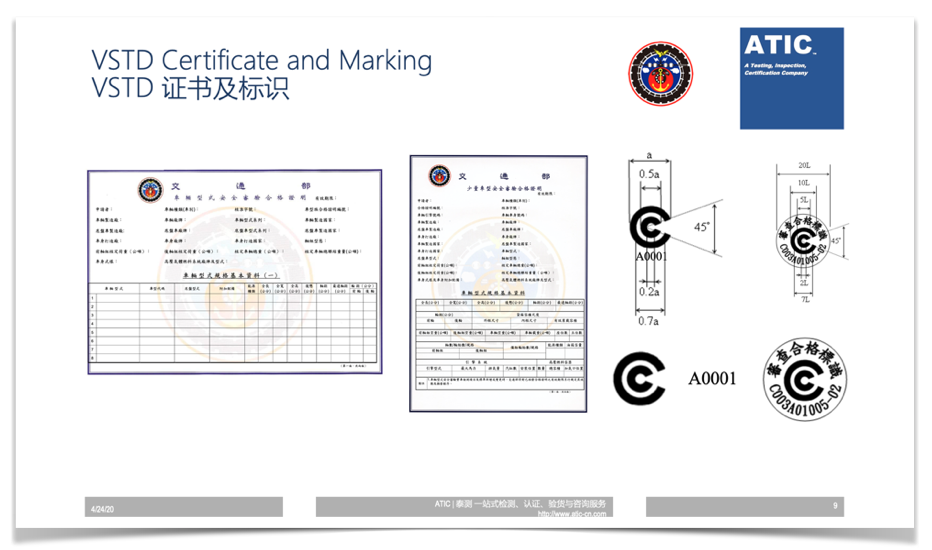 TAIWAN CONSUMER PRODUCT BSMI CERTIFICATION
BSMI the bureau is Taiwan's highest product inspection authority regarding to Ministry of Economy organization act. Its major mission is to establish industrial standards and conduct product inspection. According to CNS standards that BSMI established, all MOE listed mandatory approval products shall be inspected when they are locally produced or imported before entering Taiwan market.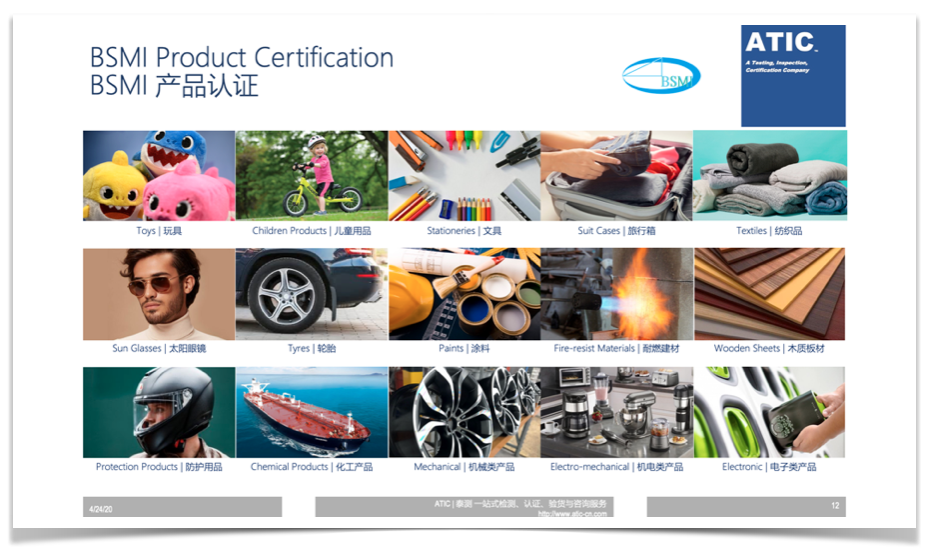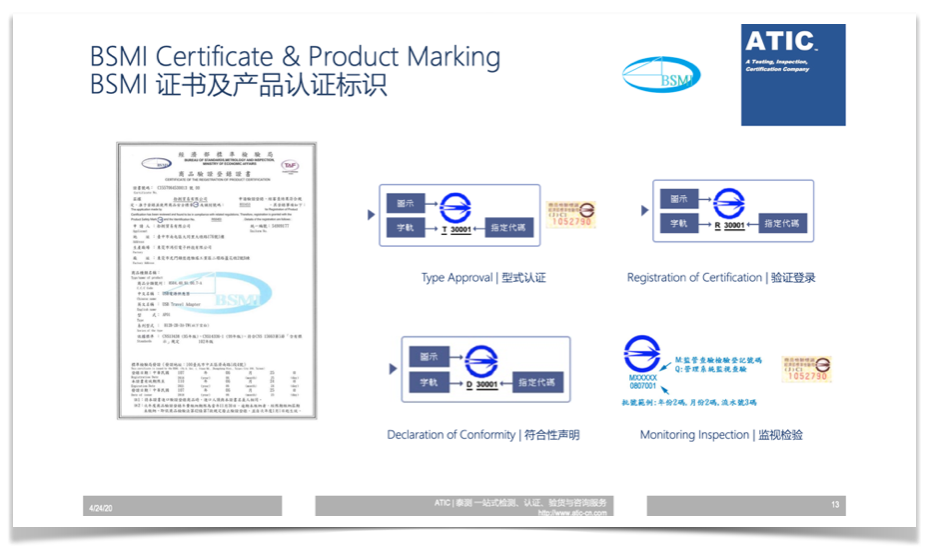 NCC CERTIFICATION
The Taiwan Communications Commission (NCC) is an independent statutory agency of Executive Yuan of Taiwan, responsible for regulating the development of the telecommunication and broadcasting industries, promoting competition and consumer protection, and regulating licensing, radio frequency and spectrum, programming content, communications standards and specifications in Taiwan.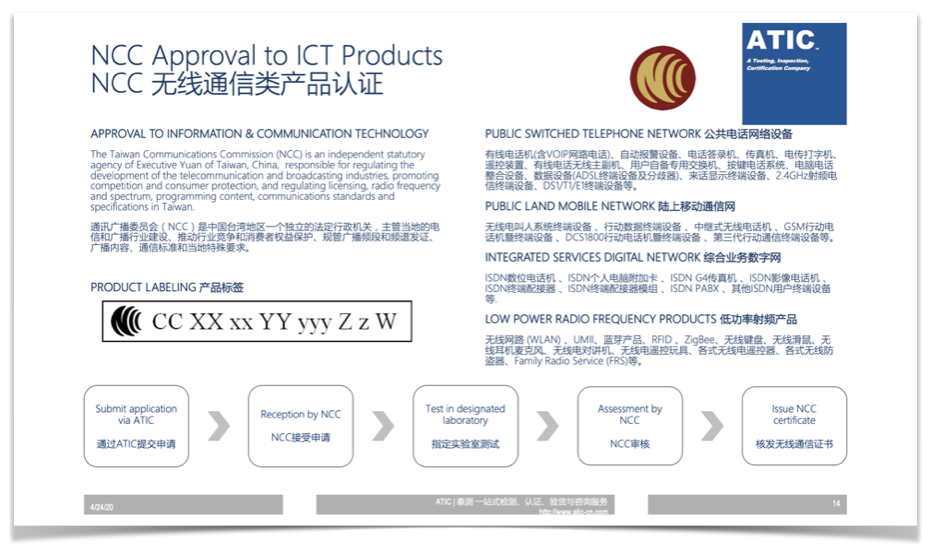 SERVICES PROVIDES BY ATIC
GB standards and international standard brake pad testing and pre-test
China CCC Compulsory Certification, Voluntary Certification, EU ECE Certification and Global Access Services for Brake pads
Preparation and translation of a complete set of application documents
Factory audit guidance, accompanied by translation throughout
Cooperate closely with certification body without communication barriers
Local representatives services

ABOUT ATIC
ATIC is a young technical service company from China, established in 2015. ATIC is committed to integrate domestic and international regulations, testing and certification resources with a global perspective in the context of globalization, and establish a new, specialized regulation research, testing and certification platform. With innovative Digital Reporting System (DRS), Customer Service Platform (CSP) and self-developed Global Vehicle Regulation Database (GVRD), ATIC's compliance service covers more than 54 countries/regions globally, testing and certification service covers more than 30 countries/regions worldwide. ATIC serve more than 3,300 manufactures each year.


TAIWAN CERTIFICATION PLEASE CONTACT


Xinny Chan
Asia Homologation, Department Manager
Xinny graduated from the University of Brighton in UK and majored in Automotive Engineering.
He worked in OEM responsible for chassis R&D.

Xinny currently holds the role of Asia Homologation
Department Manager specializing in Asian automotive and components regulation and homologation.
Phone: +86 020-82510156
Mail: cs@atic-cn.com