RELEASE DATE:

2022-07-29 18:01
Brief
:
Before putting pyrotechnic articles of vehicles under DIRECTIVE 2013/29/EU on the EEA market, the manufacturers shall apply for EU-type examination certificates issued by Notified Bodies, sign the EU Declaration of Conformity and affix CE markings to ensure that their products comply with the EU Directives, Regulations, and standards.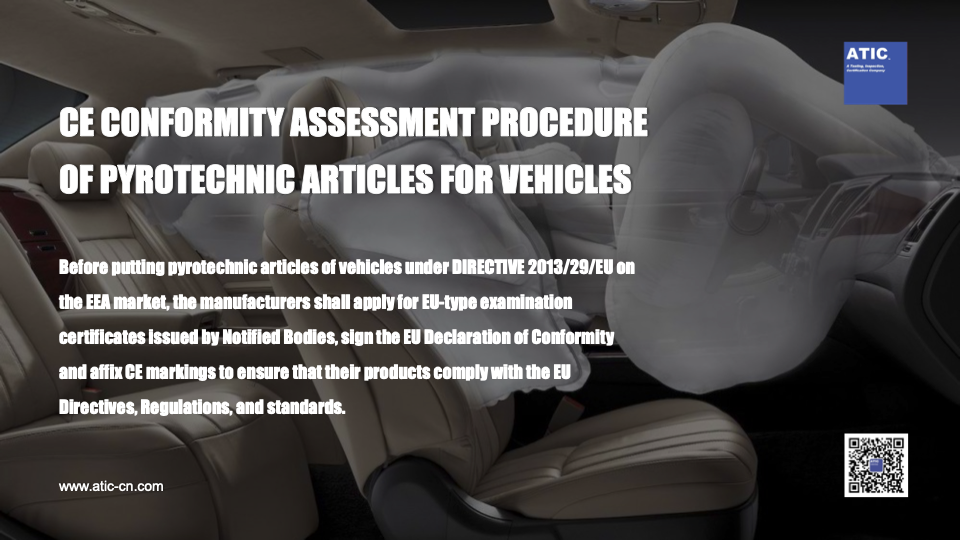 SCOPE
'Pyrotechnic article' including firework, theatrical pyrotechnic articles, and pyrotechnic articles for vehicles means any article containing explosive substances or an explosive mixture of substances designed to produce heat, light, sound, gas or smoke or a combination of such effects through self-sustained exothermic chemical reactions.
Where 'pyrotechnic articles for vehicles' means components of safety devices in vehicles which contain pyrotechnic substances used to activate these or other devices, including:
Micro Gas Generator
Airbag Gas Generator
Airbag Module
Seatbelt Pretensioner
Igniter
Actuator
Semi-Finished Product
CONFORMITY ASSESSMENT PROCEDURE
Technical file preparation
EU-type examination
Production Quality Assurance
Sign the EU Declaration of Conformity
Affix Required Conformity Markings
TEST ITEMS
Design verification
Drop test
Vibration and temperature test
Thermal humidity cycling test
Electrostatic discharge test
Fire test
Function test
Igniter test
Tank test
For the detailed test plan, please contact us.
ATIC provide CE conformity assessment procedure service for the manufacturers by direct cooperation with Notified Bodies without communication barriers.

ABOUT ATIC
ATIC is a young technical service company from China, established in 2015. By creating a better entrepreneurial environment, we build a professional and passionate team with the best experts, returnees and extraordinary graduates. We are committed to integrate international and domestic regulations, testing and certification resources from a globalization perspective, to establish a neo-specialized regulation research, testing and certification platform. ATIC serves more than 4,500 manufactures per year.
EU HOMOLOGATION PLEASE CONTACT