RELEASE DATE:

2023-06-12 16:05
Brief: The United Nations Economic Commission for Europe issued UN ECE Regulation 156 "Uniform provisions concerning the approval of vehicles with regards to software update and software updates management system" (referred to as "UNR156") as early as 2021, which had entried into force on January 22, 2021; It was implemented on new models from July and will be implemented on new vehicle from July 2024.
Under the impetus of the Ministry of Industry and Information Technology, China had established a mandatory standard GB XXXXX—XXXX "General Technical Requirements for Automotive Software Upgrade" ( referred to as "GB") with reference to UNR156. The standard is on the draft submission stage.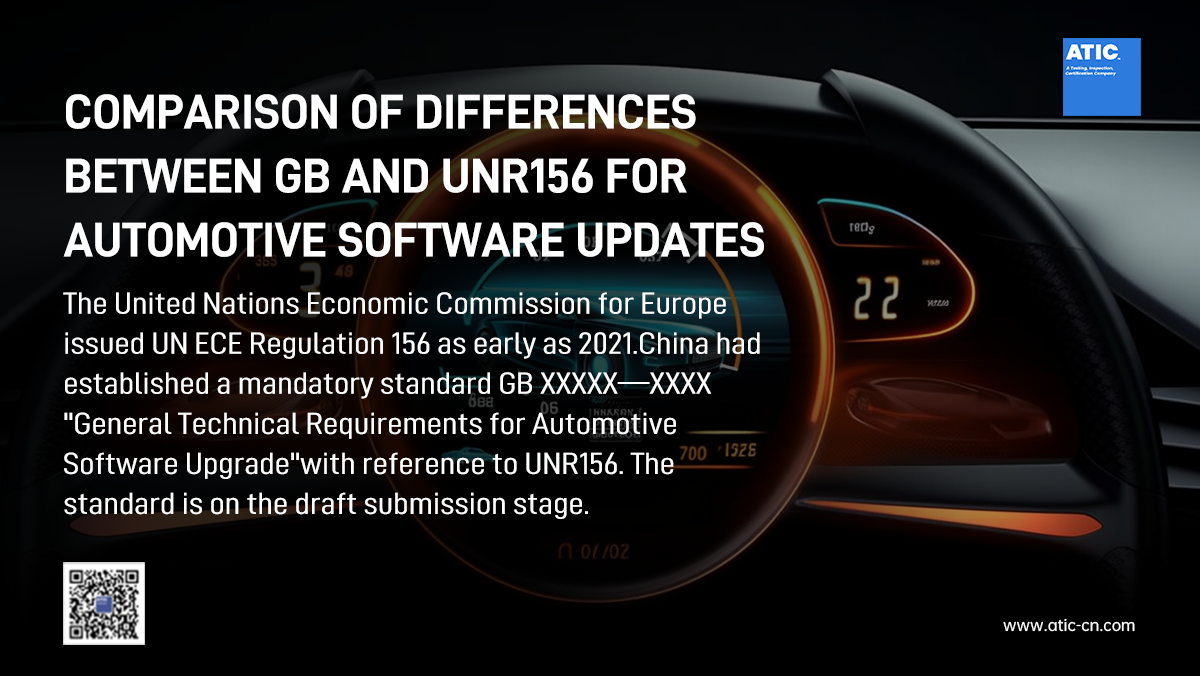 COMPARISON OF DIFFERENCES
GB is a mandatory standard, which will be enforced for M and Ncategoryafter release. The content frameworkofGBis roughly the same as that ofUNR156, whichis mainly divided into software upgrade management system requirements, vehicle requirements and test methods.But GB has added some requirements in terms of impact assessment and emergency management. ATIC experts sorted out the main differences between GB and UNR 156, please see the table below for details.
UNR156 Technical Requirements

GB Technical Requirements

M、N. Other models can refer to the implementation

Only requirements for M and N in GB

7.1.1.8. A process to assess, identify and record whether a software update will affect any type approved systems

4.2.6 Before updates, a process to assess, identify and record whether a software update will affect any type approved or has been recalled vehicle systems

Establish impact assessment of recalled related vehicle systems for GB

4.4.4 There should be an emergency management mechanism for dealing with software upgrade emergencies

Establish software updates emergency management solution for GB

Acknowledge from vehicle user

5.2.2 Before performing OTA, it should be acknowledged by the vehicle user.

Explain how to obtain confirmation from vehicle user for GB

Proposal of failed updates

5.2.8 After OTA performed, if failed, the vehicle user will be notified of handling proposal

Provide proposal in failed updates to vehicle users for GB

5.2.7 In performing OTA, the vehicle user shall not be prohibited from unlocking the doors from inside the vehicle

Instructions are available on how to unlock door for GB
ATIC GLOBAL HOMOLOGATION RESEARCH AND VEHICLE CERTIFICATION DEPARTMENT

ATIC Automotive Regulation Research and Vehicle Homologation Product Line is dedicated to global automotive regulation research, homologation procedure research and WVTA homologation project management.
Based on ATIC digital platform, our team provides a series of automotive compliance services including market access solutions, technical review, regulation interpretation, regulation database and update, training and Q&A, etc.
ATIC homologation experts are nominated by European technical service and authorities covering all EU/UN regulations for M/N/O/T/L/NRMM category vehicle, system, component and separate technical unit. Authorities includes Netherlands (e/E4), Sweden (e/E5), Luxembourg (e/E13), Ireland (e/E24) and Cyprus (e/E49).
ATIC is long-term compliance and homologation service provider for GWM, GEELY, SAIC MOTOR, BYD, XPENG, NIO, RIMAC, Smart etc. top domestic and international OEMs, and HUAWEI, CATL, SVOLT, FINDREAMS etc. system and component manufactures.
ABOUT ATIC
ATIC is a young technical service company from China, established in 2015. By creating a better entrepreneurial environment, we build a professional and passionate team with the best experts, returnees and extraordinary graduates. We are committed to integrate international and domestic regulations, testing and certification resources from a globalization perspective, to establish a neo-specialized regulation research, testing and certification platform. ATIC serves more than 4,500 manufactures per year.
AUTOMOTIVE SOFTWARE UPDATES PLEASE CONTACT