RELEASE DATE:

2022-09-13 10:50
Brief
:
According to regulation (EU) 2021/1958, the SLIF function needs to guarantee a stable and reliable identification of speed limits in the real world. The vehicle or STU manufacturer shall provide technical documentation to technical service that contains the information on (1) the basic design of the ISA system and description of the speed limit determination system, (2) description of due diligence activities performed to provide evidence that the reliability requirements are met for operation in all Member States.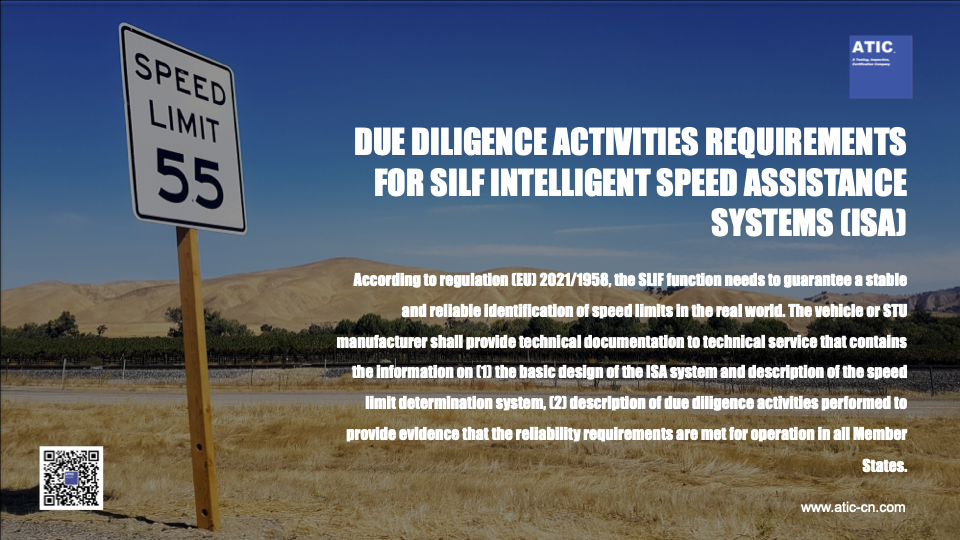 DILIGENCE ACTIVITIES
The manufacturer shall carry out the following due diligence activities:
1) identify challenging situations in Member State(s) for the relevant vehicle category and applicable speed limits, and perform the relevant analysis to demonstrate how requirements are met; and
Challenging situations (in member states) which are needed to be recognized by the vehicle (e.g. extreme difficult city limits, signs very similar to any other display being not a sign) Differences between member states must be taken care of the vehicle. Overview should be in a general way to describe the performance and functionaltiy of the system.

Present challenging situations and how ISA can solve them.

- Show the quality of the map data and prove the quality with background information from the map supplier (e.g. how much of the EU is covered by the map, how accurate the info in the map is, how old the information is and what changes could be there already since the navigation data been created)
2) for a system that uses electronic map data, assess the acceptability level of the integrity and reliability of the electronic map data throughout the Union, ensuring that requirements are met.
The technical service shall assess the technical documentation provided to assess whether reasonable and adequate steps have been taken to ensure that the reliability requirements are met for correct operation of the ISA system in all Member States.

EXAMPLES OF DUE DILIGENCE CONTENT

1) Description and data of vehicle road test, simulation test or simulation analysis performed by the vehicle or STU manufacturer. Prove that ISA works in the whole EU. Explicit signs can be proven via simulation with STU or whole vehicle and implicit signs can be proven via the info available in the navigation data (need agreement and discussion with technical service for type approval). This includes investigation, and notably the good quality of it, of the ISA performance of a given manufacturer in countries other than where type approval test was conducted.
2) For systems using electronic map data, provide a list of countries covered by electronic map data, and proof of the integrity and reliability of road sign information recorded in the map data.
At the same time, the content of due diligence should demonstrate that the system performance at least meets the requirements in 3.4.2.5.2.: the correct speed limit shall be determined for at least 90 % of the total distance and for at least 80 % of the distance driven on each of the three road types (urban roads and streets, non-urban roads, and motorways/expressways/dual carriageways) .
ATIC PROVIDES AUTOMOTIVE GLOBAL HOMOLOGATION SERVICE
ATIC's vehicle homologation experts have an average of more than 10 years of experience in motor vehicle certification, and are familiar with multinational certification processes, local regulations, and testing requirements. ATIC cooperates with multinational official organizations and integrates high-quality testing and certification resources, to provide a global one-stop certification service for manufacturers to complete the certification process, including certification application, documentation preparation, regulatory guidance and training, and pre-testing and test coordination, etc.

ATIC Global VEHICLE REGULATION RESEARCH & VEHICLE DEPARTMENT
ATIC Automotive Regulation Research and Vehicle Homologation Product Line is dedicated to global automotive regulation research, homologation procedure research and WVTA homologation project management.
Based on ATIC digital platform, our team provides a series of automotive compliance services including market access solutions, technical review, regulation interpretation, regulation database and update, training and Q&A, etc.
ATIC homologation experts are nominated by European technical service and authorities covering all EU/UN regulations for M/N/O/T/L/NRMM category vehicle, system, component and separate technical unit. Authorities includes Netherlands (e/E4), Sweden (e/E5), Luxembourg (e/E13), Ireland (e/E24) and Cyprus (e/E49).
ATIC is long-term compliance and homologation service provider for GWM, GEELY, SAIC MOTOR, BYD, XPENG, NIO, RIMAC, Smart etc. top domestic and international OEMs, and HUAWEI, CATL, SVOLT, FINDREAMS etc. system and component manufactures.
VEHICLE HOMOLOGATION PLEASE CONTACT