RELEASE DATE:

2021-07-07 16:02
Brief
:
An EPD is a certified Environmental Product Declaration, which reports environmental data over the life cycle of products in accordance with the international standard ISO 14025. Environmental Product Declarations (EPDs) present relevant and verified environmental information about goods and services from a life cycle perspective.
The International EPD System is a programme to develop and register EPDs for any type of goods and services. The system is international, third party verified and deliver flexible source information. The International EPD System is world's broadest system for environmental declarations, with a global scope and covering all types of goods and services.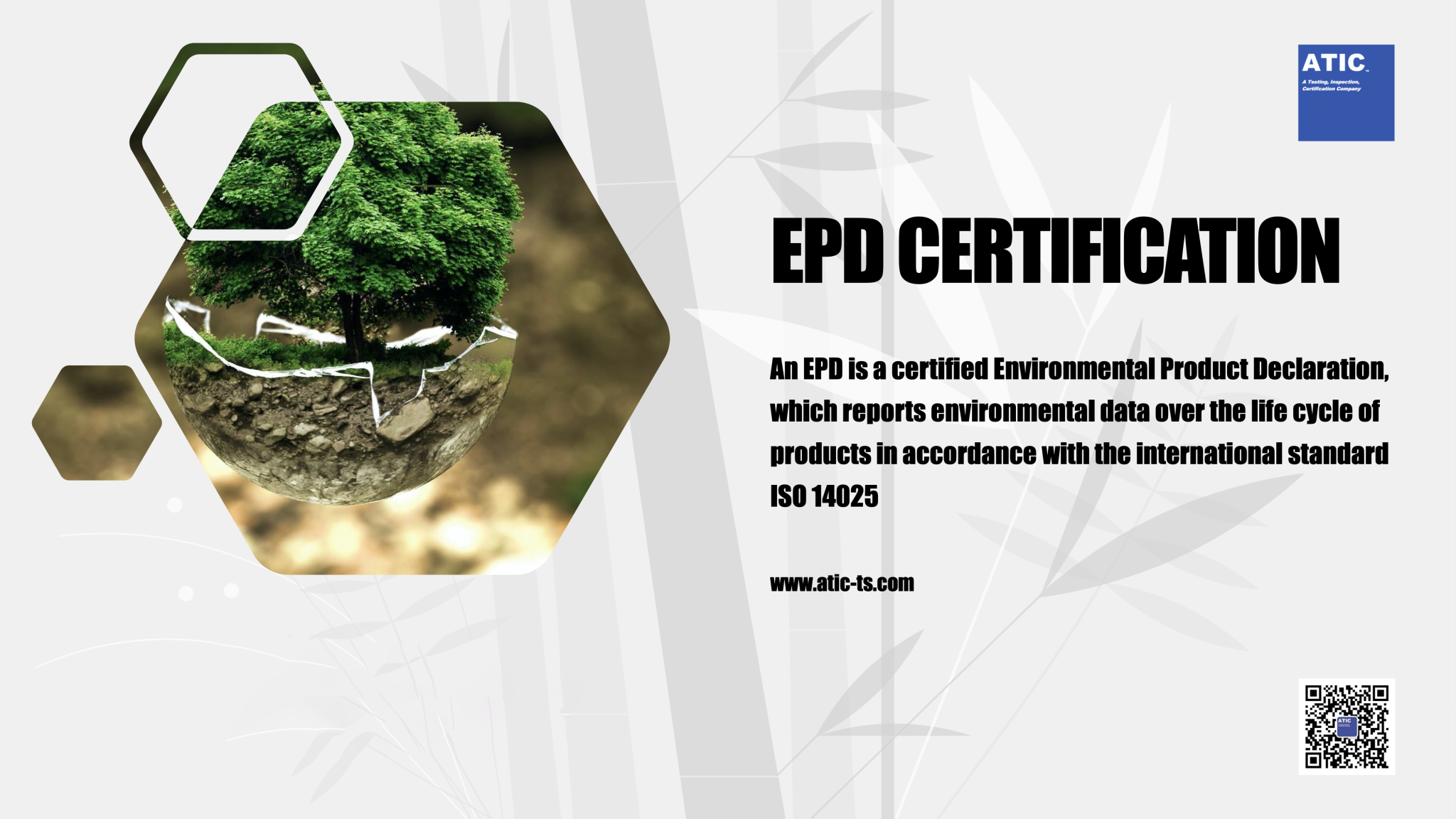 Product-related environmental issues are becoming increasingly important to businesses and public administrations. In practice an EPD is a report containing market-driven and verified facts about the environmental performance of goods and services. One of the most important applications for EPDs is green procurement in the public as well as the private sector, as the EPD provides a fair basis for comparing environmental performance of products.
The EPD methodology includes mapping all the relevant environmental aspects from a life-cycle perspective. This science-based, environmental information can be used for any type of environmental management system and may support other organisational goals in the environmental domain.
PRODUCT CATEGORY RULES (PCR)
Before developing an EPD, a suitable PCR must be chosen. The PCR used shall be listed in the International EPD System and be valid at the time of the verification. If a PCR does not exist for the product category of interest, it shall be developed based on the process described under PCR Development. Developing a new PCR in an open and transparent process normally takes between 5-12 months.
PCRs are developed for different product categories and are the rules behind each EPD. They tell how information should be collected and calculations carried out.
LIFE CYCLE ASSESSMENT (LCA)
When developing the EPD, the environmental performance of the product shall be described from a life cycle perspective where one of the main steps is to carry out a life cycle assessment (LCA) of the product.
LCA is the technique for assessing the environmental aspects associated with a product over its life cycle. LCA studies need to be performed by LCA consultants with a background of expertise and calculations performed with the help of LCA software.
The environmental impact categories are separated into the following

life cycle stages:
Upstream processes: includes raw material, acquisition and refinement as well as production of intermediate components

Core processes: manufacturing processes

Downstream processes including usage and end-of-life stages
EPD CREATION EXPLAINED IN 5 SIMPLE STEPS
Find or create relevant Product Category Rules (PCR)

Perform LCA study based on PCR (1-12 months)

Compiling environmental information into the EPD reporting format

By external individual verifier or an accredited certification body.

Registration and publication (1-3 working days)
EPD LEAD TIME AND VALIDITY
According to the EPD application process, the lead time mainly depends on the cycle of the second step LCA research. The official range of this cycle is 1-12 months. The other four steps are expected to be completed in 1 to 2 months if needed. It takes 5-12 months to develop a new PCR.
The validity period of EPDs can be extended upon its expiration after 5 years, then usually for another 5 years,In such cases you have to update it according to the latest valid PCR for that product category, going through the same verification procedure as for a new EPD. Publication of a new version of a PCR or General Programme Instruction does not affect the validity of already published EPDs.
EPD APPLICATION BASIC REQUIREMENTS
Application requirements: There are no special requirements
Technical requirements: The following criteria are the basic requirements to be met
PCR for applicable products
ISO 9001, Quality management systems
ISO 14001, Environmental management systems
ISO 14040, LCA - Principles and procedures
ISO 14044, LCA - Requirements and guidelines
ISO 14025, Type III environmental declarations
ISO 14020, Environmental labels and declarations - General principles
ISO 8601, Dates and times format presented in the EPD
EPD SYSTEM ADVANTAGES
The International EPD® System is based on the international ISO standards, assuring international use, acceptability and continuity.
No minimum levels or preferences of environmental performance. Open to all types of products, target audiences and markets.
Based on scientific principles for Life Cycle Assessment (LCA) and approved through independent verification.
Based on specific rules for different product categories (PCR) ensuring that EPDs within the same category of products are calculated and presented in the same way.
Providing a tool for communicating additional information such as social responsibility, quality control and environmental management.
Any type of goods or services can be monitored. EPDs provide neutral facts rather than meeting specific demands.
USE IT TO REACH DIFFERENT DECISIONMAKERS
The information in an EPD is objective and can be used in many ways regardless of whom you want to reach with your EPD verified product, whether it is product designers, environmental managers or consumers.
These are the most common areas where decision-makers can make use of the information in an EPD:
Internal environmental management – Monitoring and improving performance of products.

Business-to-business – Communicating performance with relevant and reliable data

Business-to-consumer – Communicating the difference you are making for the environment

Professional buyers – Verifying compliance through presenting your EPD
Internal environmental management
EPDs are a way of creating a baseline for environmental performance in a company. Performance can gradually be improved through the help of monitoring.
All businesses operating in a supply chain may benefit from developing EPDs in order to present the environmental information desired by the buyers. In this way, they contribute to efficient management and reduced workload in each tender process.
If the product is a consumer product, the EPD can ideally be presented on the packaging and in marketing material reaching end customers. It is important that EPDs for consumer products are simple to understand.
EPDs are for professional use in more than one sense. To professional purchasers an EPD may prove that a supplier's product meets the contracting entity's environmental requirements, in addition to function, quality and design.
ATIC GLOBAL HOMOLOGATION RESEARCH AND VEHICLE CERTIFICATION DEPARTMENT
ATIC Global Homologation Research and Vehicle Certification Department is dedicated to global automotive access research and vehicle certification. Based on the ATIC digital platform, ATIC provides a series of overseas automotive compliance services, including: vehicle homologation consulting, multi-country product access solutions, technical verification, regulatory interpretation, regulatory tracking, regulatory training and technical answering services, etc. ATIC vehicle certification experts have designations of all EU/UN regulations for M/N/O/T/L/NRMM vehicles, Whole certification process including factory audit, laboratory audit, visual test, CoP audit and report signing can be done locally in China. ATIC have designations of Netherlands (e/E4), Sweden (e/E5), Luxembourg (e/E13), Ireland (e/E24), Latvia (e/E32), Latvia (e/E32), Cyprus (e/E49), Lithuania (e/E36) , and San Marino (E57).
EPD
CERTIFICATION PLEASE CONTACT
Emily Shui
Global Vehicle Regulation Research Department
Emily is Researcher in ATIC, she holds a Master's degree from Chongqing University of Technology.
Emily is specializing in cross-disciplinary compliance and certification solutions,
as well as ATIC regulation database development
Phone: +86 020-82510156
Mail: cs@atic-cn.com