The first application for a manufacture to an authority generally requires initial assessment. In most of the cases ATIC experts will 
conduct the onsite initial assessment. Some authority
 can exempt onsite initial assessment by accepting ISO/IATF certificates.
According to EU/UN Regulations information document 
including
 sufficient drawings of the vehicle/component shall be prepared and submitted to technical service by the manufacture/applicant. ATIC experts also can support manufacture/applicant to prepare information document based on CAD drawings and vehicle/component specifications.
In most of the cases ATIC experts will witness testing in 3rd party testing lab and draft technical reports. If the manufacture is 
equipped
 with competent facilities it's also possible to make witness testing using manufacture's facility
ATIC experts will conduct lab assessment before witness testing and draft lab assessment report.
Information Documents, Technical Reports as well as other technical documents if needed will be submitted to 
relevant
 authority. 
Authority will review and issue type approval certificate if all the documents, tests, drawings fulfill the regulations and requirements.
A typical lead-time for this review process is 4 to 6 weeks.
After the approval the CoP audit/test maybe conducted based on regulations and authorities' requirements
Part I of R158 defines the technical requirements and type approval procedure for close-proximity rear-view mirror as a components, Part II is for vehicles of categories M, N.
1. During a backing event at least one means of vision or awareness shall be provided to the driver.
Direct vision

Devices approved to UN Regulation No. 46

Close Proximity Rear-view Mirror complying with this regulation

Rear-View Camera System complying with this regulation

Means of Awareness provide an information other than vision for field of detection as defined in paragraphs 15.3 below. Possible means are:Detection System complying with this Regulation
2. "Backing event" means an amount of time from start and ends of reversing motion as described in 15.1.1. in this Regulation.
3. "Backing event starts" when the vehicle is in Active vehicle mode and the vehicle's direction selector is placed from forward, park or neutral into reverse by the driver or a system,
4. "Backing event ends" when one of the following forward motion conditions, at the manufacturer's choosing, is met:
A speed ≤ 16 km/h (including 0 km/h), or

A distance travelled ≤ 10 meters (including 0 meters), or

A continuous duration ≤ 10 seconds (including 0 seconds), or

The vehicle's direction selector is not placed in reverse.
Close Proximity Rear-View Field of Vision
The requirements of the regulations on the field of view are shown in figure a. The shaded part in figure a is the horizontal field of view of the observation area, and the black circle is the test cylinder. The size and illustration of the cylinder are shown in the small side picture. The detection ability is verified by using a cylinder, and the following requirements must be met.

For the cylinders in the first row : Color block 0.15 m x 0.15 m area or the top of the cylinder shall be visible at least one position on each cylinder.

For the cylinders in the second row and the third row:The whole cylinder shall be seen.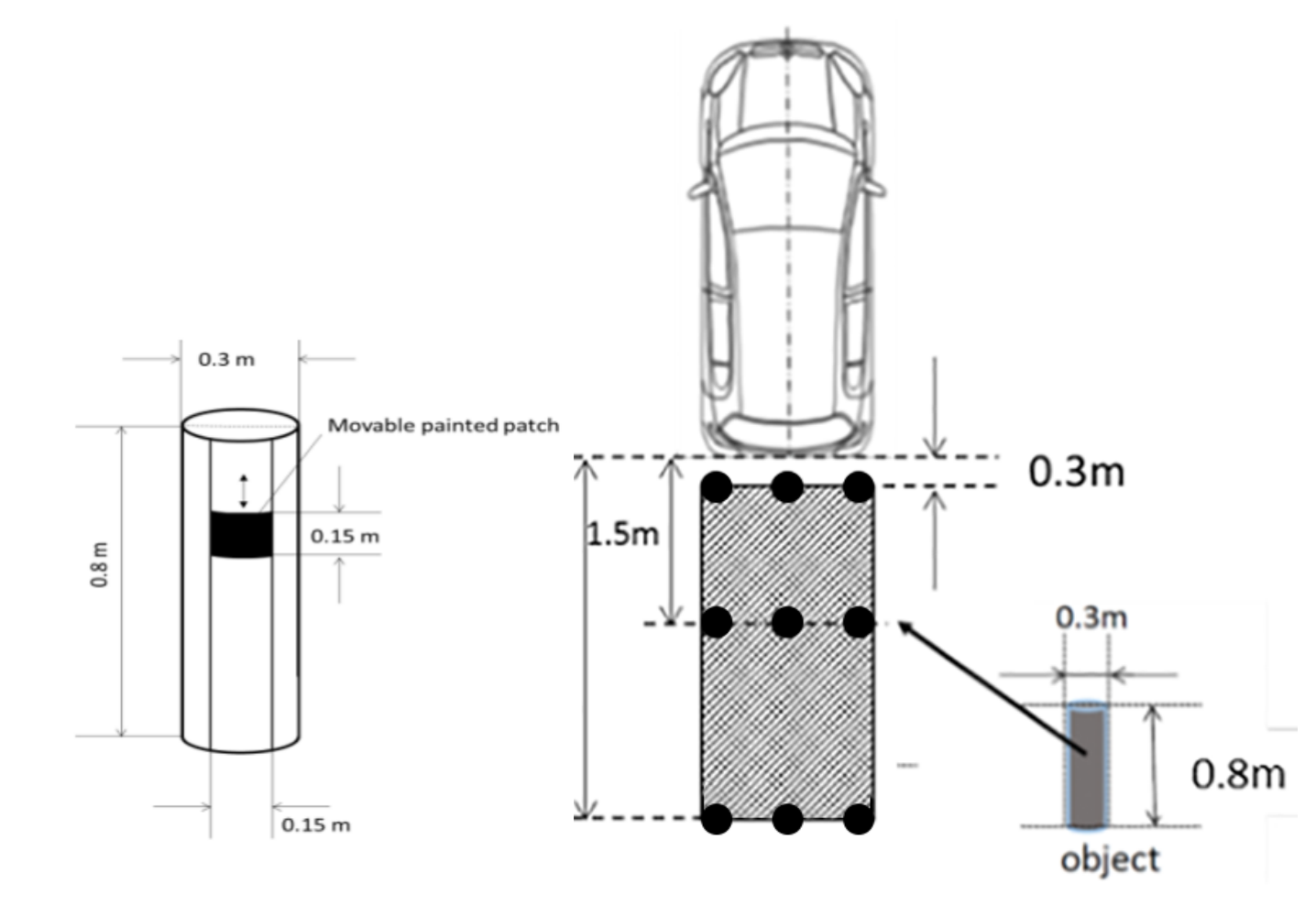 Figure A Close Proximity Rear-View Field of Vision
The regulations have clear requirements for the detection capability of the detection system in a specific detection area. The regulations propose two detection test methods. Due to the cost of test layout and test cycle, the simplified test method in Annex 10, 1.4. is generally used. The schematic diagram is as Figure E ,
The dots in the area are the measured objects - cylinders, and it is required that all the columns can be detected by the system in the scene layout test.
| | |
| --- | --- |
| | |
| Figure D. Test method | Figure E. Alternative (simplified) test method |
Close-proximity rear-view device

Other devices for means of rear visibility

Devices for means of detection

Whole vehicle close-proximity rear-view field test

Coefficients of reflection

Whole vehicle close-proximity rear-view field test

Whole vehicle close-proximity rear-view field test

Whole vehicle detection test Component EMC test

R158 component certificate required

R43 window component certificate required

R10 component certificate required

R10 component certificate required
For the vehicles equipped with the rear parking radar and rear reversing camera or the rear parking radar and the 360° panoramic visual parking assist system, the follow test/certificate are required:
R10 certificate for the detection system + R10 certificate for the RVCS + whole vehicle close-proximity rear-view field test+ whole vehicle detection test.

Note:
Detection system: all rear detection sensors + screens/other optical/haptics/audio warning devices + other accessories RVCS: all cameras for rear vision + screens + other accessories.
More Queries, Let's Chat Online →