RELEASE DATE:

2023-05-05 16:05
Brief: ATIC Global Vehicle Regulation Research Department reminds you that please pay attention to the following information for the update of global vehicle regulations in March2023.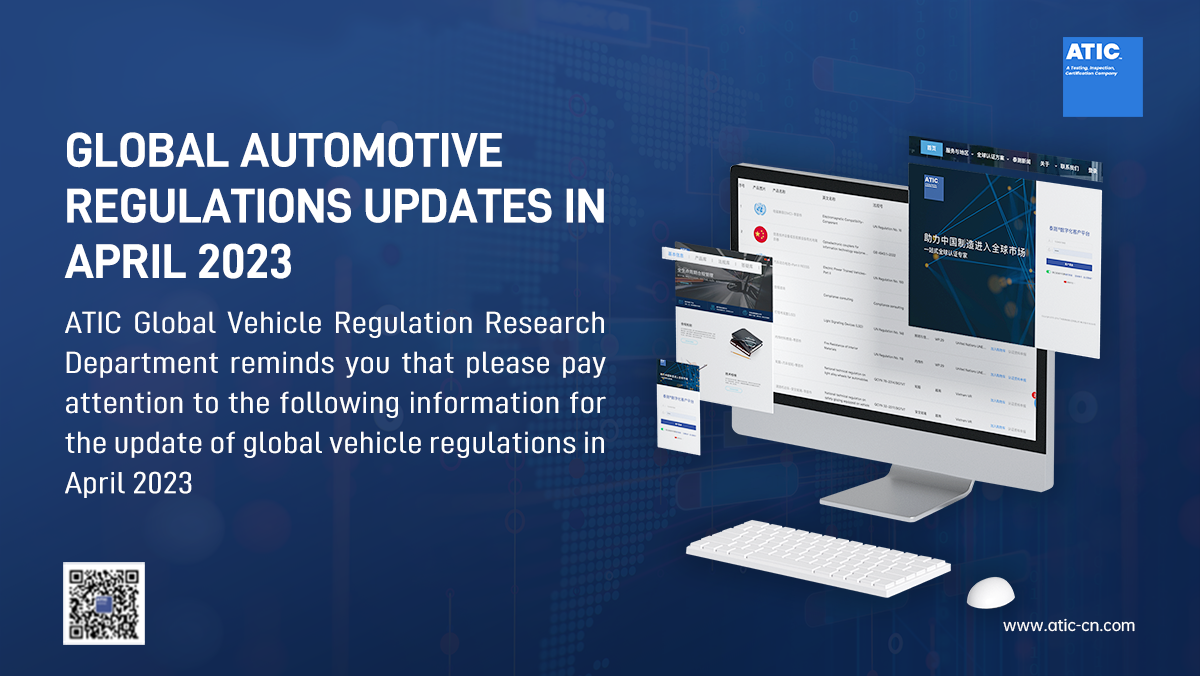 The European Union released the draft to revise the EU 2015/758 (eCall)
The European Union released small series certification proposals for M2, M3, N2, and N3
India released final draft of Driver Drowsiness and Attention Warning System (DDAW)
Australia released the Exposure Draft of the Acoustic Vehicle Alerting System (AVAS) for electric vehicles
GLOBAL AUTOMOTIVE REGULATIONS UPDATE SPOTLIGHT FOR APRIL 2023
European Union: The EU released the eCall revision draft on April 25, 2023, amending Article 5(8) of EU 2015/758, The revised background is since mobile network operators plan a gradual phasing out of 2G/3G networks between 2025 and 2030, there is an urgent need to adapt emergency call systems to the newest packet-switched communication networks (4G/5G), the revised content is as follows:
1) The version of EN 16072:2015 is upgraded to EN 16072:2022, and this item will take effect on the 20th day after publication in the Official Journal of the European Union;
2) EN 16062:2015 is replaced by CEN/TS 17184:2022; EN 16454:2015 is replaced by CEN/TS 17240:2018, and this item is applicable from January 1, 2027;
3) The version of EN 15722:2015 is upgraded to EN 15722:2020, and this item will take effect on the 20th day after publication in the Official Journal of the European Union.
European Union: EU released the Small series Certification proposal for M2,M3,N2,N3, provided by the European Automobile Manufacturers' Association, which aims to extend Small series Certification from M1,N1 to all M,N.
India: India released the final draft of the Driver Drowsiness and Attention Warning (DDAW) system, which harmonises the EU regulation requirements for Driver Drowsiness and Attention Warning (DDAW) systems.
Australia: Australia released the electric vehicle Acoustic Vehicle Alerting System (AVAS) draft for comments. Feedback time: March 28, 2023 to May 26, 2023. Australia plans to adopt ECE R138/01, which is currently in the stage of soliciting opinions. In the European Union, ECE R138/01 applies to light and heavy vehicles (M, N), however in Australia, the introduction of AVAS is currently only proposed for light electric vehicles (MA(M1), MB(M1), MC(M1) and NA(N1)) .
ATIC GLOBAL VEHICLE REGULATIONS DATABASE APRIL 2023 UPDATE SUMMARY
Summary by region:
ECE: 91 updates
EC: 7 updates
Korea: 9 updates
India: 2 updates
Vietnam: 1 update
New Zealand: 1 update
Australia: 2 updates
Summary by regulation status:
Formal Regulation: 12updates
Draft: 101 updates
For subscribers, please visit the ATIC Customer Platform for details.
ATIC GLOBAL VEHICLE REGULATIONS DATABASE AND COMPLIANCE SUBSCRIPTION SERVICE
ATIC has an independent regulation research team and has established communication mechanisms with ministries of transportation, ministries of environmental protection, ministries of industry, national laboratories and industry associations in more than 54 countries or regions worldwide to systematically and continuously track and research global vehicle regulations, certification procedures and test methods. We provide one-stop regulation compliance services for vehicle and component manufacturers, including mandatory regulation list subscriptions, subscriptions to original regulations and translations, regulation updates and alerts, regulation checklist subscriptions, regulation comparison table subscriptions, etc. Compliance services include safety certification, environmental certification, energy labelling, aftermarket parts, in-vehicle communication, subsidy policies, language and labelling, charging systems and protocols, tools, mandatory warranties, mandatory insurance, recall policies, transportation of hazardous materials, etc. This ensures that vehicle and component manufacturers can quickly respond to changes in global automotive regulations, achieve proactive, low-cost and low-risk regulation compliance management, and quickly enter to their target markets.
Examples of client systems and push emails:
*To subscribe to ATIC's Regulation Services, or to obtain detailed regulation updates, please contact ATIC's Global Regulation Research Department (Please contact Ms Shui, 020-82510156).
GLOBAL REGULATION RESEARCH AND VEHICLE CERTIFICATION DIVISION
ATIC's Global regulationResearch and Vehicle Certification Department is dedicated to global automotive access research and vehicle certification services.
Based on ATIC's digital platform, we provide a series of overseas access compliance services, with service modules including: automotive access consulting, product access solutions for multiple countries and regions, technical verification, regulation interpretation and tracking, regulation training and technical Q&A services.
In the field of global automotive compliance and certification, ATIC is a long-term partner of top domestic and international OEMs such as Great Wall Motor, Geely Automobile, SAIC Group, BYD, Xiaopeng Automobile, Azera, RIMAC, Smart, and system and component suppliers such as Huawei, Ningde Times, Honeycomb Energy, and Verde Technology.
REGULATORY SUBSCRIPTION PLEASE CONTACT
Emily Shui
Global Vehicle Regulation Research Department
Emily is Researcher in ATIC, she holds a Master's degree from Chongqing University of Technology.
Emily is specializing in cross-disciplinary compliance and certification solutions,
as well as ATIC regulation database development
Phone: +86 020-82510156
Mail: cs@atic-cn.com