RELEASE DATE:

2023-09-04 16:15
Brief: ATIC Global Vehicle Regulation Research Department reminds you that please pay attention to the following information for the update of global vehicle regulations in August 2023.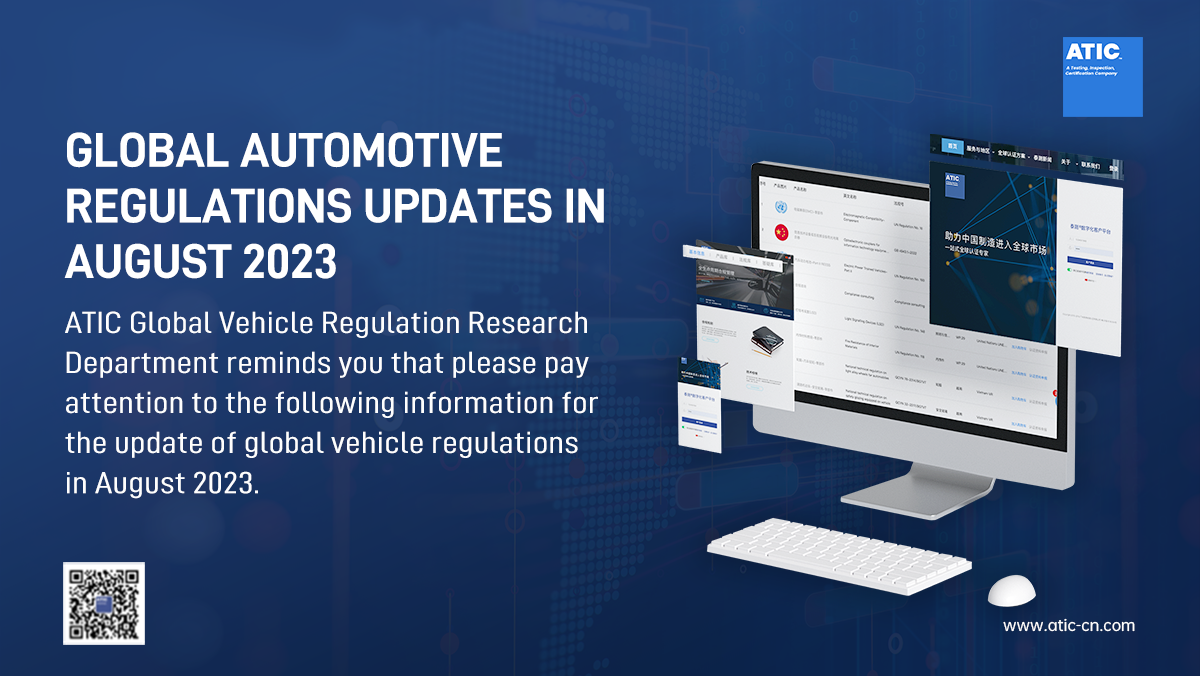 Taiwan, China issued draft regulations on universal barrier-free facilities for low-floor buses and vehicles carrying wheelchair users;
Chile issued a draft of technical specifications for electric vehicle charging infrastructure;
South Korea updated the performance and standard implementation rules of automobiles and auto parts;
Saudi Arabia issued a draft for the motor vehicle emergency call system eCall.
GLOBAL AUTOMOTIVE REGULATIONS UPDATE SPOTLIGHT FOR AUGUST 2023
Taiwan, China:
Taiwan released draft regulations on general barrier-free facilities for low-floor buses and vehicles for carrying wheelchair users on August 10, 2023. The revisions include the specifications and regulations for low-floor buses in Section 63-1, and Section 67 The regulations on vehicles carrying wheelchair users have been revised, and the wheelchair space in the vehicle has been revised, etc.
Chile:
Chile released a new draft technical specification for electric vehicle charging infrastructure for public comment on 8 August 2023, and the feedback period is from 8 August 2023 to 7 October 2023. Compared with the old version, the main updates are as follows:
(1) National standards GB/T 18487.1, GB/T 20234.1 and NB/T33001 are added as reference standards;
(2) Definitions of charging access points, service areas located on intercity roads or motorways, etc. have been added;
(3) Wiring methods, installation requirements and reference configurations as user devices are added;
4) Added reference information on interconnection with the user's electrical installation and the terms to be complied with by SAVEs and connectors providing public charging services;
5) added sections on requirements for connectors and input devices for connection to electric vehicles in accordance with the provisions of the national standard;
South Korea:
South Korea updated the rules for the implementation of the performance and standards for automobiles and automotive components on 22 August 2023, including KMVSS TP 42-3 expanding the requirements for low noise automobile warning sound generator test site, etc.
Saudi Arabia:
Saudi Arabia released the motor vehicle emergency call system eCall draft SASO/DS 2944:2023 on August 15, 2023. Feedback time: August 15, 2023 to October 14, 2023, this standard is concerned with the Emergency calls and Connectivity Technical Requirements for new light duty vehicle (LDVs) imported to KSA.
The major changes related to this standard are :
(1) Including the 4G requirements and references;
(2) Exempting the vehicles produced in small series with an aggregated volume of less than 75 vehicles annually to be equipped with an eCall in- vehicle system;
(3) Postpone the application date of the standard to be Starting from 01/01/2027. (The proposed enforcement date of the standard SASO 2944, based on calendar year ).
ATIC GLOBAL VEHICLE REGULATIONS DATABASE AUGUST 2023 UPDATE SUMMARY
Summary by region:
ECE: 51updates
Chile : 1 update
Korea : 6 updates
United States : 2 updates
United Kingdom : 2updates
Saudi Arabia : 2 updates
Singapore : 1 update
Taiwan, China : 2 updates
Hong Kong, China : 1 update
India : 7 updates
Egypt : 1 update
Germany : 2 updates
Brazil : 1 update
Summary by regulation status:
Formal Regulation: 13 updates
Draft: 66 updates
For subscribers, please visit the ATIC Customer Platform for details.
ATIC GLOBAL VEHICLE REGULATIONS DATABASE AND COMPLIANCE SUBSCRIPTION SERVICE
ATIC has an independent regulation research team and has established communication mechanisms with ministries of transportation, ministries of environmental protection, ministries of industry, national laboratories and industry associations in more than 54 countries or regions worldwide to systematically and continuously track and research global vehicle regulations, certification procedures and test methods. We provide one-stop regulation compliance services for vehicle and component manufacturers, including mandatory regulation list subscriptions, subscriptions to original regulations and translations, regulation updates and alerts, regulation checklist subscriptions, regulation comparison table subscriptions, etc. Compliance services include safety certification, environmental certification, energy labelling, aftermarket parts, in-vehicle communication, subsidy policies, language and labelling, charging systems and protocols, tools, mandatory warranties, mandatory insurance, recall policies, transportation of hazardous materials, etc. This ensures that vehicle and component manufacturers can quickly respond to changes in global automotive regulations, achieve proactive, low-cost and low-risk regulation compliance management, and quickly enter to their target markets.
Examples of client systems and push emails:
*To subscribe to ATIC's Regulation Services, or to obtain detailed regulation updates, please contact ATIC's Global Regulation Research Department (Please contact Ms Shui, 020-82510156).
GLOBAL REGULATION RESEARCH AND VEHICLE CERTIFICATION DIVISION
ATIC's Global regulationResearch and Vehicle Certification Department is dedicated to global automotive access research and vehicle certification services.
Based on ATIC's digital platform, we provide a series of overseas access compliance services, with service modules including: automotive access consulting, product access solutions for multiple countries and regions, technical verification, regulation interpretation and tracking, regulation training and technical Q&A services.
In the field of global automotive compliance and certification, ATIC is a long-term partner of top domestic and international OEMs such as Great Wall Motor, Geely Automobile, SAIC Group, BYD, Xiaopeng Automobile, Azera, RIMAC, Smart, and system and component suppliers such as Huawei, Ningde Times, Honeycomb Energy, and Verde Technology.
REGULATORY SUBSCRIPTION PLEASE CONTACT