RELEASE DATE:

2023-07-03 12:23
Brief: ATIC Global Vehicle Regulation Research Department reminds you that please pay attention to the following information for the update of global vehicle regulations in June 2023.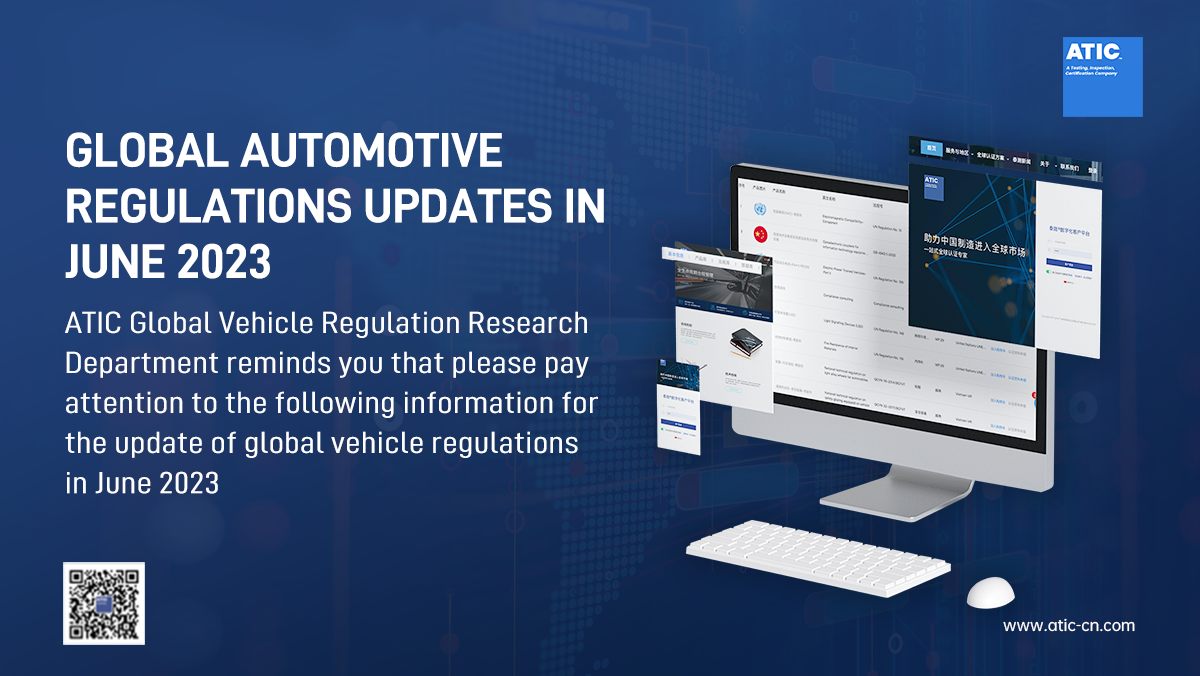 The EU plenary parliament adopted the new EU battery regulation;
GSO updated the 2024 Model Year technical regulations;
Taiwan, China issued draft amendments to its vehicle safety testing benchmarks;
Brazil released new vehicle regulations: mandatory safety devices to be installed in operational fleets and applicable vehicle safety regulations.
GLOBAL AUTOMOTIVE REGULATIONS UPDATE SPOTLIGHT FOR JUNE 2023
EU:
On 14 June 2023 BST, the full EU Parliament voted 587 in favour, 9 against and 20 abstentions to adopt the new EU battery regulation. In accordance with the normal legislative process, the regulation will be published in the European Bulletin and will enter into force 20 days later.
The main planned measures are as follows:
1) Mandatory carbon footprint declaration and labelling for electric vehicle (EV) batteries, light transport batteries (LMT, such as scooters and e-bikes) and industrial rechargeable batteries with a capacity greater than 2 kWh;
2) Portable batteries designed to be easily removed and replaced by consumers;
3) Digital battery passports for LMT batteries, industrial batteries with a capacity greater than 2 kWh, and electric vehicle batteries;
4) Due diligence for all economic operators, except SMEs;
5) Stricter waste collection targets: for portable batteries - 45% by 2023, 63% by 2027 and 73% by 2030; for LMT batteries - 51% by 2028 and 51% by 2028 and 61% by 2031;
6) Minimum levels of material recovery from battery waste: lithium - 50% by 2027, 80% by 2031; cobalt, copper, lead and nickel - 90% by 2027, 95% by 2031 95%;
7) Minimum levels to be recovered from manufacturing and consumer waste for new batteries: eight years after the regulations come into force - cobalt 16%, lead 85%, lithium 6%, nickel 6%; 13 years after they come into force: cobalt 26%, lead 85%, lithium 12%, nickel 15%.
As required by regulation, from 1 July 2024, automotive power batteries and industrial batteries with a capacity of more than 2kWh must be accompanied by a carbon footprint statement (subject to third-party certification) drafted in accordance with the enabling legislation.
GCC:
The Gulf Organization for Standardization (GSO) updated its 2024 Model Year list of regulations (GSO-Technical-Regulations-MV-2024-MY-D4) on June 14, 2023, comparing to the previous version, mainly updating the emission and DAB requirements:
The main updates to the GSO-Technical-Regulations-MV-2024-MY-D4 regarding emission requirements are as follows:
1) Kuwaiti petrol vehicles: the implementation of the Euro 5 emission requirements has been postponed to 2026 Model Year;
2) Kuwait Diesel Vehicles: Emission requirements for Euro 5 have been postponed to 2025 Model Year.
The updates to GSO-Technical-Regulations-MV-2024-MY-D4 for AM/FM/T-DAB+ are mainly as follows:
1) If a vehicle exported to Bahrain is equipped with AM/FM/T-DAB+, it must comply with GSO 2693:2022 or SASO 2938:2019 or UAE.S 5021:2018 (D2 version is GSO 2693:2022 only);
2) Kuwait needs to meet GSO 2693:2022 (deferred to 2026 MY implementation).
Taiwan, China:
Taiwan released a draft amendment to the vehicle safety inspection benchmark on 20 June 2023, which is a consolidation of the content of the UN regulation additions involving Taiwan's vehicle safety regulations, including ECE R152, R155, R156, R157, EU 2021/1243, a total of five items, including the implementation time, scope of application, type determination principles, etc.
Brazil:
Brazil issued a new technical regulation for vehicles on 22 June 2023: Safety devices to be mandatorily installed in operational fleets and the applicable vehicle safety regulation Resolution 993, the main contents of which are as follows:
1) The regulation revokes and replaces Resolution 912/2022;
2) Scope of application: this resolution applies to cars, vans (Van), SUVs, pick-ups, lorries, tractors, minibuses, buses, wheeled tractors, tracked and hybrid tractors (including cranes/cranes), trailers and semi-trailers, light motorbikes, scooters, motorbikes, three-wheelers, three-wheelers with enclosed compartments, four-wheelers and four-wheelers with enclosed compartments;
3) When travelling on public roads, the vehicles referred to in Article 2 must be equipped with the mandatory equipment listed in Annex I, as appropriate;
4) The individual technical regulations relating to the construction of vehicles in Brazil are listed in Annex II, including the latest version, applicable models, etc.
ATIC GLOBAL VEHICLE REGULATIONS DATABASE JUNE 2023 UPDATE SUMMARY
Summary by region:
ECE:56 updates
EU:3 updates
Bay Area :2 Updates
Taiwan, China :1 update
Brazil :4 updates
India :13 updates
South Korea :1 update
Chile :1 update
United States :1 update
Hong Kong, China :1 update
Thailand :5 updates
Summary by regulation status:
Formal Regulation: 20 updates
Draft: 68 updates
For subscribers, please visit the ATIC Customer Platform for details.
ATIC GLOBAL VEHICLE REGULATIONS DATABASE AND COMPLIANCE SUBSCRIPTION SERVICE
ATIC has an independent regulation research team and has established communication mechanisms with ministries of transportation, ministries of environmental protection, ministries of industry, national laboratories and industry associations in more than 54 countries or regions worldwide to systematically and continuously track and research global vehicle regulations, certification procedures and test methods. We provide one-stop regulation compliance services for vehicle and component manufacturers, including mandatory regulation list subscriptions, subscriptions to original regulations and translations, regulation updates and alerts, regulation checklist subscriptions, regulation comparison table subscriptions, etc. Compliance services include safety certification, environmental certification, energy labelling, aftermarket parts, in-vehicle communication, subsidy policies, language and labelling, charging systems and protocols, tools, mandatory warranties, mandatory insurance, recall policies, transportation of hazardous materials, etc. This ensures that vehicle and component manufacturers can quickly respond to changes in global automotive regulations, achieve proactive, low-cost and low-risk regulation compliance management, and quickly enter to their target markets.
Examples of client systems and push emails:
*To subscribe to ATIC's Regulation Services, or to obtain detailed regulation updates, please contact ATIC's Global Regulation Research Department (Please contact Ms Shui, 020-82510156).
GLOBAL REGULATION RESEARCH AND VEHICLE CERTIFICATION DIVISION
ATIC's Global regulationResearch and Vehicle Certification Department is dedicated to global automotive access research and vehicle certification services.
Based on ATIC's digital platform, we provide a series of overseas access compliance services, with service modules including: automotive access consulting, product access solutions for multiple countries and regions, technical verification, regulation interpretation and tracking, regulation training and technical Q&A services.
In the field of global automotive compliance and certification, ATIC is a long-term partner of top domestic and international OEMs such as Great Wall Motor, Geely Automobile, SAIC Group, BYD, Xiaopeng Automobile, Azera, RIMAC, Smart, and system and component suppliers such as Huawei, Ningde Times, Honeycomb Energy, and Verde Technology.
REGULATORY SUBSCRIPTION PLEASE CONTACT