RELEASE DATE:

2023-04-06 11:46
Brief:
ATIC Global Vehicle Regulation Research Department reminds you that please pay attention to the following information for the update of global vehicle regulations in March2023.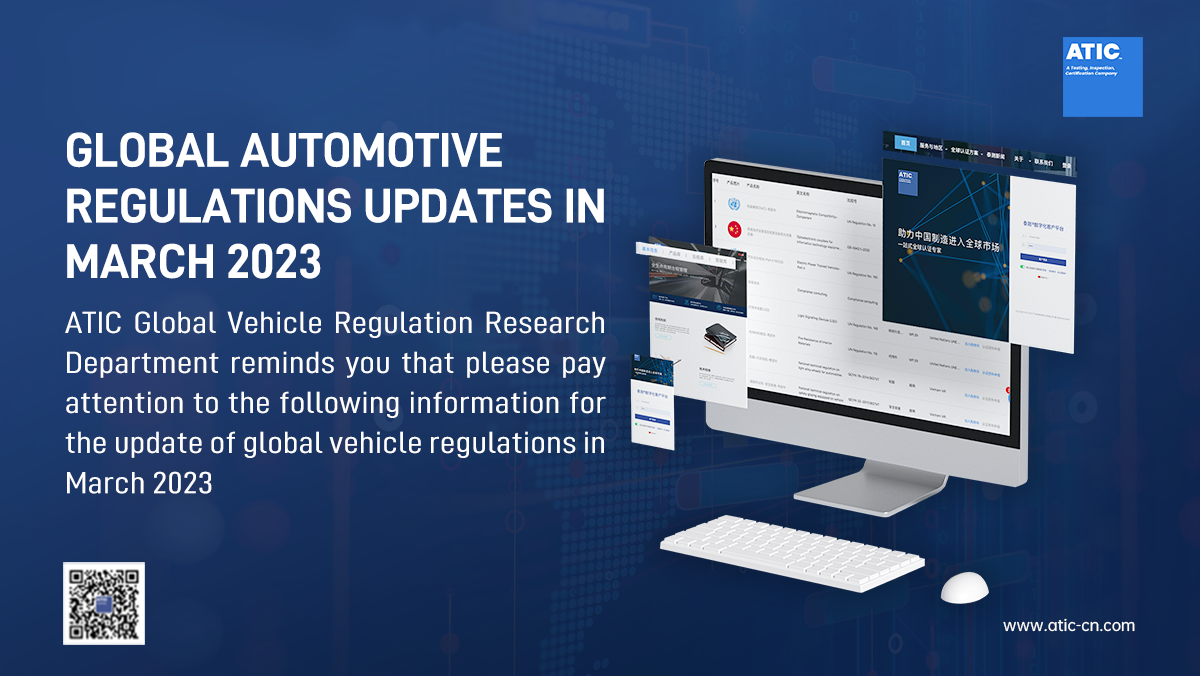 The European Union issued a draft for the Advanced Driver Distraction Warning (ADDW)
The United Nations Economic Commission for Europe issued the official regulations of UN ECE R165
Hong Kong, China issued guidelines for vehicle power sockets
Chile updated the regulations on the safety elements of light passenger vehicles and commercial vehicles
GLOBAL AUTOMOTIVE REGULATIONS UPDATE SPOTLIGHT FOR MARCH 2023
European Union:
The European Union released the Advanced Driver Distraction Warning System (ADDW) consultation draft on March 24, 2023. Feedback time: March 24, 2023 to April 21, 2023, to take effect on the twentieth day after publication in the Official Journal, with mandatory implementation from 7.7.2024.
UN ECE:
The United Nations Economic Commission for Europe publishes the official UN ECE R165 regulation, which is divided into two parts:
PART I: Approval of audible reverse warning devices which are intended for fitting to motor vehicles of categories M2 (M > 3500 kg), N2, N3 and M3;
PART II: Approval of motor vehicles listed in 1.1.1. with regard to fitting of audible reverse warning devices automatically activated when reverse gear is selected and the propulsion system is on.
Hong Kong, China:
Considering the safety of vehicle electricity and protecting users from electric shock, Hong Kong has recently issued guidelines for on-board power sockets, specifying some basic acceptable protection features for power supplies up to 200w, For those higher power supply, the vehicle manufacturers shall require to provide more protection whereas appropriate:
1) The In-Vehicle Power Socket Outlet (IPSO) should be so constructed and designed suitable for those electrical products operating at supply voltage of 220V and supply frequency of 50Hz in Hong Kong;
2) The structure and design of the vehicle power socket (IPSO) should be suitable for the corresponding plug requirements of BS 546 or BS 1363;
3) The socket holes of the IPSO must be fitted with safety shutters;
4)TheI PSO must not be fitted with irregular socket holes and must only allow one type of plug as listed in item 2 above; and
5) A declaration should be provided by the vehicle manufacturers to confirm that the IPSO and its circuit are safe with the appropriate safety features and protections, and provide corresponding supporting documents.
Chile:
Chile issued the exemption of Resolution No. 816 of the Ministry of Transport and Telecommunications on March 16, 2023, which amended the Regulations Resolution 48-2000 on the safety elements of light passenger Decree No. 2, which amended the motor vehicle safety performance requirements Decreto 26-2000, so the Resolution 48-2000 was revised accordingly.
ATIC GLOBAL VEHICLE REGULATIONS DATABASE MARCH 2023 UPDATE SUMMARY
ECE: 1 update
EC: 3updates
United States: 3updates
Singapore: 2 updates
India: 6 updates
Chile: 1 update
South Korea: 1 update
Hong Kong, China: 1 update
Summary by regulation status:
Formal Regulation: 7updates
Draft: 11 updates
ATIC GLOBAL VEHICLE REGULATIONS DATABASE AND COMPLIANCE SUBSCRIPTION SERVICE
ATIC has an independent regulation research team and has established communication mechanisms with ministries of transportation, ministries of environmental protection, ministries of industry, national laboratories and industry associations in more than 54 countries or regions worldwide to systematically and continuously track and research global vehicle regulations, certification procedures and test methods. We provide one-stop regulation compliance services for vehicle and component manufacturers, including mandatory regulation list subscriptions, subscriptions to original regulations and translations, regulation updates and alerts, regulation checklist subscriptions, regulation comparison table subscriptions, etc. Compliance services include safety certification, environmental certification, energy labelling, aftermarket parts, in-vehicle communication, subsidy policies, language and labelling, charging systems and protocols, tools, mandatory warranties, mandatory insurance, recall policies, transportation of hazardous materials, etc. This ensures that vehicle and component manufacturers can quickly respond to changes in global automotive regulations, achieve proactive, low-cost and low-risk regulation compliance management, and quickly enter to their target markets.
Examples of client systems and push emails:
*To subscribe to ATIC's Regulation Services, or to obtain detailed regulation updates, please contact ATIC's Global Regulation Research Department (Please contact Ms Shui, 020-82510156).
GLOBAL REGULATION RESEARCH AND VEHICLE CERTIFICATION DIVISION
ATIC's Global regulationResearch and Vehicle Certification Department is dedicated to global automotive access research and vehicle certification services.
Based on ATIC's digital platform, we provide a series of overseas access compliance services, with service modules including: automotive access consulting, product access solutions for multiple countries and regions, technical verification, regulation interpretation and tracking, regulation training and technical Q&A services.
In the field of global automotive compliance and certification, ATIC is a long-term partner of top domestic and international OEMs such as Great Wall Motor, Geely Automobile, SAIC Group, BYD, Xiaopeng Automobile, Azera, RIMAC, Smart, and system and component suppliers such as Huawei, Ningde Times, Honeycomb Energy, and Verde Technology.
REGULATORY SUBSCRIPTION PLEASE CONTACT
Emily Shui
Global Vehicle Regulation Research Department
Emily is Researcher in ATIC, she holds a Master's degree from Chongqing University of Technology.
Emily is specializing in cross-disciplinary compliance and certification solutions,
as well as ATIC regulation database development
Phone: +86 020-82510156
Mail: cs@atic-cn.com