RELEASE DATE:

2023-10-09 16:17
Brief: ATIC Global Vehicle Regulation Research Department reminds you that please pay attention to the following information for the update of global vehicle regulations in September 2023.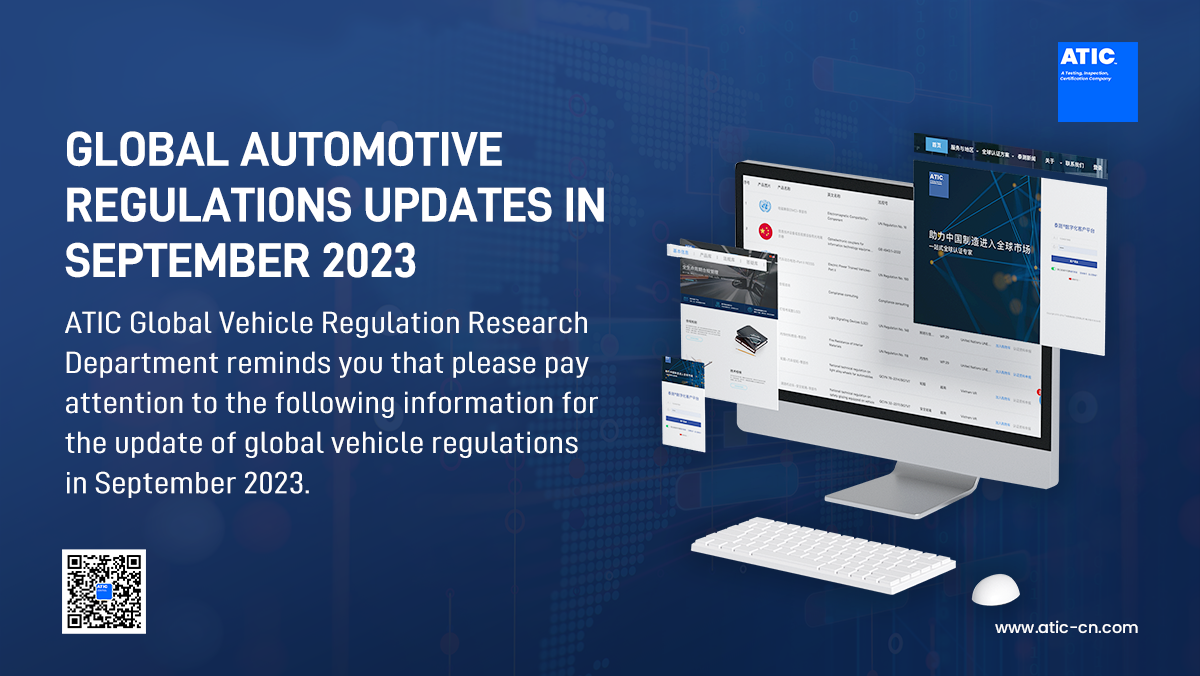 Australia releases draft ADR 72/01 side collision regulations for comments;
The European Union releases a draft for comments on eCall-related regulations;
The United States plans to revise FMVSS 208-occupant collision protection, seat belt reminder requirements;
India releases draft regulations for school vans.
GLOBAL AUTOMOTIVE REGULATIONS UPDATE SPOTLIGHT FOR SEPTEMBER 2023
Australia:
Australia released the Draft ADR 72/01 Side Collision Regulations for Comments on September 22, 2023, thefeedback time: September 22, 2023 to November 17, 2023.
ADR 72–Dynamic Side Impact Occupant Protection specifies crash worthiness requirements intended to reduce the likelihood of injury to vehicle occupants in a side impact crash. The current version of ADR 72 does not consider the potential of vehicles with high voltage battery systems to be damaged in a side impact crash and cause electrocutions, fires and chemical burns.The proposed amendments will realign the requirements in ADR 72 with internationally harmonised United Nations Regulation 95 and require all applicable vehicles fitted with electric drivetrains to be assessed against additional criteria related to the prevention of electrocutions, fires and chemical spills from those systems after a side impact crash.
EU:
The European Union released a draft for comments on the Regulation (EU) No 305/2013 on September 22, 2023,the feedback time : September 22, 2023 - October 20, 2023.
The main purpose of the revision of Delegated Regulation (EU) No 305/2013 is to adapt the specifications of the PSAPs that receive and handle the eCalls to packet-switched (4G/5G) electronic communications networks. This revision also adapts these specifications to relevant EU legislation that entered into force after Delegated Regulation (EU) No 305/2013 was adopted, such as the General Data Protection Regulation and the European Electronic Communications Code, and updates the version of existing eCall standards.
United States:
The United States released a draft for comments on September 11, 2023, planning to revise FMVSS 208-Occupant collision protection, seat belt reminder requirements, the feedback time: September 11, 2023 - November 6, 2023.
To amend Federal Motor Vehicle Safety Standard (FMVSS) No. 208, "Occupant crash protection," to require a seat belt use warning system for rear seats. NHTSA is proposing to require a seat belt warning system for the rear seats of passenger cars, trucks, most buses, and multipurpose passenger vehicles with a gross vehicle weight rating of 4,536 kilograms (10,000 pounds) or less. This document also proposes to enhance the existing front seat belt warning requirements, including requiring a seat belt warning for the front outboard passenger seat and increasing the duration of the warning.
India:
India released a draft of school bus regulations for comments on September 20, 2023, the feedback time: September 20, 2023 - October 19, 2023.
The draft stipulates specific requirements for school buses, including seat design, storage racks, fire extinguishers and other requirements.
ATIC GLOBAL VEHICLE REGULATIONS DATABASE SEPTEMBER 2023 UPDATE SUMMARY
Summary by region:
ECE: 29 updates
EU: 2 updates
Australia: 1 update
South Korea: 3 updates
USA: 3 updates
Thailand: 2 updates
Singapore: 2 updates
Taiwan,China: 3 updates
India: 5 updates
UAE: 1 update
Summary by regulation status:
Formal Regulation: 12 updates
Draft: 39 updates
For subscribers, please visit the ATIC Customer Platform for details.
ATIC GLOBAL VEHICLE REGULATIONS DATABASE AND COMPLIANCE SUBSCRIPTION SERVICE
ATIC has an independent regulation research team and has established communication mechanisms with ministries of transportation, ministries of environmental protection, ministries of industry, national laboratories and industry associations in more than 54 countries or regions worldwide to systematically and continuously track and research global vehicle regulations, certification procedures and test methods. We provide one-stop regulation compliance services for vehicle and component manufacturers, including mandatory regulation list subscriptions, subscriptions to original regulations and translations, regulation updates and alerts, regulation checklist subscriptions, regulation comparison table subscriptions, etc. Compliance services include safety certification, environmental certification, energy labelling, aftermarket parts, in-vehicle communication, subsidy policies, language and labelling, charging systems and protocols, tools, mandatory warranties, mandatory insurance, recall policies, transportation of hazardous materials, etc. This ensures that vehicle and component manufacturers can quickly respond to changes in global automotive regulations, achieve proactive, low-cost and low-risk regulation compliance management, and quickly enter to their target markets.
Examples of client systems and push emails:
*To subscribe to ATIC's Regulation Services, or to obtain detailed regulation updates, please contact ATIC's Global Regulation Research Department (Please contact Ms Shui, 020-82510156).
GLOBAL REGULATION RESEARCH AND VEHICLE CERTIFICATION DIVISION
ATIC's Global regulationResearch and Vehicle Certification Department is dedicated to global automotive access research and vehicle certification services.
Based on ATIC's digital platform, we provide a series of overseas access compliance services, with service modules including: automotive access consulting, product access solutions for multiple countries and regions, technical verification, regulation interpretation and tracking, regulation training and technical Q&A services.
In the field of global automotive compliance and certification, ATIC is a long-term partner of top domestic and international OEMs such as Great Wall Motor, Geely Automobile, SAIC Group, BYD, Xiaopeng Automobile, Azera, RIMAC, Smart, and system and component suppliers such as Huawei, Ningde Times, Honeycomb Energy, and Verde Technology.
REGULATORY SUBSCRIPTION PLEASE CONTACT