RELEASE DATE:

2020-09-05 14:41
Brief:
Devices for indirect vision is a device used by the driver to observe the traffic area near the vehicle (for example, the rear, side or front of the vehicle) that cannot be observed in the direct field of vision. These can be conventional rearview mirrors, camera-monitors or other devices able to present information about the indirect field of vision to the driver. The performance of devices for indirect vision is very important to vehicle safety. To ensure vehicle safety and road traffic safety, most countries in the world have mandatory certification requirements for devices for indirect vision in the aftermarket.
There are different regulations and standards for mandatory certification of motor vehicle devices for indirect vision in various countries. In general,the main test items of traditional rearview mirrors include general specifications, dimensions, reflecting surface and coefficients of reflection, impact test, and bending test, etc. The main test items of CMS include general requirements, electromagnetic compatibility (EMC), and image quality requirements, time behaviour , etc.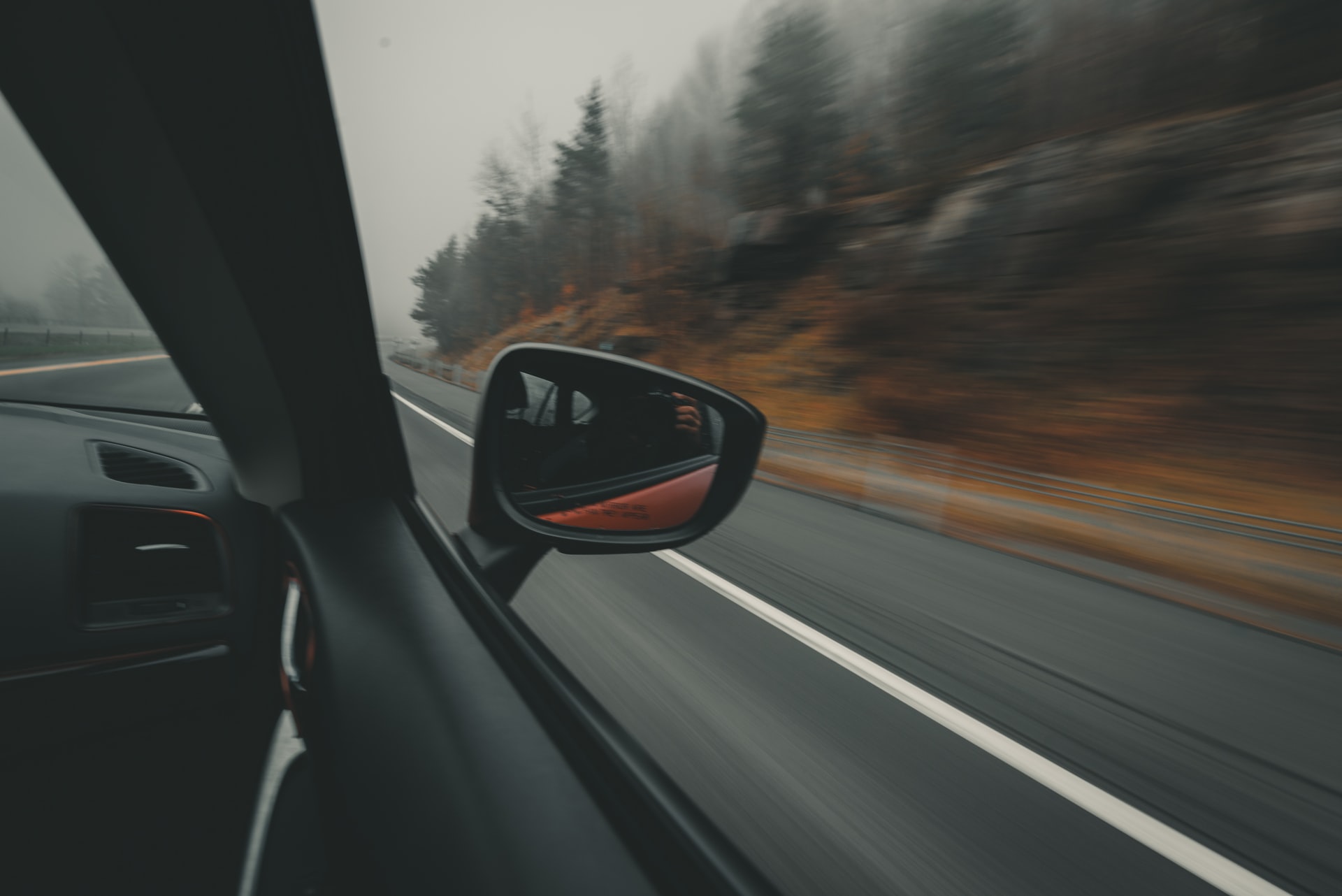 GLOBAL COMPLIANCE AND CERTIFICATION FOR INDIRECT VISION DEVICES OF MOTOR VEHICLE

ATIC combs out the global certification matrix of the Motor vehicle devices for indirect vision, from national regulations/standard requirements, regulatory authorities, certification processes, test items, etc.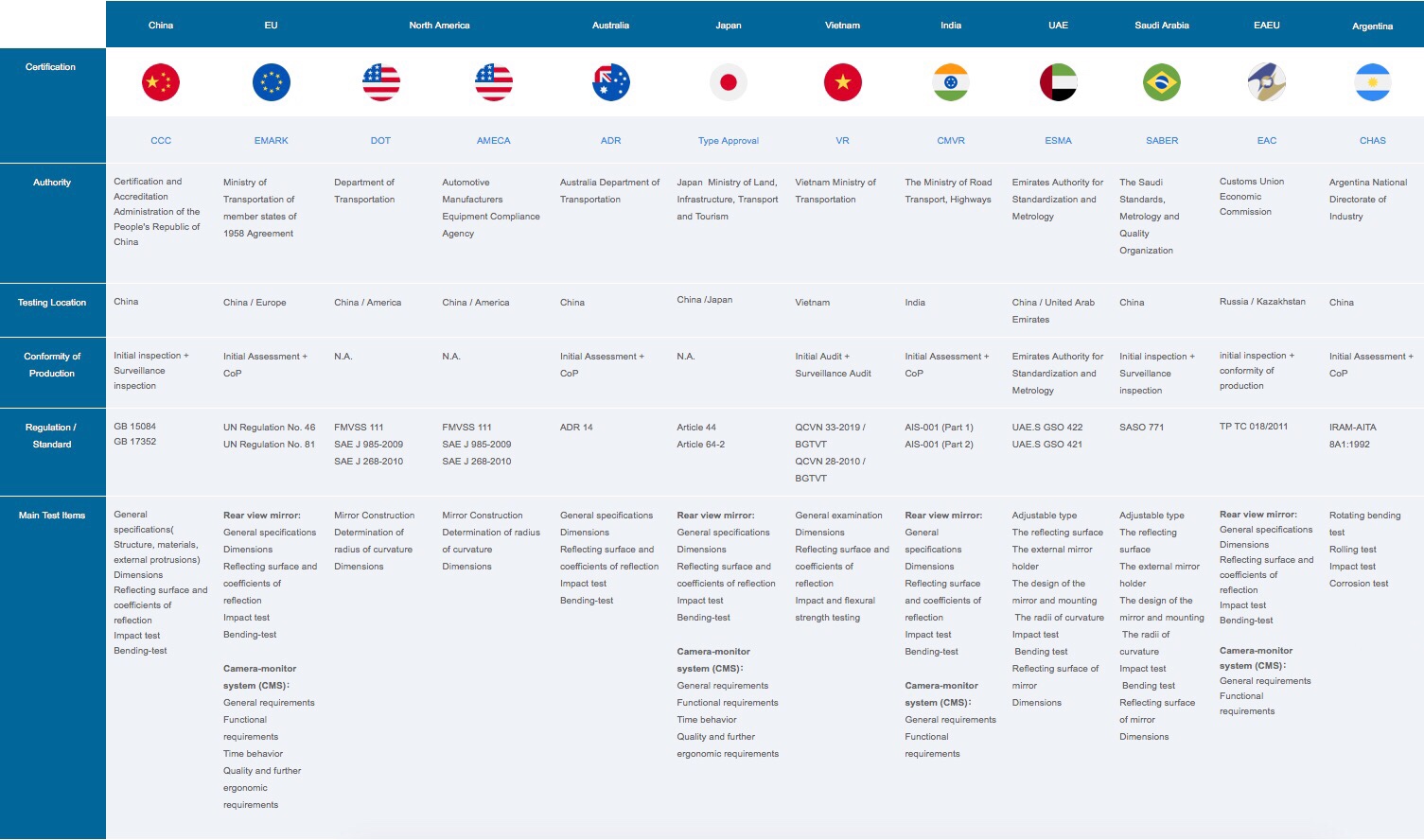 A brief analysis of national certification is as follows:
China: CCC certification, according to the CNCA (China National Administration of Certification and Accreditation) implementation rules CNCA-C11-08 "indirect vision devices for motor vehicles", the need for mandatory certification of indirect vision devices for motor vehicles. In addition, according to the General Administration of Market Regulation Notice No. 44 of 2019, the product compulsory certification type change to compulsory certification self-declaration procedure B.
European Union: E-mark certification, The United Nations Economic Commission for Europe (UNECE) stipulated UN regulation R46 and R81 to conduct mandatory certification for devices for indirect vision which are intended for fitting to motor vehicles, motorcycles/scooters. In addition, the latest version of R46, which has specific requirements for camera monitoring systems (CMS), such as electromagnetic compatibility, image quality, time characteristics, etc., is also available.
North America: DOT certification, although motor vehicle indirect vision device as a component is not within the scope of the United States DOT compulsory certification, it is recommended that manufacturers register with DOT to avoid customs risks.
North America: AMECA certification, is a voluntary certification in the United States, AMECA certification is designed to provide manufacturers with more competitive automotive parts quality approval proof, enhance brand value, enhance consumer confidence, will generally be AMECA certification and DOT certification together.
Vietnam: VR certification, supervised by the Ministry of Transport of Vietnam, according to the regulations QCVN 33-2019/BGTVT and QCVN 28-2010/BGTVT, mandatory certification of rearview mirrors of motor vehicles, motorcycles and mopeds.
India: CMVR certification, supervised by the Ministry of Road Transport and Transportation in India, samples generally need to be sent to local designated institutions in India for testing. According to regulations AIS-001 (Part 1) and AIS-001 (Part 2) for M/N with cab /L category vehicles and rearview mirrors on L category vehicles without a cab are tested and certified.
Argentina: CHAS certification, Argentina CHAS certification (Certificate of Approval of Auto Parts and / or Security Elements) is a certification for automotive parts in the aftermarket. According to the regulation MERCOSUR Regulation: 32 /94 for testing and certification of motor vehicle mirrors.
Australia: ADR certification, ADR, the Australian "Motor Vehicle Design Rules" is the national standard for Australian motor vehicles specified by the Australian Motor Vehicle Standards Act (MVSA) 1989 (The Act has been superseded by The Road Vehicle Standards Act 2018 (RVSA), and the new RVSA has officially entered into force on July 1, 2021). ADR certification is responsible for the Australian Vehicle Safety Standards Agency VSS, tests and certifies rear view mirrors in accordance with ADR 14 regulations.
UAE: ESMA certification, the UAE Standardization and Metrology Agency ESMA is a national standardization agency authorized by the UAE government. Only auto parts products that have obtained a conformity certificate issued by ESMA are allowed to enter the UAE market. Testing and certification of the motor vehicle rear view mirrors in accordance with UAE regulations UAE.S GSO 422 and UAE.S GSO 421.
Saudi Arabia: SABER certification. The regulatory agency for SABER certification is the Saudi Arabian Standards, Metrology and Quality Organization (SASO). All products exported to Saudi Arabia need to submit an application through the SABER system and obtain a batch conformity certificate SCoC before shipment. Testing and certification of the motor vehicle rear view mirrors in accordance with SASO 771.
Eurasian Economic Union: EAC certification is a product certification system formulated and implemented by the Eurasian Economic Union. The Eurasian Economic Union is also known as the Eurasian Economic Commission. Its predecessor was the Customs Union composed of Russia, Belarus and Kazakhstan. Kyrgyzstan and Armenia subsequently joined the Union and established the Eurasian Economic Union in 2015. Motor vehicle indirect vision devices need EAC certification according to TP TC 018/2011.
ABOUT ATIC
ATIC is a young technical service company from China, established in 2015. ATIC is committed to integrate domestic and international regulations, testing and certification resources with a global perspective in the context of globalization, and establish a new, specialized regulation research, testing and certification platform. With innovative Digital Reporting System (DRS), Customer Service Platform (CSP) and self-developed Global Vehicle Regulation Database (GVRD), ATIC's compliance service covers more than 54 countries/regions globally, testing and certification service covers more than 30 countries/regions worldwide. ATIC serve more than 2,300 manufactures each year.
ATIC GVRR DEPARTMENT
ATIC GVRR Department is committed to the global automotive regulatory framework and vehicle homologation research. Based on the digital platform, ATIC GVRR Department provides technical compliance services and automotive compliance solutions of more than 50 countries and districts. Our service includes: automotive homologation consulting, multi-country product certification solutions, technical compliance verification, regulatory interpretation and regulatory tracking, regulatory training and Q&A. We are already the exclusive compliance service provider for many well-known OEMs in China, and have successfully helped many independent brands to enter Europe, South Korea, Vietnam, India, Indonesia, Thailand, Brazil and other markets.
GLOBAL COMPLIANCE AND CERTIFICATION FOR INDIRECT VISION DEVICES OF MOTOR VEHICLE PLEASE CONTACT

Emily Shui
Global Vehicle Regulation Research Department
Emily is Researcher in ATIC, she holds a Master's degree from Chongqing University of Technology.
Emily is specializing in cross-disciplinary compliance and certification solutions,
as well as ATIC regulation database development
Phone: +86 020-82510156
Mail: cs@atic-cn.com